ASID Hosts Celebration Awards Gala
---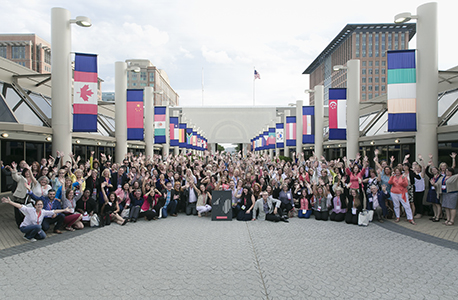 July 20, 2015
This past Saturday, July 18th, the American Society of Interior Designers (ASID) hosted Celebration – The ASID Awards Gala, at the Museum of Fine Arts, Boston. ASID honored the individuals and organizations that are transforming lives through design and will mark the society's 40th anniversary.


ASID Awards Gala, Photo Courtesy of the Museum of Fine Arts, Boston
"The celebration is an evening dedicated to recognizing our industry's best," said Randy Fiser, ASID CEO. "Each of our honorees has made a significant contribution toward improving lives through design, and their remarkable work continues to advance our profession and impact communities across the country."


ASID CEO Randy Fiser at State of Society Presentation, Photo Courtesy of the Museum of Fine Arts, Boston
Each year, ASID bestows the title of Fellow to individuals who demonstrate outstanding service and contributions to the society, the profession and the interior design industry.

For the 2015 student design "Touchdown" competition, ASID challenged design students to create a space within an airport that offers business travelers a private, comfortable and secure place to work, connect and recharge while en route to their destinations. Eighty-six students from 24 schools answered the challenge, with Heemyung Yang, Student ASID, selected as the winner.


ASID Fellows attending honorary brunch at Liquid Art, Photo Courtesy of the Museum of Fine Arts, Boston


The 2015 ASID National Award winners:
Designer of Distinction: Sonya Dufner is a principal and the director of workplace strategy for Gensler New York. Whether working with a Fortune 500 client or with one of her many philanthropic interests, Dufner is focused on helping people build better communities that promote productivity, keep employees happier and healthier and demonstrate how good design is good business. She also shares her knowledge and leadership with students through programs such as Design Ignites Change, an organization that engages students to address pressing social issues in their communities.
Design for Humanity: William D. Browning is known as a trailblazer in the field of environmental design who has dedicated his career to connecting the natural and built environments. Browning is co-founder of Terrapin Bright Green, a design firm focused on creating high-performance environmental strategies for clients including Starwood Hotels and Resorts, Interface and Lucasfilm. He is the co-author of two books on biophilic design, a founding member of the U.S. Green Building Council (USGBC) Board of Directors and has served on the Department of Defense's Science Board Energy Task Force.


Design Innovation: Wayne Ruga has devoted his career to innovation in healthcare design, fundamentally reshaping the way knowledge is generated and shared within the field. He is the founder of the Healthcare Facilities Symposium & Expo, The Center for Health Design and most recently the CARITAS Project, a program that seeks to transform the future of health and healthcare delivery through the development of strategies and technologies that produce generative environments.
Nancy Vincent McClelland Merit: Lisa Marie Tucker is a life-long educator, as well as an award-winning educator, designer and author. Among her proudest accomplishments are the thousands of design students she has nurtured and educated at Virginia Tech, many of whom have gone on to become award winners in their own right. As the school's interior design program chair, Tucker has developed a curriculum around sustainable and socially responsible design. In 2011, she was honored as one of the top 25 most admired design educators by Design Intelligence.
The 2015 ASID Fellows:
Edward Bottomley is a firm partner at CAMA, Inc. and is credited with creating a culture of volunteerism at the New Haven Healthcare design firm. He has spent the past 30 years designing interiors for health care, corporate, education, hospitality and residential environments. In addition to ASID leadership roles at the chapter and national levels, he has served the New Haven community as a volunteer, including as a board member with the New Haven Preservation Trust.
Trudy Dujardin has built a reputation for designing interiors defined by eco-elegance and sophisticated style. In addition to managing her firm, Dujardin Design Associates, she frequently presents her seminar "Holistic House," on building sustainable homes and serves as an adjunct professor at Fairfield (Conn.) University.
Joan Kaufman, principal of Interior Planning & Design in Naperville, Ill., approaches design projects as creating a total environment through lighting, color, space planning, texture, furniture and fabric. In addition to being a certified feng shui practitioner, Kaufman is LEED accredited.

Jean Pinto's interior design career has spanned more than a half century, beginning with her first post-college position establishing a design department for a retail furniture store. Currently a self-employed interior designer, she has been an active volunteer with the Special Olympics and serves as a professional advisor at both Westwood College and her alma mater, Woodbury College.
In addition to holding various offices with the ASID Indiana Chapter over the past 20 years, Patrick Schmidt has served the organization on the national level and is currently a member of the ASID Board of Directors. He's earned recognition and honors for his volunteer work as well, including four National Presidential Citation Awards. Outside of ASID, Schmidt has worked with a number of charitable organizations, including food pantries and for a Rotary Club program drilling water wells in Sierra Leone.
Student Winner: Heemyung Yang is currently enrolled in the BFA Interior Design program at California State University, Long Beach (CSULB) and plans to graduate in 2016. Yang immigrated to the U.S. from the Republic of Korea in 2000 and worked a variety of jobs to earn a living. Her admittance into the BFA program at CSULB has allowed her to focus on her goal of becoming a professional interior designer. Her winning Touchdown project, a lounge shown here, was entitled "Dream Catcher."