Behind the Products We Know: Appliances
---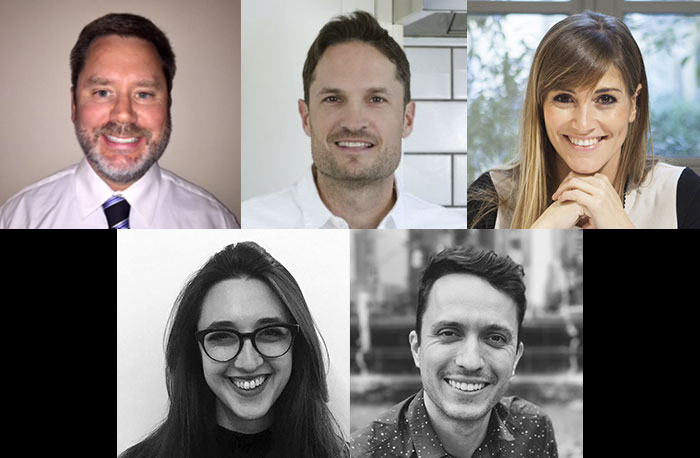 January 26, 2018
Top Left to Right: Colin Clerkin, Sub-Zero/Wolf; Orion Creamer, Big Chill; Valentina Bertazzoni, Bertazzoni; Bottom Left to Right: Rebecca Goesling and Christopher Gregory, Whirlpool Corporation
From their simple beginnings, ovens, stovetops, refrigerators and dishwashers have evolved to provide higher-quality results in a timely manner. New technology – from Wi-Fi connectivity to steam ovens – gives designers more ways to help their clients cook better. More customization, like the many colors available for ovens and refrigerators, also allows appliances to be the star of the kitchen. As more consumers become aware of the benefits of home cooking, the importance of having exceptional appliances will grow.
KBB sought out the designers that create and perfect our kitchen appliances and found out their inspirations, challenges and what the future might hold for these integral pieces.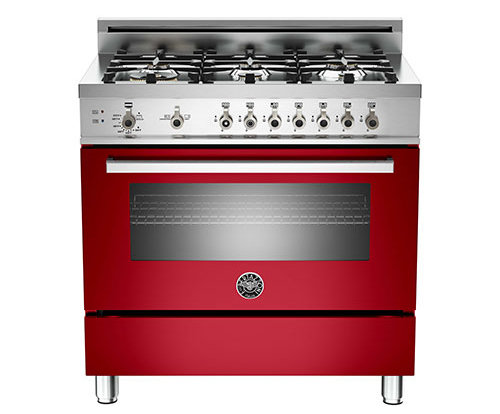 The 36-in., six-burner gas oven range from Bertazzoni includes a dual-ring power burner – a high-efficiency burner with separately controlled flames. The oven with a gas broiler has a balanced air-flow convection fan to provide even heat distribution for single- and multi-level roasting and baking.
The Job
"I have a unique role at Big Chill as both lead product designer and president. As a designer, I'm always working on new concepts that don't exist yet on the market. As the president, I'm responsible for budgets and production. My job is to design products that are out-of-the-box, beautiful and sellable."
-Orion Creamer, president, Big Chill
"As a senior project engineer, my team and I work with marketing, industrial design and most importantly the customer to make product ideas and feedback come to life. From concept to prototype, our job is to create and perfect the designs that will work best on the manufacturing line and in the homes of our customers."
-Colin Clerkin, senior project engineer, Sub-Zero and Wolf
"My current role is focused on the design of an entire suite of products. When designing in this capacity, we consider many aspects of a product – not only handles and knobs but also graphics, colors, interfaces, sounds and lighting."
-Christopher Gregory, senior industrial designer, Whirlpool Corp.
Cove dishwashers from Sub-Zero Group, Inc. understand that the consumer is most concerned with cleaning performance and making everything fit. Therefore, Cove dishwashers feature easily adjustable elements to suit whatever size plates, bowls, wine glasses or serving utensils the homeowner has.
Challenges
"Tradition and innovation are two worlds that must go together, even if they often tend to go in opposite directions. Our heritage of excellence as cooking manufacturers has always had to face this, from the wood-burning stoves to the creation of gas cookers, and after that the new technologies. We have to use our expertise to serve continuously evolving lifestyles and needs."
– Valentina Bertazzoni, style and brand director, Bertazzoni
"Understanding the needs of the consumer is the ultimate goal, and that information comes from many different sources. It's a big list, but working with each group and finding that compromise is critical to ensure a successful product."
-BlueStar in-house refrigeration design team
"Timing is a standout challenge – how do we get the right product at the right time to the right consumer? Identifying a future trend is just one step. We also have to look at this content through the lens of what is right for our corporation and its family of brands. Every element, including the price of a product, the length of ownership, the production time, the regional availability, the consumer's openness to change and much more plays into when we act on a vision for the greatest relevancy.
– Rebecca Goesling, advanced color finish material designer, Whirlpool Corp.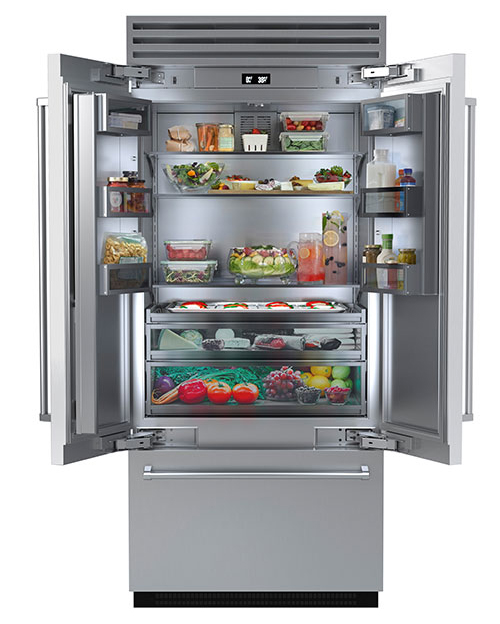 BlueStar is introducing a new French Door model to its built-in refrigeration line. With durable stainless-steel interiors, dual compressors for enhanced food preservation and roomy interiors, the BlueStar Built-In Refrigeration Line is made for serious cooking and entertaining.
Finding Inspiration
"People are the most precious source of inspiration. In the Italian culture, there is a strong attention to other people – we find it natural to seek out solutions that improve other people's lives."
– Valentina Bertazzoni
"Many of the products I design have a vintage edge to them. One of my favorite ways to find inspiration is to scour scrap yards, antique shops and vintage car shows."
-Creamer, Big Chill
"We first learn about the target customer and develop a few key elements that are critical to the product. As our product is a kitchen appliance, we look to people who use these appliances to get feedback about what is desirable. This includes listening to kitchen designers, professional chefs, home cooks and other food prep enthusiasts who just know what they want in the kitchen and provide valuable insight.
-BlueStar in-house refrigeration design team
The KitchenAid Multi-Cooker features more than 10 cooking settings for everyday dishes, one-pot wonders, gourmet masterpieces and more: risotto, rice, sear, sauté, simmer, soup, yogurt, boil/steam, slow cook high and low and keep warm for up to 24 hours.
Introducing Technology
"I ask a lot of my vendors and collaborate with them year-round. I find that they have the best ideas. It's my job to take those ideas and push them through to completion."
-Creamer, Big Chill
"We do a great deal of testing to prove the value and configuration of a product before it gets to production. Field testing is another proving ground. With the upcoming introduction of Cove, field testing has been a huge benefit for us. Everyone has their own style of loading and unloading a dishwasher – it's actually a pretty personal appliance."
– Clerkin, Sub-Zero and Wolf
"I believe the best work comes from combining the analytical and the emotional. Appliances are functional, but more and more they must also fit into the home environment. Improving quality from a design perspective in the kitchen means closing up gaps and aligning product components more with the countertop and cabinetry."
– Gregory, Whirlpool Corp.

Inspired by the old television sets of the 1950s, Big Chill's retro microwave can cook anything from popcorn to vegetables with a 120-watt cooking system. The stainless steel body is available in more than 200 colors and can be ordered with or without legs.
Best Part of the Job
"I love the idea of creation – from imagination to reality: metal, glass and cast iron. There is nothing better than being able to physically touch one of your ideas. It's a privilege!"
-Valentina Bertazzoni

"The creative process can be challenging but also extremely rewarding.  When the product is launched into the market and is in use in everyday life, it's a great feeling."
-BlueStar in-house refrigeration design team
"The thing that motivates me to come into work every day is our team. They are my second family, and I love working with them. I've been working on Cove from the beginning, and to look back and see how the thought and attention to detail is coming to life is very rewarding."
– Clerkin, Sub-Zero and Wolf