Cosentino's Six New Trendspotters Seek Out New Styles
---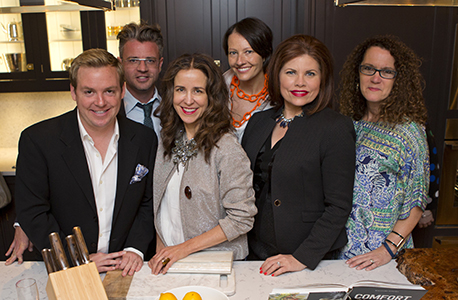 June 5, 2015
Cosentino has announced its Trendspotters program. The six new Trendspotters – a mix of influential interior designers from the U.S. and Canada – each hail from markets known for their distinctive design.
Throughout the program, they will capture and share both regional insights from their hometown markets, as well as design inspiration and the latest trends using the hashtag #SilestoneTrends via social media and through the program's website, SilestoneTrends.com. They have complete freedom in sourcing inspirations – from architecture and fashion to items encountered in their everyday lives. These insights will also empower Cosentino's team to identify new products to bring to market that will fit the needs of today's designers and homeowners. The collaboration will conclude in Las Vegas at KBIS 2016, where the Trendspotter color series will be unveiled for the first time.

"The 2015 Trendspotters were hand selected by Cosentino in recognition of their influence in their markets and their creative and diverse design aesthetics," said 
Lorenzo Marquez, vice president of marketing for Cosentino North America. "With our fourth class of Trendspotters, we hope to identify current and future trends in the design world of kitchens, bathrooms and home décor; this will guide our R&D efforts and bring products to market that fit the needs of today's designers and home owners.
This year's Silestone Trendspotters will bring distinct and compelling design aesthetics from six influential markets: 

Toronto – Theresa Casey
Santa Fe, N.M. – Steffany Hollingsworth, ASID, NCIDQ
Pensacola, Fla. – Cheryl Kees Clendenon
Palm Springs, Calif. – Christopher Kennedy
Dallas – Denise McGaha
New York City – Drew McGukin
K+BB reached out to each Trendspotter to get an inside look at what these experts expect to find in their research.
Theresa Casey, Casey Design, Toronto

I see a trend of design moving in a more sensual and vibrant direction for kitchens and baths. I think people are done with monochromatic color schemes and want more personality, distinction and vibrancy in their homes. Even in neutral interiors, I always add texture and layering to add interest and impact.


Casey's extensive studies in Italy, the U.S. and Canada have trained her to create design solutions from a perspective that incorporates history, architecture and fine arts. She also looks to fashion on the street as something that reflects a setting's spirit.
Cheryl Kees Clendenon, In Detail Interiors, Pensacola, Fla.

I consider many factors when evaluating trends: The economy, fashion, current social views and mindset all play a huge role in the general design temperature of the public. I am seeing a return to classic materials and styles infused with a bit of luxe and nostalgia. Organic materials that reflect nature and have texture – both visually and physically – are quite popular. Reflective surfaces are going to be a bigger influence in the coming year, and when mixed with natural textures, they can really add the tension needed to pull off seemingly opposing styles. I like to maintain a bit of a "something borrowed something blue, something old and something new" attitude but substitute blue with just color in general. Vintage items add soul to any design. 


Clendenon works to educate clients on materials to help them choose wisely, for both longevity and love. She is known to be rebellious against the status quo, bringing to the group a different slant.

Steffany Hollingsworth, ASID,NCIDQ, HVL Interiors, Santa Fe, N.M.

I see a continuing resurgence of modern and mid-century movements-gone-bohemian: the glam of glass and precious gems and stone and shimmer infused with global and tribal elements, like ikat and indigo. I also see a long design shelf life of nature and organic elements, such as the use of unprocessed wool or barnwood juxtaposed against our high-tech world. The two other trends I see having staying power are the industrial aesthetic influenced by the infill movement of adaptive reuse of industrial buildings and an appreciation for the anti-future – that of craft (exposed seams and hand-stitching, weaving and knitting).


Along with her leadership experience in ASID, Hollingsworth has worked in both residential and hospitality segments and has followed forecasting in both of those markets. She also has been involved in product design and understands the balance of the confines of technology and production versus imaginative creations.
Christopher Kennedy, Christopher Kennedy, Palm Springs, Calif.
The era of the "tricky" bathrooms is coming to an end. Recently in projects I have been using full slabs of quartz in the showers and on the counters. This creates a timeless, natural and easy-to-maintain look. Accents in bathrooms are moving beyond rows of accent tile inset into a field of porcelain.


Kennedy has a decade of experience in home renovation and ground-up construction, and his home in Palm Springs, Calif., has trained him to constantly look for what's next.
Denise McGaha, Denise McGaha Interiors; Dallas

I expect to see a continuation in lighter and brighter rooms over the next few years with less fussy, heavy colors and fabrics and more linens and sheers. I am, however, seeing a return to the color brown with a yellow undertone so it works well with camels and gold finishes – or with a gray undertone so it transitions into the gray rooms we have been seeing for several seasons. I am also seeing continued popularity of metallics, which started in plumbing finishes and has now transferred to wallpaper, tile inlays and backsplashes.


A previous career in fashion allowed McGaha to enter the interior design industry with a different viewpoint. Texture, color and pattern play a significant role in her design decisions and help her to identity trends before they become mainstream.
Drew McGukin, Drew McGukin Interiors, New York City
The streamlining of materials is a practice I frequently notice. There's a growing shift toward using uniformity as dynamic impact. Fewer layers can generate a more focused expression. By repeating the same material or pattern on different types of surfaces or within the same design, room, space or application transforms the idea of "less is more" to "less becomes more." 


With a savvy, forward-thinking client base in the Big Apple, McGukin considers himself constantly challenged to think ahead and see beyond the current trends.