Crafty and Artful – A Curated Look at Maison&Objet
---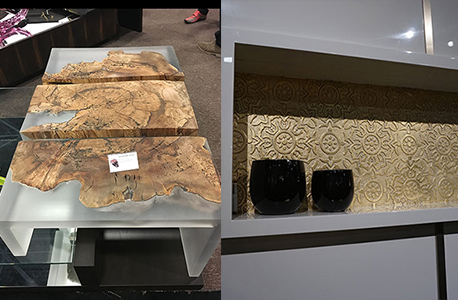 May 17, 2016
MAISON&OBJET Americas took place from May 10-13 in Miami Beach – an area that is reliably warm and sunny almost all year round. The show hosts a community of designers, architects, property developers and specifiers and is the avenue for bringing MAISON&OBJET Paris across the pond.
One of KBB's Editorial Advisory Board Members – Gloria Graham Sollecito, AKBD – attended the show and scoured some 300 brands in search of what would apply to the kitchen and bath industry.
View a gallery of this show here.
"There was a nice mix of products from furniture (indoor and outdoor), textiles, gorgeous tableware, bathroom fixtures, vanities and lighting," she said. "I saw mostly French and Italian products with an emphasis on the craft and artfulness of handmade products."
Gloria's M&O trends:
– Curvy bathroom fixtures
– Moving/mobile kitchen components
– Large-format tile extended to wood flooring
– More exotic woods used for flooring
– Vanities with masculine appeal and clean lines
– Textured woods
– LED lighting
– Versatile wine storage
Graham Sollecito is the founder/author/operator of Artful Kitchens (www.artfulkitchens.net), a website about "practical kitchen design with an artful component." Her work has appeared in several publications, and she is the co-author of The Complete Idiots Guide to Remodeling Your Kitchen Illustrated.