Fashion Forward
---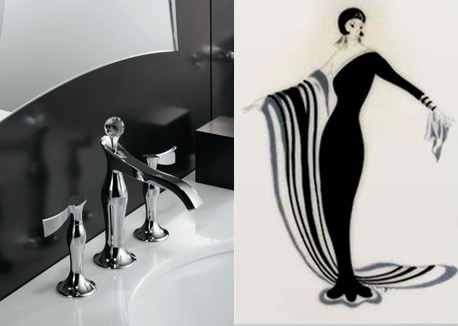 September 1, 2010
Would avocado-green appliances have existed without the paisley tops and bell-bottomed pants of the 1970s? Would colorful linoleum tile have abounded in the 1950s without the decade's glamorous Hollywood style? The line between fashion design and home décor is a fine one, indeed. Each reflects and informs the other, expressing the mood and attitude of the times.
Today, proving the two fields are inherently connected, dozens of fashion designers create home décor lines, including Calvin Klein, Ralph Lauren, Donna Karan, and soon even Diane Von Furstenberg and Jean Paul Gaultier. Fashion design influences many kitchen and bath products as well. Brizo faucets, for example, tracks fashion trends to get inspiration for new product launches, according to Judd Lord, director of Industrial Design at Delta, which launched the Brizo brand in 2004. Check out what Lord said about how ideas make their way from the runway to the home.
Q: Why does Brizo watch fashion trends?
We watch fashion trends pretty closely because Brizo is a pretty fashion-oriented brand. When we first kicked off the brand, we wanted to fill a place in the market where no one else was and that consumers were really going after. In the research we did, people who were up on fashion cared more about their home interiors and were willing to spend more. Fashion is aspirational, an invention of one's personality. We found that if people paid attention to their clothing, they paid attention to their homes because they viewed their interiors as reflections of them.
We've always considered faucets functional sculpture, and just as accessories make the outfit, Brizo is jewelry for the home. You don't need the accessory to be the star; you're only looking to set off the rest of the ensemble. We took a lot from fashion in that respect. We wanted some products that conveyed timelessness and some that would be more polarizing to make a statement. Some faucets we thought, "That's going to be the little black dress of the line—it's great for any number of occasions and every woman has it in her closet." There are a lot of great parallels and messaging between fashion and our products.
Q: What research do you do to stay on top of fashion trends?
We were an original sponsor for fashion designer Jason Wu and have been associated with him since his beginning. Our brands have grown up together. He was our first exposure inside the world of fashion. It was interesting to see the similarity between his design process and ours. We both have to satisfy certain functional requirements and some aesthetic. We both do mood boards, sketches, mock-ups and prototypes. We look for inspiration and trends. The design language is the same.
In addition to attending Jason's fashion shows, we are there for Fashion Week and see other shows when we can. We also read a lot of fashion magazines and do a lot of Internet cruising on blogs and style sites to get things visually in front of us on a weekly basis.
Q: How do fashion trends transition from clothing to kitchen and bath design?
A lot of times it's not such a literal translation. It's much more about the movement of the garment, how things are hanging. It leads you into how you want a spout to look or handle to move. A faucet may be made of a static material like metal, but it can visually move your eye around. We watch a lot of YouTube videos of runway shows to get inspired. Our Belo kitchen pull-down faucet (below)was inspired by the pose a model strikes at the end of the runway. It's like a woman with an attitude, hips forward and head back.


Some clothes are made of such cool materials that you want to touch their sleeves. Texture is the next frontier of design in faucets. With advances in technology and materials, we are now better able to consider resin-impregnated woods, water-resistant leather, rubber derivatives and bamboo—things that feel good to your touch.
It's also about the interaction of the faucet with the user. How will the water look and sound when it is coming out? When it hits the bottom of the basin? What will it feel like on your hands?
Q: What past fashion trends have ended up in your products?

When we were designing the RSVP bathroom faucet five or six years ago, it was at the peak of the glam movement. Swarovski was at the height of its resurgence and fashion was revolving around the 1920s, Art Deco and Art Nouveau. Diving into the project and pulling up a ton of vintage 1920s fashion shows, we saw wonderful dresses and garments with such originality. We literally laid out images of Hollywood silent film stars wearing form-fitting gowns to the floor. One Erté sketch in particular
(below) had this beautiful starlet wearing a cloak. One arm was exposed, while one sleeve went down over her hand and down to the floor.


RSVP is inspired by that image. It looks like the contours of a female figure, and the lines of the spout follow the lines of her arm. RSVP also can be topped with a Swarovski crystal finial (below).