Faucets, Fittings and Fixtures
---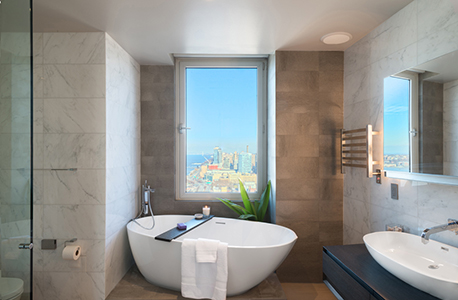 October 19, 2015
Hansgrohe USA has announced the results of its second-annual Hansgrohe + Axor Das Design Competition. After careful consideration, a jury of media and Hansgrohe representatives selected two winners and three honorable mentions in the residential category, as well as one winner and one honorable mention in the hospitality category.
View a gallery of the winning residential projects here.
"We are always excited to see where our products have been used," said Eric Christensen, Hansgrohe USA president. "This competition offers us a lens into intelligent and inspiring interiors around the country and demonstrates the range and versatility within the two brands. As a whole, this year's selection of winners covered the map – from Massachusetts to Oregon and points in between."
The winning architect or designer of each category received $2,000 toward products of the Hansgrohe brand and the Axor brand, as well as a round trip to New York to be recognized at an awards ceremony.
The 2015 Das Design Competition results for residential are:

RESIDENTIAL WINNER:
Firm: Intexure Architects
Project: Tripartite House
Location: Houston
Products: Axor Bouroullec, Axor Citterio Kitchen, Axor Uno, Axor Starck, Hansgrohe Metris and Hansgrohe Raindance Collections

RESIDENTIAL WINNER:
Firm: ZeroEnergy Design
Project: Family Loft
Location: Boston
Products: Axor Bouroullec, Axor Starck, Axor Starck X, Axor Citterio kitchen collections, as well as Hansgrohe 180 Square Showerhead and Arm and Hansgrohe E & S Soap Dispenser

RESIDENTIAL HONORABLE MENTION:
Firm: FIELDWORK Design & Architecture
Project: West Hills Residence
Location: Portland, Ore.
Products: Axor Starck, Axor Citterio, Axor Uno, Downpour 180 Showerhead and Hansgrohe Raindance Collection


RESIDENTIAL HONORABLE MENTION
Firm: Andrew Mikhael Architect
Project: Midtown West Condo
Location: New York
Products: Axor Starck, Axor Citterio and Axor Urquiola Collection


RESIDENTIAL HONORABLE MENTION
Firm: Lake City Loft
Project: Sexy Penthouse
Location: Herriman, Utah
Products: Axor Citterio, Hansgrohe Metris C and Hansgrohe Raindance Collection