Getting to Know the KBB Editorial Advisory Board
---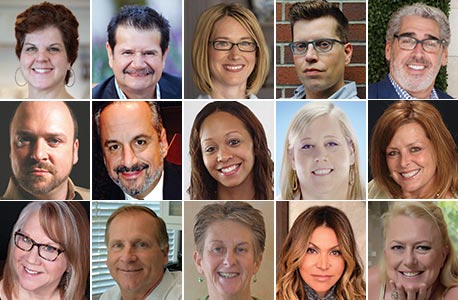 July 21, 2016
For the last three years, KBB has been putting together an Editorial Advisory Board of which we are quite proud. These respected members, who include designers, showroom dealers, architects, contractors and retailers, serve as role models in the kitchen and bath industry. They also help serve as KBB's eyes and ears when it comes to the latest trends, products, designs, technologies – all of the latest happenings in our industry.
We wanted to give our readers a chance to get to know them better by asking a few pertinent questions, such as how they got into the K&B industry, what their favorite design styles are, lessons they have learned to share with other industry professionals and biggest achievements. We even shared a "wild card" question you can see their answers to in our gallery.
Click here for a gallery of EAB members and see the answers to their "wild card" questions.
When did you know you were destined for the K&B industry?
When I was 16, I went into Billie Brenner's famous Bath & Closet Boutique on Newbury Street in Boston to pick up my parent's bathroom order. Billie looked me up and down, asked how tall I was and then offered me a job. She said, "I need someone with your height to help me reach the high shelves."
 – David Lyon, V.P. Retail Division, 
Blackman Plumbing
When I was a little girl, I begged my parents to buy me a Barbie Dream House, and they repeatedly said no. So I took matters into my own hands and built my own out of cardboard. A little while later I realized that Barbie and Ken needed more room, so I remodeled their dream house and added an addition for Skipper. From there the rest is history.
 – Ebony Stephenson, CAPS, Designer, Criner Remodeling, 
and Owner, Designs by Ebony
When I was a kid in the 70s and the trend was carpets in kitchens, I thought, "What were designers thinking?" I even knew better at the age of nine! I was also interested in TV kitchens like wondering how Alice cleaned the brick around the oven on the "Brady Bunch."
– Laura Eagan, CKD, 
Owner of Estrella Cabinetry and Design Center
What are some of your biggest achievements?
Ferguson's success, without a doubt, is due to our people. I am proud to watch so many of our associates grow their sales careers and/or ascend into leadership positions within our organization. This industry-leading level of knowledge and commitment is a huge accomplishment for Ferguson and something I am very proud we have achieved.
 – Kate Bailey, Director of Showrooms, 
Ferguson Bath, Kitchen & Lighting Galleries
There have been hurdles in every design assignment, but if every customer I've done work for is happy with the results, and the journey to get to the final finish has been a positive experience for them, that would be my biggest achievement.
– Patricia Gaylor, Patricia Gaylor Interior Design
Getting more confident in what we as a full-service construction company bring to the table and the value we offer. [We price accordingly to our company's needs, i.e., profit, quality materials, time spent with clients and expertise.
 – Reva Kussmaul, CEO, Eye for Detail
What is your favorite style of design?
If I have to pick one, I most enjoy mid-century modern. It shows us that as a breakaway movement from traditional, a different style could evolve into something that had a timeless cohesiveness without traditional, Roman/Greek scales. It is hard not to find these influences if you are shopping for a sofa today.
 – Ray Wiese, CMKBD, 
Founder/Owner, The Wiese Co.
I suppose transitional design is my favorite style to work with. The inclusion of many different elements from different styles and periods by creating a good "relationship" between them with color and placement allows an expressive interior that is quite personal.
– Toni Sabatino, Toni Sabatino Style
I go through styles and my taste changes often. I am currently into a masculine, natural modern. I don't like the standard showroom modern; I like personalized, warm modern that shows unique style.
 – Sandra Espinet, S.E. Design Services
What are some lessons learned you can share with other professionals?
Designers are terrible business people until they learn their lessons. I really wish that educational institutions would bring back the business of design as core content because we are in a service and sales industry, after all.
 – Corey Klassen, CKD, CBD, Assoc. ASID, 
Principal Designer, Corey Klassen Interior Design
A big one is to educate the client as much as I can. If I can explain the process of renovation and design and manage expectations as much as possible, scenarios that are fraught with uncertainties can be much less stressful. I've also learned that finding a great solution when things do go awry is what separates us from the DIY'ers.
 – Amy Ahearn, CKD, CAPS, 
Owner, Decorating Den Interiors
The key is NEVER fall in love with your design. Design is an evolution; its change and movement is constant. Listening to input – and the willingness to move with it – is crucial. It's not about creating the perfect drawing; it's how you create perfection from the imperfect parts you are given.
 – David Stimmel, Principal Designer, 
Stimmel Consulting Group
If you want to achieve anything, you need to express what you want to the people around you. Vendors, customers, staff and even friends want to see you succeed and may give you the best feedback and ideas on how to do that.
 – Brandy Souza, General Manager of Kitchen Views, 
part of the National Lumber Family of Cos.
To realize a world-class design, you need to surround yourself with talented people from other disciplines in a common goal.
– Arturo Vazquez, 
V.P. of Store Design & Development, Pirch
Never underestimate the consumer; listen, and the experience will be fulfilling.
– Devin Rosen, Showroom Director, 
Water Concepts Kitchen & Bath