Grohe Introduces Products for Three Design Styles
---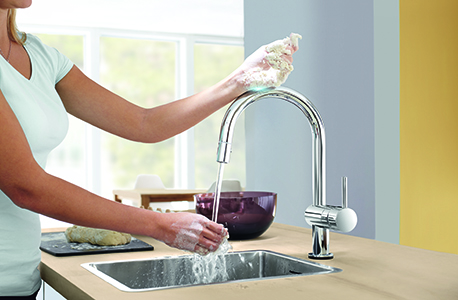 February 20, 2015
In the kitchen in particular, the three major design styles – traditional, transitional and modern – are influencing everything from color to shelving to plumbing. Here, Grohe addresses each taste and preference with new products and tips to fulfill the style.
"Design trends have much to do with creativity and interpretation," said Cheryl Dixon, head of brand and trade marketing at Grohe. "Grohe's vision is to design products with a consumer-centric approach, with unwavering commitment to quality and innovation that ensures they function as beautifully as they look."

Traditional
Known as the more conservative style, traditional kitchens have a timeless elegance with components like uncomplicated color schemes, stone floors, warm woods and accessories.
– Use of artisanal elements, like hand-blown glass lighting, hand-scraped wood floors constructed of reclaimed or sustainably harvested wood, handmade tiles, often with recycled content
– Brass, particularly in lighting products
– Furniture-style islands to join the kitchen to the rest of the space in an open-plan format


IMAGE: Grohe's Bridgeford dual-spray faucet embraces the past without sacrificing 21st-century performance. The detailing features a wide-set bridge and bar faucets, while the pulldown dual-spray model features innovative Grohe SilkMove technology for water control.
Transitional
The definition of transitional varies across the board. Most agree the style blends contemporary with classism for a welcoming and comfortable format. 

- Fanciful colors instead of white kitchens are becoming more the norm.
– A resurgence of man-made materials for countertops is trending.
– Anything industrial is fading in favor of a warmer, more finished style. Stainless steel appliances are now being replaced with integrated pieces. 


IMAGE: The Parkfield faucet comes in finishes like Grohe SuperSteel Infinity, Grohe Starlight Chrome and oil-rubbed bronze, while LadyLux3 Café pulldown is available in Grohe SuperSteel Infinity and GROHE Starlight Chrome in addition to Grohe RealSteel, produced from 304 stainless steel.
Modern
Along with a minimalist setting, modern kitchens use bold colors, subtle patterns and straightforward silhouettes.
– Technology-oriented appliances
– The use of drawers instead of doors
– Fashion in combination with high performance
IMAGE: GOHE Blue Chilled & Sparkling combines a designer faucet with a high-performance filter, cooler and carbonator. The right lever on the faucet is used to mix hot and cold water as usual, and a turn of the left handle creates sparkling water.
IMAGE (top of page): To clean and cook more efficiently, GROHE offers the Minta Touch Pulldown kitchen faucet. Along with its touch activation, the faucet has an automatic safety stop, a C-spout and a speed-clean, anti-lime system.