The Healthy Home 2018
---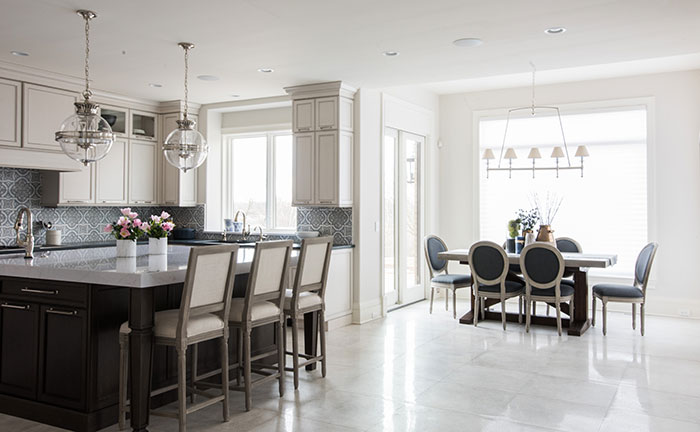 March 12, 2018
According to the U.S. Environmental Protection Agency, people spend approximately 90 percent of their time inside, but indoor pollutants can be two to five times higher than outdoors. Because of this growing awareness of this issue, homeowners today are increasingly concerned about air quality.
In response to this need, the American Lung Association has introduced the Healthy House Program and opened the Healthy Home 2018, which was built under the association's revised health house guidelines. The home, which is set in Inverness, Ill., features everything from energy-efficient products and innovative technologies, to green building materials and non-toxic furniture and accessories.
KBB spoke with Victoria Di Iorio, founder of the Healthy Home Initiative, to find out more about the secrets behind the home and how designers can incorporate these techniques into their own projects.
"During my vast research to find safer, non-toxic building products, I learned that most recently completed buildings have a distinctive, new-home smell that comes from materials such as adhesives, caulks, stains, cabinets, etc., and those nose-tickling odors are a red flag," said Iorio. "It's a sign that harsh chemicals may be wafting through the air."

Rethinking the Kitchen
In a cooking area, Iorio says quartz surfaces are one of the healthiest options. This non-porous surface will not harbor bacteria or viruses, so homeowners can always be confident that they are getting their countertops absolutely clean. In the 2018 Healthy Home, there are hardwood surfaces throughout, and the solid wood cabinets are Greenguard Gold certified, meaning they were made with waterborne finishes and are NUAF (no added urea formaldehyde). The home also features top-notch energy-efficient appliances, but there is no microwave included.
"This kitchen features a Gaggenau steam oven, but for affordability use the stove or oven to reheat your food," said Iorio, explaining that the microwave can leak radiation and having it only encourages buying microwaveable food. "For popcorn, use an air popcorn popper or make it the old-fashioned way – on the stove. Don't forget to use healthy oil."
The home also features whole-house water filtration with a secondary filter in the kitchen for pure drinking water straight from the faucet.

The Organic Bath
Two of the bathrooms feature Robern cabinets for organization, which Iorio says is an important feature in a healthy home. These metal-and-glass cabinets are inert, which means there is no off-gassing of VOCs. The master bath also boasts what is said to be the cleanest and quietest bathtub available.
"Using Sanijet pipeless technology, PureWater Baths are 99.9 percent hygienic – meeting complete Level II EPA disinfection – so no worries about the nasties found in typical jetted tubs," said Iorio. "And even more important, you can use salt and essential oils for detox and relaxation."
The whole-house filtration system eliminates the need for in-shower water filters, and all plumbing is lead free and constructed of solid brass. In addition, there is an energy-efficient HVAC system with a fresh air intake system.
"First and foremost, I hope this home serves as an inspiration," said Iorio. "We hope to encourage architects, builders, interior designers and the general public to learn more about how to create healthier environments, to imagine what is possible and learn how small changes add up to living well."