HGTV's 2015 Smart Home
---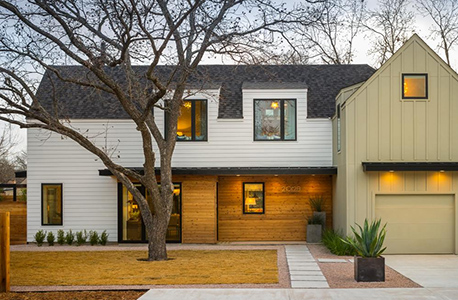 June 19, 2015
For the 2015 HGTV Smart Home, the network chose a 2,300-square-foot house in a southern suburb of Austin, Texas. Inspired by the design of a modern farmhouse, the tech-friendly home design evokes an everyday get-away with a rustic Texas feel. 


View a gallery of photos here.
"When I think of smart design, I think of wisely designing a home that functions well on a high level, so that's what Kelly Mockingbird, the design coordinator, and I tried to do through this whole process," said Linda Woodrum, HGTV Smart Home 2015 Interior Designer. "It works well. Everything is in that small triangle, and it's just very usable and functional."
The Texas-inspired design starts in the hallway leading up to the kitchen, where three pieces of reclaimed wood art of the state of Texas greet guests. In the kitchen, the stainless steel apron sink has a modern, cottage appeal – a combination that helps define the Austin home. 

An iPad docking and charging station also controls the lighting, thermostat, the shades or is used to simply look up new recipes. Built-in speakers in the ceiling, controlled with a touch of a finger on a smartphone or tablet, are suited for entertaining guests or setting the mood while cooking dinner. A hidden television above the hood can be dropped down with another touch of a button. 

A freestanding tub and unique master shower accentuate the master bath, designed with a neutral, spa-like feel. Outfitted with ioDigital technology, the shower itself echoes a high-tech spa with its recollection of preferred temperature and flow rate. The remote can turn on the shower from up to 30 feet away, and body sprays enrich the experience and offer an adjustable spray face to deliver water exactly where it's wanted.
"The spacious shower feels even more open thanks to the frameless glass enclosure," said Timothy McDonough, vice president of global brand marketing for Moen, which sponsored the 2015 Smart Home. "Plus, with floor-to-ceiling faux-wood tiles and recessed storage, the design will surely serve as a relaxing and refreshing oasis."
Completing the master suite is an in-room wet bar with an undermount bar/prep sink and traditional beverage faucet. Using a remote control, homeowners can prompt the coffee maker to lift up and reveal a shelf with a martini shaker and cocktail utensils.