Holiday House Kitchenette Showcases Wintery Design
---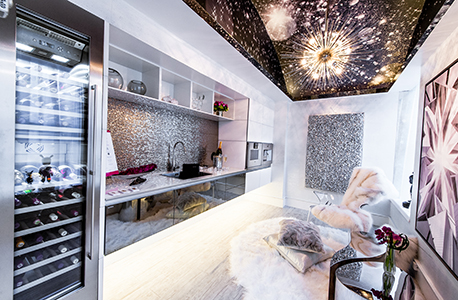 December 19, 2014
The 7th-Annual Holiday House, founded by designer Iris Dankner to raise breast cancer awareness in the design industry, has once again showcased an innovative play on the holiday season. Set in a historic mansion on the Upper East Side of Manhattan, the Holiday House features top designers and their holiday inspirations.

Photo Credit Alan Barry
In the kitchen, designer Noelia Ibáñez of Handel Architects' New York Interiors transformed a former walk-in closet based on the theme, 'Winter Solstice.'

Photo Credit Alan Barry
"I wanted to communicate the feeling of a space influenced by the purity of white snow," said Ibáñez. "It's about the promise of the return of sunlight after a period of darkness; the glimmered light of the universe reflected in our interior space."

Photo Credit Olga Mironova
She explained that the idea was to offer those in the master bedroom access to a small kitchen without having to go downstairs.

Photo Credit Olga Mironova
"You can come here, sit down, turn off the light, look at the universe reflected in the ceiling and illuminated with the relaxing dimmed cove lighting, and immerse yourself into your own cocoon," she added.
A potential homeowner literally could look up at the universe in their ceiling with the glittered printed ceiling wallcovering.
"Everything in the room is related to the universe," said Ibáñez. A Cosmo-Politan Star (Crystal Metro) print is displayed in between the windows of the space, while a pendant representing a star hangs above. The artwork in particular echoes a starry night with a 3-D panel meant to recall the landscape of Mars, as well as a textured wallcovering that pays tribute to the moon.
"Everything is meant to be white and silver, pure and full of positive energy," said Ibáñez.

Photo Credit Olga Mironova
For the backsplash, she chose a silver porcelain tile that adds sparkle to the space. Stainless steel appliances complement reflective white glass and smoked mirrors cabinets, which are suspended for a modern appeal.
Even with the clean lines of a contemporary space, the design also has a twist of glamour. Beneath the starry ceiling, a Tibetan sheepskin rug pairs with a transparent polycarbonate armchair by Philippe Starck. The little seating area, shaded by sheer drapes, has one last touch of fun with porcelain, alien-like sculptures on the windowsill.

Photo Credit Olga Mironova
"The idea was to create a fascinating place that functions as a destination room and celebrate the warmth of an interior space in this holiday season," said Ibáñez.