HomeAdvisor Reveals Most Popular Kitchen and Bath Projects of 2014
---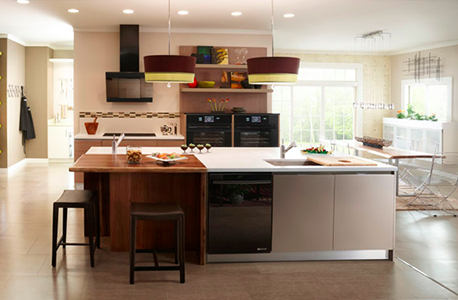 March 12, 2015
What do stone countertops, free-standing showers and newly-painted cabinets have in common? They were the projects for which homeowners most frequently sought to hire a home professional through HomeAdvisor.com in 2014. They're also the closest thing we have to a crystal ball for this year's home improvement trends, considering they're coming from a service that more than 30 million homeowners trust to help with their home projects.
HomeAdvisor has provided K+BB with an exclusive, expanded list of the most popular and least popular kitchen and bathroom projects of 2014. And it's going to put you well ahead of your competitors when it comes to anticipating client conversations and wishes in 2015.
The Bathroom Reigns; the Toilet is Dethroned
The bathroom won the great popularity contest of 2014, coming in as the most frequently remodeled room in the house. Replacing the toilet and updating the countertops fell to the bottom of homeowner wish lists in 2014, and the most commonly requested bathroom projects included:
• Installing a new bathtub. Shower/bathtub combos and jetted and walk-in tubs were most prevalent – and most homeowners chose a solid color or a tile or granite look for their bathtub liners and shower surround finishes.
• Installing a new shower. Freestanding showers, dual showers and steam showers were the most commonly requested shower installs.

Stone Cold Kitchen Countertops, Backsplash Fever
The kitchen clocked in as the third most popular room to renovate, after the bedroom. The average size of a kitchen remodel was 200 square feet. While the least-popular kitchen remodeling projects included updating lighting, updating flooring and changing the floor plan, the most popular renovation projects included:
• Updating the countertops. Most homeowners requested stone countertops, followed by laminate and tile. Other requested features included sink cutouts, backsplashes, integral sinks and cooktop cutouts.
• Updating the cabinets. The majority of homeowners refinished their cabinets by painting them or otherwise changing their color. Lightening cabinets and matching new cabinets to old were least popular in terms of finish. The most popular features incorporated into the cabinetry projects were new countertops, pullout shelves, crown molding and a lazy Susan.

– For more information about HomeAdvisor, visit www.HomeAdvisor.com.