How To Create a Stylish Bathroom with Designer Christopher Grubb
---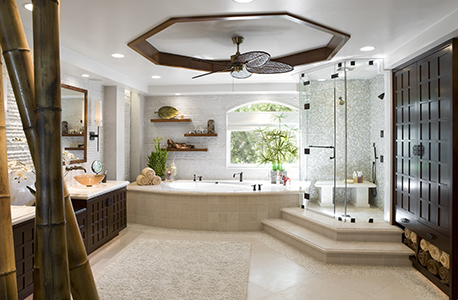 April 9, 2015
When recent studies show that the average cost of a new bathroom has risen from $175 to $225 per square foot to more than $600 per square foot*, designers can assume that consumer tastes have grown finer. Still while everyone may want and deserve luxury, not every budget passes the test.
In a recent video series on the online how-to guide, e-How, designer Christopher Grubb offers designers key tips on specific areas of bathroom design. K+BB caught up with Grubb to find out the features he has incorporated into his projects to create sumptuous bath environments for his clientele.
View a gallery of Christopher Grubb's projects here.

How to…

Incorporate Mirrors and Sconces
• If you have a smaller space, use a sconce up above. It gives an extra dimension, and also it's a piece of jewelry.
• For a mirror, do something taller when you can. Try going to a local frame shop and have them customize it to go with your look of the room.
• In a bigger bath, do a bigger, framed mirror, and put sconces on the mirror itself.
• Put sconces on a dimmer to control the mood in the room.
Design a Bathroom with Wainscoting
• Bring in the unexpected with stone wainscoting or a glass liner.
• If using tile, run it at a 45-degree angle for an elegant look.
• Continue the crown even under the backsplash to unite the whole room together.
• Always use crown molding for a finishing touch.
Introduce Fun to the Bath
• A fluted glass window in the shower gives the user privacy but lets in natural light.
• A wall of glass tile sparkles, draws the eye and utilizes fun colors.
• Top-mounted sinks come in a multitude of colors and are carved for a different look.
• Try a silk lampshade that hangs down versus sconces.
Design a Romantic Bathroom
• Start off with luxurious towels, matching robes and slippers and fresh flowers.
• Steam showers help couples escape from their day and truly relax.
• Incorporate niches in the wall by a two-person bath for personal effects and pictures.


Design a Bathroom on a Budget
• Start out with towels. Find a color palette, use a hand towel with a pattern in it, and then pick a color from that pattern for the walls.
• Try painting the walls a lighter tone and then use a drape or shower curtain in a stronger solid color so it gives two tonalities in the room.
• Something as simple as changing the faucet and upgrading the towel bars can bring an en-suite feel to the space.
• Paint the vanity and add new hardware so the room has some sparkle and shine.
Design a Luxurious Bath
• Start a design off with natural stone for the counters or even for the floor. If you use it on the floor, try full size slabs to mitigate grout lines.
• Go all the way with the cabinets – consider putting in a refrigerator or beverage system.
• Bring on the technology with remote-controlled showerheads and televisions and speakers in the shower.
Outfit an Apartment Bathroom
• Use a larger piece of art instead of a lot of small cluttered things to let the room breathe.
• To soften the room, try a valance as a window treatment.
• Find towels you like and paint the walls the color of the towel pattern.
• To organize toiletries, incorporate multiple tiers and a makeup mirror.
• Put lights on a dimmer to control the mood.
Decorate the Bathroom Walls
• Consider using personal touches like platter or plates mounted on the wall.
• Try mounting knobs of various sizes for a different art-like display.
• Open the space with mirrors of various sizes hung with ribbons.
• Find architectural fragments, paint them to match the wall and hang them.
Choose Bathroom Wallpaper
• Wallpaper is a great choice for the powder room. It makes a statement and is completely unexpected.
• There should be no steam issues if the wallpaper is installed correctly.
• For a master, try a natural fiber-like grass cloth to give the room texture. It's also easy to clean.
• Other different choices are cork or a covering of glass beads – both environmentally friendly.
Grubb is the founder of Arch-Interiors, the creator of the C.G. Collection of designer bathroom vanities and a member of the K+BB Editorial Advisory Board. View his complete series of instructional eHow videos on bathroom design by visiting http://www.ehow.com/video_12277732_luxury-bathroom-decor.html.
*HGTV Study on Remodeling