K+BB Design Awards Announced
---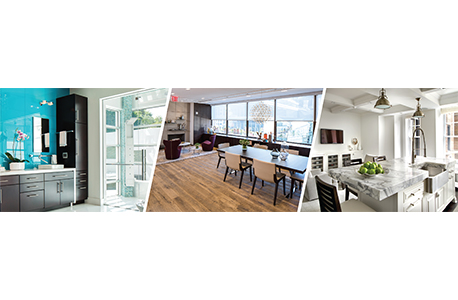 September 4, 2015
K+BB is proud to announce our 2015 Design Award winners! 


The esteemed panel of judges critiqued 90 kitchen, bath and showroom projects based on aesthetics, functionality and efficiency, solutions to challenges and fresh thinking. The panel chose a Kitchen, Bath and Showroom of the Year, as well as a 1st and 2nd Place Bathroom and Kitchen and an Honorable Mention in both the Kitchen and Bath Categories. Congratulations to this year's exceptional winners!


View a gallery of the winners here.
K+BB Design Awards Judges

Shane Inman, CKD, is president and senior principal designer of The Inman Company, an interior and exterior design firm in New York City. He has been a featured design on HGTV.com, a contributing author for such brands as Benjamin Moore and Pottery Bath, and his work has been recognized by The Huffington Post and The New York Times. He is a certified interior designer by the state of New York, the National Kitchen & Bath Association (NKBA) and the National Council for Interior Design Qualification.

Wendy Raizin is the founder and director of Raizin Design Group, a boutique design consulting firm in South Florida that specializes in high-end residential and commercial interiors. She is known for her fresh, clean-lined approach to redesigning space, and her skill in conceptual design has earned her a reputation as one of the East Coast's most up-and-coming designers. As a member of the U.S. Green Building Council, Raizin Design Group is committed to the health and wellbeing of its clients and the spaces they inhabit.

Paula Kennedy, CMKBD, CAPS, is the owner of Timeless Kitchen Design in the Seattle area. With 17 years of experience, she has been recognized as a Certified Architectural Color Consultant, has won multiple awards, has been published locally and nationally and has served on several industry advisory councils. She has been an NKBA Diplomat and Ambassador and was a 2015 NKBA Professional of the Year finalist, in addition to being a very active industry volunteer. She is becoming a teacher and writer of innovation and creativity and is sharing what she's learned along the way.

Ray Wiese, CMKBD, is the owner and president of the Wiese Company, Inc., in Sherborn Mass. Founded by Wiese in 1992, The Wiese Company employs a full-time design staff with one architect, two interior designers and Wiese as the principal designer. The company also employs a full construction department with an operations manager and six lead carpenters running projects between $5,000 to $3 million. The company's process and craftsmanship have been recognized by many influential publications.