K+BB's Design Award Winners Announced
---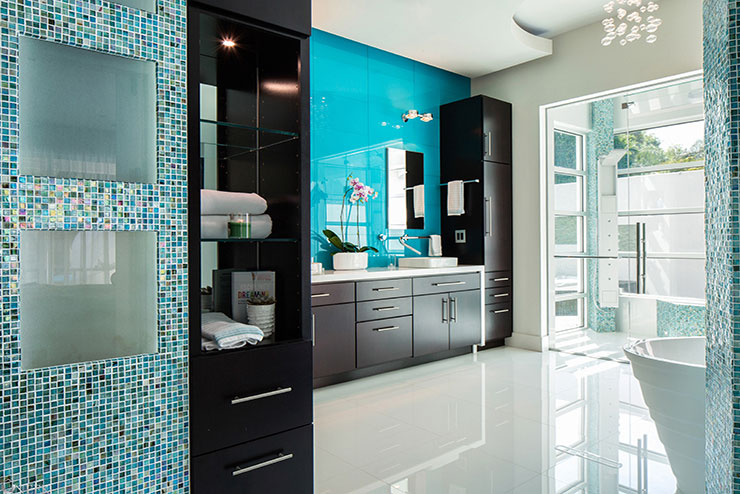 September 3, 2014
We at K+BB are proud to announce our 2014 Design Award competition winners! The esteemed judges critiqued more than 55 project submissions on aesthetics, functionality and efficiency, solutions to challenges and fresh thinking. The panel, which included Chantal Devane of Devane Design; Christopher Grubb of Arch-Interiors Design Group; Ebony Stephenson with Criner Remodeling; and David Stimmel with Stimmel Consulting Group, chose a Kitchen, Bath and Showroom of the Year, as well as two Honorable Mentions in both the bath and kitchen categories and one for showrooms. Congratulations to this year's outstanding winners!
View the gallery of winners here.
• Kitchen of the Year: Dresner Design
It's hard to believe this space used to look like what designer Scott Dresner of Dresner Design in Chicago called "a medieval dungeon – dark and small." His plan of attack included raising the ceiling height and lightening and brightening the finishes to give the kitchen the illusion of more space and openness. He chose elements he thought would best complement the existing architecture, including a one-ton Calacatta Gold marble kitchen island.
Sources
Designer: Scott Dresner, Dresner Design; Photographers: Overall
Shots by Tony Soluri, Details by Jim Tschetter; Cabinetry: Greenfield Cabinetry; Dishwasher: Bosch; Faucet: Hansgrohe; Pendants: Restoration Hardware; Refrigerator: Viking; Stove/Hood: Wolf
• Bathroom of the Year: Design Studio 15, Keesee and Associates and William Edward Construction
An on-the-go Walt Disney executive and his wife in Winter Park, Fla., longed for a unique, modern and luxurious bathroom, which is exactly what Design Studio 15 and Keesee and Associates provided after an extensive renovation. The project, which was completed last December by William Edward Construction, included a large closet, a steam shower and sauna, creative storage and organization opportunities, ample lighting choices, a private water closet, a Jacuzzi and a unique ceiling.
Sources
Design Team: Shanna Bender of Design Studio 15; David Pillsbury, AIBD, CPBD, CGP, Keesee and Associates; David Boers, William Edward Construction; Photographer: Uneek Luxury Tours; Plumbing: Hansgrohe; Tile: Original Style; Tub: Aquatica; Vanity Faucets: Neuve
• Showroom of the Year: SieMatic, Mick De Giulio and Mick Ricereto
The main goal of SieMatic's North America flagship showroom in New York City's A&D Building was to be what the design team called an unexpected space that would speak to individual lifestyles. According to Hans Henkes, president and CEO of SieMatic Mobelwerke USA, the designers eschewed the typical layout of kitchen display vignettes in favor of a more authentic, realistic setting of two New York "apartments" and used the company's cabinetry designs to create modern and warm residential-style environments of timeless elegance.
Sources
Design Team: André Backemeier, SieMatic; Mick De Giulio; Mick Ricereto; Photographer: Tom McWilliam; Appliances: Gaggenau, La Cornue & Miele; Countertops: SieMatic & Silestone; Furniture: BB Italia & Knoll Seating; Lighting: Circa, Moooi, Ochre, Sonneman & XAL; Main Display Cabinets: SieMatic; Window Shades & Lighting Controls: Lutron; Wood Flooring: Paris Ceramics
• Honorable Mention Kitchen: Amy Yin Interiors, Conestoga Valley Custom Kitchens and ArchStone Architecture
Amy Yin of Amy Yin Interiors had been busy for years renovating other people's homes. After she and her husband had been in their own home in Short Hills, N.J., for 10 years, it was finally their turn to transform their kitchen. They had four requirements with their new design, which included opening the kitchen to the family room. Yin demolished an 11-ft.-long brick wall to remove the fireplace between the rooms and tied the spaces together with columns, beams and a cohesive color scheme – warm gray, black granite, bright white, mother-of-pearl inserts and metallic accents.
Sources
Design Team: Amy Yin, Amy Yin Interiors; Emily O'Keefe, Conestoga Valley; Custom Kitchens; Chris Papaleo, ArchStone Architecture; Photographer: Joy Yagid, Joy Yagid Photography; Antiqued Mirrors: Glassworks of Summit; Backsplash: Artistic Tile; Blender: Vitamix; Coffeemaker: Jura-Capresso; Countertops: Silestone; Dishwasher: Miele; Faucets: MGS; Fretwork: Fretworks Designs; Garbage Disposals: InSinkErator & Waste King; Hardware: Hamilton Sinkler; Hood: Vent-A-Hood; Light Switches & Wall Plates: Legrand; Lighting: Hafele & Tech Lighting; Microwave Drawer: Sharp; Range: La Cornue; Refrigerator & Freezer: Sub-Zero; Sink: Elkay; Soap Dispenser: Newport Brass; Speakers: Stealth Acoustics; Water Dispenser: Mountain Plumbing
• Honorable Mention Kitchen: Lauren Levant Interior
Homeowners in Pittsburgh recently purchased a house last year, but the existing kitchen was poorly laid out, and the style was dated. The space was congested, everything was clustered in the middle, and the room was what designer Lauren Levant Bland referred to as "carved up." Bland's design solution incorporated great circulation, top-of-the-line cooking technology and a bright, clean design with a little glamour thrown in. She was able to salvage some of the existing appliances, including the range, but the cabinetry, countertops and flooring had to be replaced.
Sources
Designer: Lauren Levant Bland of Lauren Levant Interior; Photographer: Ettore Mormille; Cabinetry: Greenfield Cabinetry; Cabinetry Dealer: Jennifer Gilmer Kitchen & Bath; Countertops: Greenfield Cabinetry; Dishwasher: Miele; Faucets: Rohl; Range: Dacor; Refrigeration: Miele
• Honorable Mention Bathroom: Accent Cabinets and Keith Blair & Associates
It's a situation you hear a lot these days: My shower is too small, and I never use my tub. What can I do to better utilize my space and even enlarge it? During the scope of this particular project, Tamera Overstreet with Accent Cabinets and Keith Blair of Keith Blair and Associates in Houston, decided on a complete bathroom/closet gut and remodel. According to Overstreet, the purpose of the design was to transform the homeowners' en suite into a luxurious spa retreat, but because the design team was restricted to using the available space, there was no option of an actual expansion.
Sources
Designer: Tamera Overstreet, Accent Cabinets; Builder: Keith Blair, Keith Blair and Associates; Photographer: Connie Anderson; Closet System: Accent Cabinets; Door Glides and Hinges: Blum; Faucets: Hansgrohe; Hardware: Atlas Homewares; Mirror Television: Hidden Television; Tile Shower System and Thermostatic Valve: Kohler; Toilet: Toto
• Honorable Mention Bathroom: S Interior Design
A young couple had set their sights on a contemporary, unique and fully functional master bathroom – something that reflected their aesthetic tastes. They were tired of the existing space with its small, stand-up shower and a small tub with a divider wall; bland materials; knotty alder wood vanity; slab mirrors and light bars; pitted marble countertops; white walls and limited storage. Enter Suzanne Lasky of S Interior Design in Scottsdale, Ariz., who completely transformed the space with such elements as custom-designed, floating vanities of rift-cut oak stained a rich, dark brown with ample storage and built-in, hidden outlets. She also managed to include a sit-down vanity in the design plan.
Sources
Design Team: Suzanne Lasky, S Interior Design; Photographer: Pam Singleton, Singleton Photography; Countertops: Caesarstone; Hardware: Atlas Homewares; Mirrors: Minka Lavery & Paul Decorative Products; Paint: Dunn Edwards; Sconces: Hudson Valley; Showerheads, Valves and Accessories: Brizo; Tile: Cascades Tile, Daltile & Emser; Tub and Sinks: Kohler; Vessel-height Faucets: Danze
* Honorable Mention Showroom: Frisbees Kitchen & Bath
For years leading up to our renovation, customers told us our showroom was confusing, outdated and not fresh with new product," said Rhonda Ims, marketing manager at the Frisbees Kitchen & Bath Showroom in Sioux Falls, S.D. "The reality was, we were constantly changing our product, but because the vignettes remained the same, our customers questioned whether product was current." The previous vignettes created confusion by making the showroom appear broken up and not easy to navigate, and customers wanted more focus on what the showroom is known for: plumbing fixtures.
Sources
Design, Display Pod Fabrication & Installation: Systeme Huntingdon; Painting, Consulting & Accessorizing: Diane & Company; Photographer: Jeff Veire, Imagery Photography; Ceiling Tile & Grid: B&G Acoustical; Concrete Flooring: Brooks Construction; Countertops: Cambria; Custom Display Cabinet Pieces: Dakota Kitchen & Bath; Lamps & Shades: Specialty Lighting; Outdoor Signage: Priority Signs; Tile & Granite: Syverson Tile; Window Shades: Betz Blinds