LEDS: The Good, the Bad, the Illuminating
---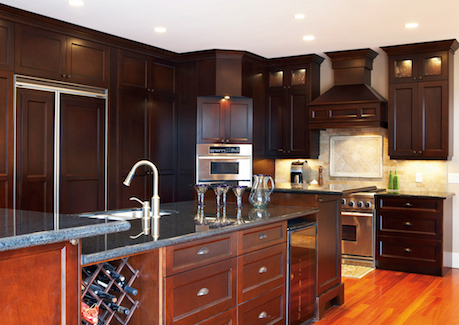 August 4, 2011
Some designers and architects have a love-hate relationship with LED (Light-Emitting Diode) lighting systems. While they are innovative with great potential for energy-efficiency, they represent a major paradigm shift for the design community, and their true reliability and lifetime is not generally known. However, many designers and architects are moving away from incandescents toward LEDs (which perhaps sparked the U.S. Department of Energy (DOE) to recently publish an updated version of the guide, "LED Luminaire Lifetime: Recommendations for Testing and Reporting."
We asked Jeff Cunius, an engineer at CSL (Creative Systems Lighting), to give us an update on the latest LED developments, where the technology is headed and what designers can expect in the future.
What are some of the lighting trends you are seeing right now?
Everyone is moving into LED technology. Although many decorative fixtures are still incandescent, most designers and architects are moving out of incandescent toward LEDs. Three years ago, one LED cost $2 and now they're down to $.83. So, light output is going up, but cost is coming down. That's a good thing.
What has been the single-most important LED development in the last year?
We are beginning to see LEDs with higher junction point temperatures. These LEDs can get up to 150 degrees Celsius, which is extremely hot. For architects and designers, a higher temperature means that they will be able to increase the light impact, ultimately decreasing the amount of LEDs needed to light a space—effectively lowering energy costs even further for building owners.
What's the most common thing architects and designers ask you for today?
We are seeing much more requests for photometric files. Photometric files allow us to take a luminaire and test it with a machine; the test results show us the exact light output and direction the light is going. With photometric files, we are able to help improve the design process and reduce the amount of revisions needed. It removes the guesswork for the architect. Architects are requiring RIVET files of the luminaires to place in their building layouts. By inserting the luminaire they are able to show exactly what the end result will look like without any misinterpretation.
For designers who want to incorporate LEDs into a kitchen or bath, given the current state of LED technology and price point, what are the best applications?
Typically in newer kitchens and bathrooms, recessed lighting is a popular solution because the inconspicuous fixtures provide great task and general lighting, based on their application.
The best applications for recessed LED fixtures are in hard-to-reach locations (such as tall ceilings), unique installations, or eco-friendly or LEED-certified residential projects. But there are other ideal applications for LEDs in the kitchen or bath environment, such as undercabinet lighting, under-baseboard lighting, soffits or areas where you want to highlight special architectural elements.
What are the applications where there may already be fixtures on the market but designers might want to hold off?
Traditional chandeliers are going to be the biggest hurdle when it comes to incorporating LED technology into lighting. LEDs are point sources, pointing light in a 120-degree pattern. By contrast, a normal incandescent lamp puts out light in a 360-degree pattern. Right now, it is very hard to design traditional decorative lighting, such as an eight-arm chandelier, using LEDs.
Any other advice for designers considering incorporating LED lighting?
An important point to mention is that a designer or consumer should realize there are differences in the quality of the fixture and LED light bulbs manufactured. Low-end products may cost less for the consumer, but do not have the same light output as high-performance LEDs. For example, large hardware chains sell a lot of decorative fixtures with LEDs, but they are far from the light output of the same fixture with an incandescent lamp installed. This is how they keep their costs low. Most consumers are not aware of this when they purchase LED products. Once they install the fixture at home and use it for a while, they are disappointed by the level of performance.
Is this being addressed? And how?
Part of the problem is, most consumers are not educated on lumens (the measurement of light output), so it can be difficult to know what they are gaining or losing when they select their lighting. Also, there is still not an accepted protocol for measuring and characterizing the lifetime of LED systems. The U.S. Department of Energy (DOE) just published an updated set of guidelines for LEDs in June, which aims to pursue better reliability methods for measuring and characterizing lifetime. Over time, we will have greater understanding and explanation of the technological progress related to LEDs.
You mention the DOE's June 2011 guidelines, which states that using lumen maintenance values as a proxy for the lifetime of an LED lighting system can be "misleading, since lumen maintenance is but one component of a luminaire's reliability." What are the implications of this issue for a company such as CSL and its products? How are you resolving it?
Lumen maintenance is a small part of the overall life of a solid-state lighting (SSL) luminaire. CSL is doing several things to resolve the issue, including designing our custom drivers to last 100,000 hours. Revisions are made to the driver to prevent any further production runs having the same issue. Out of all of the Eco-Downlights we have sold, less than one percent have failed in the field. We also use high-grade PMMA acrylic to make our optics.
CSL's Eco-Downlight
Moreover, the LEDs used in the CSL product are wired in series, meaning that if one LED prematurely fails, the entire fixture will shut off. In our Eco-Downlight currently, we have 12 LEDs wired in series, which helps to avoid the color shift discussed in the DOE product guide from one bad LED starting to go out.
Where do you see LED technology going in the next five years? 10 years?
LEDs will only continue to get better on a day-to-day basis. Three years ago when we started using LEDs, we were getting 25-30 lumens per watt. With all of the advancement of junction temperature, we are now seeing up to 100 lumens per watt.
—Jeff Cunius or Steve Nadell, president of Troy Lighting-CSL, are available to discuss relevant issues concerning lighting and speak about recent changes in DOE policy that may impact installation or specification. A division of Troy Lighting, CSL designs and manufactures performance-engineered architectural lighting fixtures.
Looking for LED fixtures for your kitchen? Check out these options…