Luxury Design for Less
---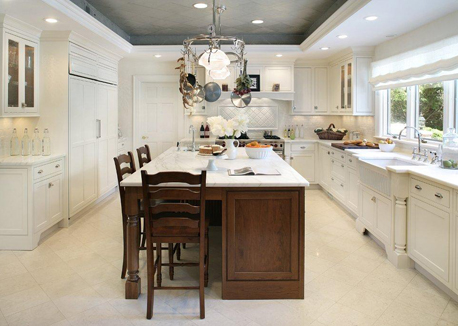 November 5, 2010
In a time when people in every income bracket are looking to save money, one of a designer's best skills is his or her ability to help homeowners cut costs when remodeling a kitchen or bath without sacrificing great design in the process. In fact, if done right, a designer can bring a project in at a fraction of the cost without the homeowner feeling they were forced into unwanted compromises. It's all a matter of using your creativity, your knowledge of suppliers and distributors, and your top-notch communication skills to focus consumers on the most important elements of their design while steering them in the direction of deals and discounts that won't sacrifice their—and your—overall vision. Here, two top designers share their secrets for making designs affordable, yet still spectacular.
1. Be creative with tile. Sure, you can spend as much as $100/sq. ft. on exotic tile for the kitchen or the bath, but Amir Ilin, president of Kuche+Cucina in Paramus, NJ, doesn't see the need. He says there are a variety of great options to choose from at under $10/sq. ft. "Create unique looks by using a mixture of tile styles without covering the room in the expensive stuff," he said. For instance, create a small mosaic above the tub with that high-end tile the client loves, but use a good-quality, cheaper option to cover the rest of the enclosure.
For this kitchen in Saddle River, NJ, Ilin used less expensive ("but not cheap by any stretch of the imagination") cabinetry, marble countertops and tiles, saving an approximate $20,000.
Click to enlarge
Click to enlarge
2. Think out of the backsplash. Most people associate the backsplash with tile, but David Stimmel, principal at Stimmel Design Group in Blue Bell, PA, thinks slate. He uses sheets of the inexpensive stone to create a cool look. Not only is the material less expensive, but he saves by using his granite fabricator to create the backsplash instead of having to bring in a tile guy as well. "The fewer cooks there are the less the costs will be," said Stimmel. "If your granite guy is already there, he doesn't have to charge you just for coming out."
3. Think twice about specialty appliances. Although it's essential not to skimp on your appliances, help your clients reconsider some of the extras like steam ovens, in-counter steamers or pizza ovens. "Often people discover after the fact that they didn't steam cook before and they don't steam cook now," said Ilin. "Now that steam oven, which may have cost two or three thousand dollars, is sitting there like the treadmill in the bedroom."
4. Skip the whirlpool tub. It's an expensive piece of equipment and many people say they never use it, said Ilin. You can get a huge luxury shower with steam, massaging jets, a seat and a rain showerhead for a fraction of the price of a top-of-the-line tub, and most homeowners will use it much more often than they use the tub.
5. Simplify the cabinets. There are some great custom cabinet lines out there that don't cost a fortune, so the client doesn't have to sacrifice flexibility in order to reduce costs. That said, a simple design will keep costs down. Steer clear of exotic woods and finishes and use your money to add those little touches instead.
How you design the wall cabinets can make a difference as well. "Do you need a super-high wall cabinet?" asked Ilin. "Is the client going to use that space? Maybe you can avoid going up to 42 in. Stick to 36 in. and save."
6. Reduce wall cabinets. Another option is to use fewer wall cabinets altogether. Consider incorporating freestanding furniture pieces for a more interesting look that also saves money. Perhaps the client has a piece that's just begging to take center stage in the kitchen. Using furniture can create a completely unique and dazzling space. "You can really go wild with an unfitted kitchen," said Stimmel. "I'm doing a job right now with no wall cabinets at all. The client is a painter so I'm using some of her art as a backdrop."
7. Use recycled materials. Adding interesting found items can create an even more spectacular look than the most expensive tile or cabinet finish could ever do. Case in point, Stimmel recently used a set of iron fireplace doors as a backsplash. "The client already had them, she always wanted a place to put them and they look great behind the range," he said.
Love the granite countertop? Stimmel did, too, which is why he salvaged it from another of his projects and used it in his own bathroom. This gorgeous piece of stone would have otherwise ended up in a dumpster. (Check back for full coverage on Stimmel's bath project.)
8. Shop odd jobs. Stimmel saves a fortune on his designs by hitting up his suppliers for odd jobs. He'll ask his flooring or tile distributors if they've done any big jobs that have led to some remnants. In his own kitchen he was able to get 100 sq. ft. of curly cherry flooring for $3/sq. ft. instead of the usual $8 (shown below). It was all the fabricator had left from a large project he'd just completed, but it was just what Stimmel needed. Stimmel suggests that commercial fabricators are a great resource for odd jobs because they do huge projects and often have remnants that can cover an entire residential kitchen or bath.

One big key to good affordable design is flexibility. "If you help your clients to broaden their expectations, those expectations can be met and exceeded," said Stimmel. Throw in a little extra creativity and you may even come in under budget.