Midcentury Modern Goes Live
---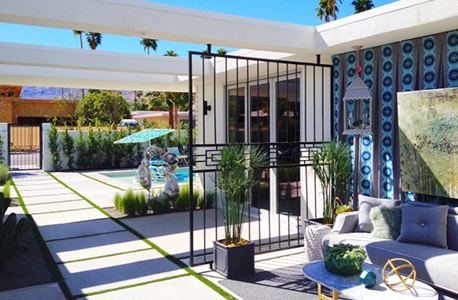 March 2, 2015
Celebrating the Palm Brings, Calif., legacy of midcentury modern architecture, the Modernism Week Show House 2015: Christopher Kennedy Compound showcases the work of 12 designers and the best in kitchen and bath products.
View a photo gallery of the home here.
Created to raise funds for Modernism week and other preservation efforts, this remodel respects the 1964 property's architectural character while updating it to modern standards. The home is situated on the fairway of the Indian Canyons Golf Resort, a known favorite for stars like Frank Sinatra and Bob Hope. Led by designers like Michael Berman, Linda Allen, Bobby Berk and Marlaiana Teich, the redesign was in partnership with manufacturers like Wolf/Subzero, Duravit and Ferguson.
This year's home, a 2,500-sq.-ft. 1964 ranch house, needed to keep with designer Christopher Kennedy's requirement for a casual, fun environment that takes advantage of the resurging avocado green palette. A resident of Palm Springs for 12 years, Kennedy drew inspiration from the blues and greens of the city to create an easy, luxurious aesthetic.