NKBA U Announces Finalists for Professional of the Year Contest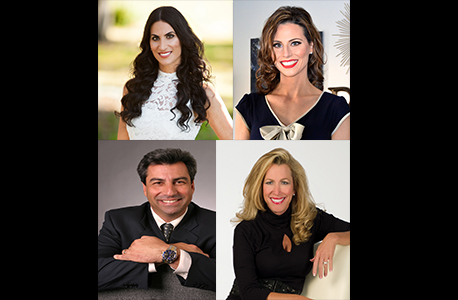 December 17, 2015
NKBA University has announced the four professionals who will compete in the final round of the NKBA U Professional of the Year Contest. The contest will culminate in Las Vegas at KBIS 2016 from NKBA's Center Stage on Tuesday, Jan. 19, where a panel of NKBA judges will decide the winner.


KBB spoke with each of the four finalists to find out more on why they were chosen and what makes them unique as designers.

What do you love most about design?
Patricia Davis Brown: Never being placed in a box. My palette changes for each and every client; when I'm asked what my signature style is, it's simply my client's vision. I love presenting a preliminary design to a client and seeing their reaction to my work, knowing I have taken their vision beyond what they could have ever even imagined.


Matt Plaskoff: The ability to transform a space – from a less functional and less beautiful room – to a significantly more usable and enjoyable room. I love to problem solve through the client's needs, uncovering pieces to the puzzle that even the client didn't know existed.
Danielle Burger: It amazes me how design can transform a physical space into a mood with light, color and texture but can also solve problems and overcome hurdles to create balance between beauty and function.
Alena Capra: Design is my passion, and I love that I get to design every day to earn my living. I love when a design concept comes together and everything just clicks. As designers, we can see the finished product in our heads before we even get there, but when all the parts of the project come together and a great design is executed, it's the best moment.

Why do you think you were chosen as a finalist in the 2016 Professional of the Year Contest?
Brown: My 30-year career has always involved the NKBA, namely its educational arm NKBA University, as the force that backs my desire to reach further. Because I have leveraged the tools that NKBA has given me over the course of my career, I am a perfect candidate for professional of the year.


Plaskoff: Education is very important to me and is part of the fabric of my company culture. Because of what I've learned through my involvement with NKBA, I speak from a place of experience, knowledge and a true love for the remodeling and custom home building industry.
Burger: I think I was chosen as a finalist because I am an example to other design professionals. Continuing my education through NKBA University and applying what I had learned in real-life situations has enabled me to take my business to the next level, and I can now more clearly see the future success of my business.
Capra: I have spent the past several years working very hard on bettering myself as a designer, and that includes continuing education and professional development. Being a finalist for the NKBA U Professional of the Year is the ultimate cap to a great year. It feels so amazing to be recognized for all of my efforts.


Of which projects are you particularly proud?
Brown: I am most proud of my commercial showroom designs, including the Jetson Builders Appliance showroom and Patricia Davis Brown Fine Cabinetry. In each of these, I overcame challenges that were different than the challenges faced for a residential project (which is what I commonly work on), and that is what I thrive on – a challenge.


Plaskoff: I'm always particularly proud of projects that solve a problem or change someone's life. There are two I'm most proud of – in one, we needed to create a space for a husband with MS and his wife that fit his needs but wasn't institutional. A week after the bathroom remodel was complete, she reached out to share it had "changed her life." This wasn't the largest project, but certainly the most rewarding.
Burger: Once I designed a kosher kitchen for an elderly couple with an extra small space and an even smaller budget. My profits were tokens of appreciation in the form of cookies, coffee and stories about the great-grandkids. It was my favorite project.
Capra: One of the projects I am most proud of is the room I designed for the KidSanctuary, a home for foster children. Myself and 17 other designers joined together to create a beautiful and safe environment for the kids to live.

The grand-prize winner will receive an all-expenses-paid trip for two from Platinum Sponsor Kohler Co. to tour its global headquarters and manufacturing facilities in Kohler, Wis., and a $500 gift card. Each of the remaining finalists will also receive one all-expenses-paid trip to visit the headquarters and manufacturing facilities of one of the contest's Gold Sponsors, including Franke, Rev-A-Shelf and DuPont.
Patricia Davis Brown, CKD, CBD, ASID, NCIDQ started her career in the kitchen and bath industry nearly 30 years ago. In addition to her own Vero Beach, Fla., firm, Patricia Davis Designs, LLC, which she started in 1992, Brown has also launched ProfessionalKitchenandBathPlans.com, an online consumer resource for kitchen and bath design.

Matt Plaskoff founded Plaskoff Construction with a different approach to remodeling and custom home building – one rooted in attention to detail and constant client communication to eliminate the frustration often associated with the construction process.
Danielle Burger, AKBD, discovered her appreciation for kitchen and bath design through several years of experience working in high-end plumbing and hardware showrooms in Chicago and soon launched her own design firm, Kitchen Vitality Design.
Alena Capra, CKD, CBD, has 13 years of industry experience as an interior designer and is the owner of the award-winning practice, Alena Capra Designs. She is also developing an e-design service, which she'll soon add to her list of client offerings.