nousDecor Translates the Design Process Online
---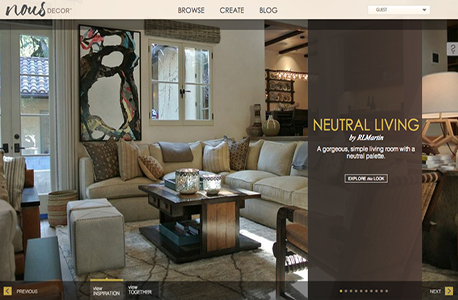 May 8, 2015

With a different, more intimate design angle than the ever popular Houzz or Pinterest, nousDecor.com introduces a new way to connect and inspire.
"I wanted to find a way to create an experience where it didn't matter where in that pyramid you were—you were treated with respect and shown ways to transform your life irrespective of budget," said Los Angeles-based designer Mark Cutler, the chief designer at nousDecor.
Launched in the past year, nousDecor began when YouTube veteran Heather Gillette inherited a chandelier from a friend and soon found that she needed to find one or two more. After scouring online for matching pieces, she realized that hunting for singular products like hers may be a common issue. From there she knew there should be a place online where furnishings from anywhere were easily searchable by size, color, price and category, and a place that could provide a community to help solve similar décor dilemmas.
nousDecor then evolved into a site for everyone, from professionals to décor enthusiasts, to interact and inspire one another by using a system of inspirational images, mood boards and even personally uploaded items. Consumers can begin by browsing inspirations and creating a mood board. They can post their boards to social media and ask for advice or opinions from friends or designers.
"My job is to make the experience of using nousDecor very similar to the experience of having an interior designer," said Cutler. "You are given inspirations, you shop, you have the opportunity to change your budget, and you can ask friends and get help from the community, which is exactly the way my clients have been doing it for years but have never been able to do it online."
Designers can get involved in both passive and active ways. Professional designers, as well as consumers and amateurs, continually upload all the inspiration images at the beginning of the site. A designer can contribute countless inspiration images to that library knowing that all the images are watermarked, link back to the original site and are credited. The next step is to start creating mood boards based on personal work, showing the products incorporated and how much each cost. These can be reposted on social media.
"If I was a young designer starting out, this would be a great option to show people how you think," said Cutler. "Show them what your process is and people will be much more likely to contact you."
nousDecor also has an app both designers and consumers can utilize: snap a photo of an item and comparison shop, find moodboards and read up on advice and trends. According to Cutler, it is this type of technology that makes nousDecor stand out, along with its ability to bring people together in the design world.
"Sometimes you just want to contribute to the dialogue," said Cutler. "There's a real value in contributing and helping, and it's just good to be good."