Rising Design Stars
---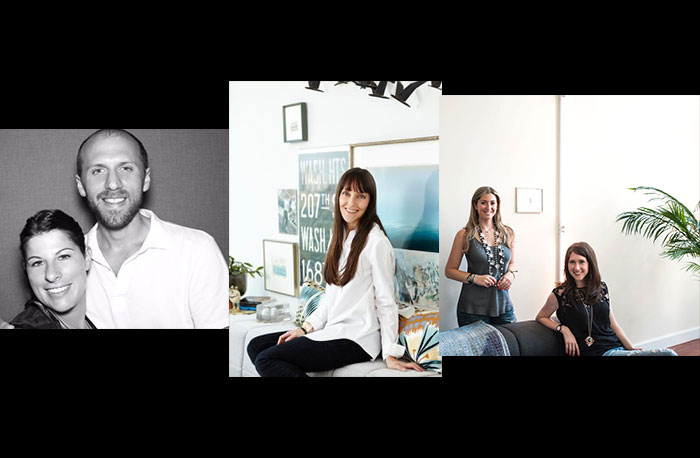 November 6, 2016
Each year, the New York Chapter of the International Furnishings and Design Association  (IFDA NY) community and board members come together to vote on the designers who are the next rising stars in the industry. The votes have been cast, and the nominees will be honored at the 10th–annual "Rising Stars of Design" awards ceremony on November 15th in Manhattan.
The nominees for this year include: Jenny Dina Kirschner of New York-based JDK Interiors; Lindsay Boswell and Ali Levin of New York-based LABLstudio; and Lindsay Weiss and Noah Turkus of New York-based Weiss Turkus Projects. KBB spoke with each designer to find out more on their journey and how they reached this point in their careers.
View the gallery of the winning designers and their projects here.
KBB: Explain a little of your background and how you became a designer.
"After growing up in St. Louis with a strong focus on fine arts, I spent more than a decade obtaining my BFA, MA and associate degrees in multiple areas of art, design and art education. I then moved to London to experience a different life and to study interior design. I went on to work for design firms in London and New York before founding my firm, JDK Interiors. Since then, I've worked on dozens of residential projects, from apartments in Manhattan and Miami Beach to unique spaces and townhouses in Brooklyn. Interior design gives me the perfect vehicle to express my creativity and my true love of the arts, while also building a career for myself."
                                                                                            Jenny Dina Kirschner, JDK Interiors
"We are a combination of traditional and non-traditional backgrounds. Ali studied interior design at Cornell, and I [Lindsay] studied fashion design and textiles at FIT. We both share conceptual visions and love taking a design from concept to reality. We balance each other out well with Ali's keen eye for space planning and details, and my textile, color, pattern and materials obsession."
                                                                                              Lindsay Boswell and Ali Levin, LABLstudio

"I first developed a keen interest in design in the early 90s when my parents renovated their suburban kitchen. And I became obsessed over where to store the spice rack. After studying other things in college, I finally came back around to interior design, thanks to a fantastic summer internship where I fell in love with textiles and the entire installation process."

                                                                                                     Noah Turkus, Weiss Turkus Projects
"From an early age, I was exposed to art through my mother, who was a painter. When I wasn't painting with her in her studio, we were always going to galleries and museums wherever we traveled. When I got to college, I was fascinated by what the architecture students working on in the dorm and quickly realized where I needed to be. I continued to refine these ideas, as well as my technical skills, through college, grad school and many jobs with talented architects. My path to becoming a designer has always been a definite, but the point at which I took my architectural formal training and used it to hone my passion for residential and interior design has been the most exciting part about the story so far."

                                                                                               Lindsay Weiss, Weiss Turkus Projects

KBB: What do you love most about your job?
"I've been antiquing and collecting since I was very little; my parents' idea of a fun family Sunday sometimes entailed driving out to some country antique shop or an estate sale. Even in my early adolescent years, I recall looking for estate sales in the classifieds for my parents to drive me to on the weekends! To this day, I love a good search. I become giddy like a child in a candy store when I discover a good find, whether it be an incredible new textile or that perfect piece of vintage furniture or some whacky antique tchotchke – those are the best!"

                                                                                           Jenny Dina Kirschner, JDK Interiors
"Our favorite part is getting to know our clients, understanding their needs, aesthetic and personality and then channeling that into an environment that is reflective of them – in the most stylish way possible."
                                                                                           Lindsay Boswell and Ali Levin, LABLstudio
"Unlike many other careers, we feel fortunate to never have the same day twice. We never know what a given week will bring, and we relish in the adventures it affords us."
                                                                      Lindsay Weiss and Noah Turkus, Weiss Turkus Projects
KBB: What are your tips for success?
"In a kitchen, I always prefer to use a material on the base cabinets that is resistant to water and cracking; water always somehow makes its way out of the sink and onto the cabinet below. Save that gorgeous, impractical material for the upper cabinetry. When I use a cooktop in a kitchen, I love to put a shallow drawer just below for cooking utensils so that they are always right there when you need them."
                                                                                              Jenny Dina Kirschner, JDK Interiors
"Interior design is a client-based industry – we feel an obligation to continuously grow and evolve to be the best hire for potential clients and pride ourselves on creating spaces that are not just reflective of our style but that are truly unique to each of our clients."
                                                                                            Lindsay Boswell and Ali Levin, LABLstudio
"Knowing that our clients usually like to be part of our design process, we are very careful to streamline our presentations so the client does not feel overwhelmed."

                                                                          Lindsay Weiss and Noah Turkus, Weiss Turkus Projects
KBB: What are some lessons you've learned over your career?
"I've learned to be patient; patient waiting on lead times, and even more so, I've learned to be patient with people. Kindness and gratitude in this business (and in life) also both go a long way."
                                                                                            Jenny Dina Kirschner, JDK Interiors
"Trust your gut, always. We've learned to listen to that little voice that sometimes goes against reason, and we have never regretted it! It speaks up for a reason!"
                                                                                        Lindsay Boswell and Ali Levin, LABLstudio
"We have learned that the sampling process is your friend and should be taken advantage of. For example, if we are doing custom cabinetry, we like to make multiple samples in various colors and finishes and take them to the space to see how it reacts with the light and context. Palette selection cannot just be done in the office!"

                                                                     Lindsay Weiss and Noah Turkus, Weiss Turkus Projects