Seven Designs, Seven Awards
---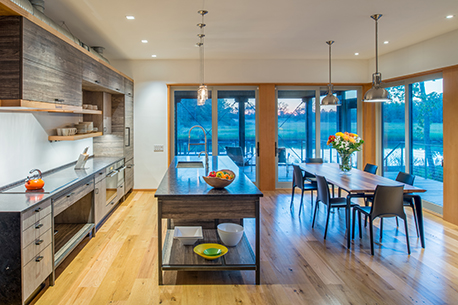 April 29, 2016
The National Kitchen and Bath Association's (NKBA) Baltimore/Washington Chapter has honored Chevy Chase, Md.-based Jennifer Gilmer Kitchen and Bath with seven kitchen and bath design awards. KBB got an insider's look into each of the projects and spoke with the firm's designers to find out more.


View an in-depth gallery of projects here.
Large Kitchen, Second Place
Designer: Paul Bentham
"We had to deal with mechanical issues when removing the wall that separated the living area: sprinkler systems (required by code) and such had to be relocated, but it paid off in the end with a totally open floor plan," said Bentham.
Large Kitchen, Honorable Mention
Designer: Paul Bentham
"Lots of attention was paid to making the space appear larger and wider," said Bentham. "Reflections play a large role in expanding this space. The range hood is mirrored stainless, and the raised part of the island countertop has a support wrapped in mirrored glass. The reflections create the illusion that the island is 'floating' in the room."
Medium Kitchen, First Place
Designers: Jennifer Gilmer and Amy Gardner
"The clients owned a house on this lot, but it was older and tired and it didn't take the best advantage of the view of the canal," said Gilmer. "They hired an architect to design a new house for them, and because it's modern, we were able to create a warm contemporary kitchen that fulfilled their sustainably minded agenda with a 'modern farmhouse' aesthetic."
Medium Kitchen, Second Place
Designer: Sarah Turner
"The existing kitchen included the original outdoor alley that used to go from the front to the backyard and a brick pizza oven whose chimney extended to the roof," said Turner. "With all these structural impediments in place, this space needed careful space planning."
Small Kitchen, First Place
Designer: Meghan Browne
"Breaking a basic rule of kitchen design, 'center the sink under the window,' we boldly located the sink flush with the right edge of the window, blatantly off-center," said Browne. "We [positioned] the sink [this way] to get a larger drawer base cabinet but kept the faucet on center with the window to create the illusion of a centered sink."

Small Kitchen, Second Place
Designer: Sarah Turner
"We could not add any space, but that did not stop us from making the cabinets larger – thus creating more usable storage while reducing the number of cabinets," said Turner. "This kitchen features fully integrated fridge and freezer drawers and a paneled dishwasher to minimize the look of the appliances."

Large Bath, First Place
Designer: Paul Bentham
"The star of the renovated space is the undulating three-dimensional wall tile," said Bentham. "This creates a dramatic light and shadow play while fulfilling the agenda for a bright, white space."