Exhibit Focuses on the Smart Home
---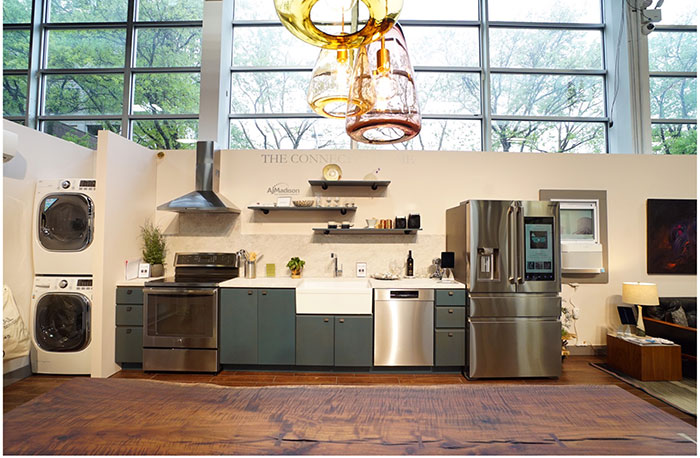 July 10, 2017
AJ Madison, a Brooklyn, New York-based showroom, recently teamed up with local designer Gunnar Larson to create the Connected Home Exhibit – a space that shows how a small house can still be smart. This 30-ft. by 10-ft. exhibit also functions as a usable living and kitchen space.
""My goal as a Brooklyn-based designer was to showcase the amazing interior finishes and appliances that can be sourced here," said Larson.  "My concept was to create a cross-section of a home, as if you just cut away part of a house. Not only was it exciting to design a space with so many great Brooklyn-based products, but it was also fun for me to design something that was my aesthetic and pretty much my dream home."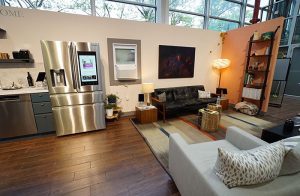 Small space projects are certainly on the rise, particularly in New York City. According to a 2016 report by the Habitat for Humanity New York City, the rate of severe crowding – 1.5 or more persons per room – in New York City is six times the national average. In addition, the number of units with severe physical problems is more than three times the national average, so renovations are essential.
"My specialty is small spaces, which makes working in New York City a true joy," said Larson. "It is all about picking the right items and the correct sizes, assessing essentials and making it fun."
According to AJ Madison, the showroom wanted to maintain a central focus on environmental responsibility and sustainability from the appliances to the décor. Although the smart appliances – including the Energy Star-rated LG Laundry Pair and the Nest Thermostat – were the most obvious environmental aspects, the team also included less visible eco-friendly elements. Benjamin Moore Aura Paint with Green Promise was chosen for the walls to keep VOC levels low. Also, they incorporated local vendors and designers for the décor, including gold-plated wasps' nests from Ryan Metke, who reuses and recycles nature.
"Our goal was to demonstrate how new technology can be seamlessly integrated into our everyday lives while still maintaining a gorgeous, design-friendly home," said Amy Chernoff, vice president of marketing for AJ Madison. "Also, we wanted to show how we can connect technology with sustainability and educate consumers about the value of incorporating technology into their homes to save time, money and energy."
Products featured in the Connected Home exhibit include: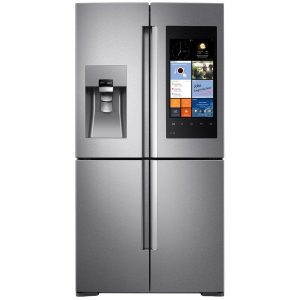 The Samsung French Door "Family Hub" Refrigerator: With a Wi-Fi touchscreen, energy-saving features and a stainless exterior, the Samsung "Family Hub" refrigerator is sleek and smart.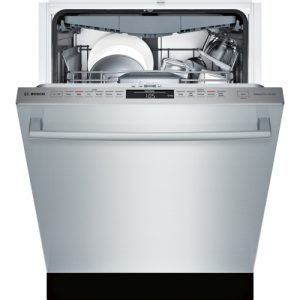 Bosch 800 Series Dishwasher: The Bosch 800 Series features a Home Connect app that allows for full connectivity and access from virtually anywhere.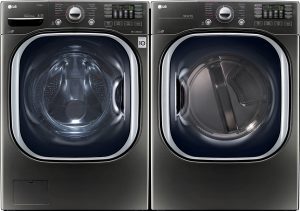 LG 4370 Series Front Load Washer + Dryer Pair: This LG pair is ENERGY STAR certified and among the most energy-efficient units on the market, providing yearly savings on energy costs. The series is also smartphone savvy – allowing you to control and start cycles with an app.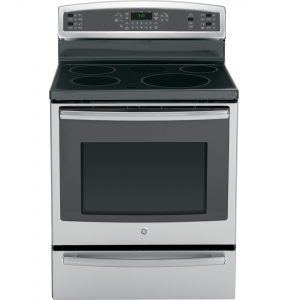 GE Profile Freestanding Induction Range: The GE Profile Range is equipped with Chef Connect, a Wi-Fi program that provides instant convenience and control over an oven and stovetop.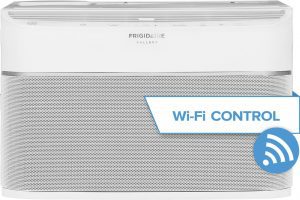 Frigidaire Gallery Series FGRC0844S1:  The Frigidaire Gallery Series is ENERGY STAR certified and Wi-Fi enabled with a plethora of features, including controlling air conditioning from anywhere on a smart device.
"The project stands out to me as a little jewel box of what treasures can be sourced in Brooklyn," said Larson. "The project was really showcasing the best of what is currently on the market, from appliances to wallpaper to pillows and everything in between."