Working Together to Better Lives
---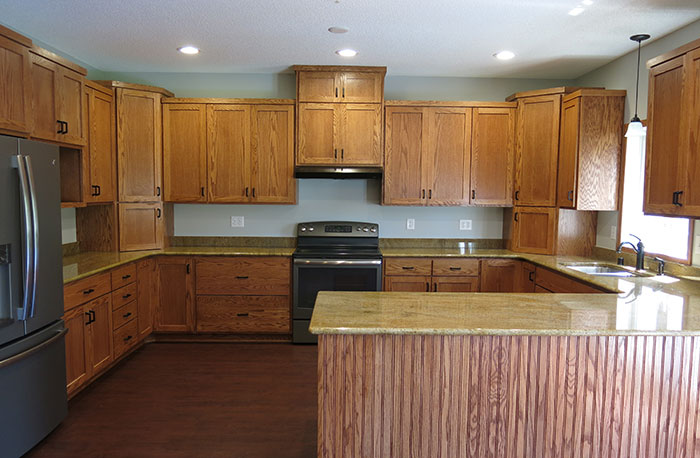 July 24, 2017
This kitchen design in Minneapolis was specifically designed to optimize the life of a person with special needs.
For the seventh consecutive year, Innovative Surfaces in Hastings/Minneapolis, Minn., has donated and installed granite countertops for the Homeward Bound project in conjunction with Century College kitchen and bath design students in Minneapolis. Homeward Bound is a nonprofit organization that houses severely disabled individuals with around-the-clock caregivers. Century College students designed the spaces, and then the students at nearby St. Paul College did the carpentry work and built and installed the cabinetry.
"It is always a rewarding project," says Margaret Krohn CKD, ASID, from Century College, a local community college accredited by the National Kitchen & Bath Association (NKBA). "We design the kitchens and other spaces to be more functional for the staff and residents. Homeward Bound buys site homes integrated into neighborhoods. We have many items donated for the spaces that need work, such as flooring, countertops, appliances, etc., and we are grateful to have sponsors such as Innovative Surfaces."
Each home is unique to the individuals who live there since each resident has different needs that need to be met. The Century College kitchen and bath design students then have to provide a design that helps the staff of Homeward Bound serve the needs of each resident.
"The students have this great opportunity to work with a real project," said Krohn. "They use the skills they have learned in their kitchen and bath design classes and work with real clients. The students also get to see the finished project they helped design. It is a hands-on project that is a win-win all around."
According to Innovative Surfaces, the Homeward Bound project was brought to them through their ongoing partnership with the Century College Design program.
"This is always a 'feel good' project for everyone here at Innovative Surfaces," said Kellie Akins, marketing vice president. "We know that through our work we are making an enduring impact on the lives of the people who will live with the surfaces we are donating.  It's truly magical to be part of creating such an amazing space that meets the needs of those living in it."