Ashton Kutcher Featured in Houzz Series Pilot
---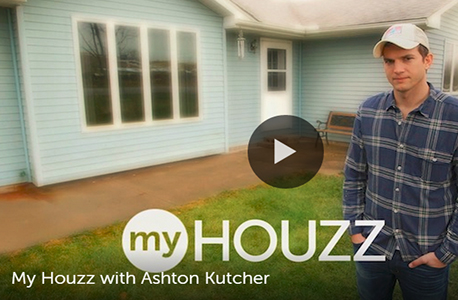 May 11, 2015
In time for Mother's Day, Houzz introduced "My Houzz," a video series that follows people as they renovate the home of someone meaningful to them. The first episode in this series follows Ashton Kutcher as he surprises his mother with a major renovation in his childhood home in Iowa. Kutcher's story is available to watch now at houzz.com/myhouzz.
Kutcher undertakes the surprise renovation as a way to thank his mother for everything she has done for him over the years. Leveraging Houzz technology, Kutcher and his stepfather renovate the basement of the home they built together when Kutcher was 13.
"The magic of Houzz is that people can take an idea they have for their home and make it a reality while having a lot of fun in the process," said Kutcher. "Using the Houzz app, I was able to renovate my mom's basement in Iowa while I was in LA, sharing ideas and inspiration, finding and hiring an Iowa-based designer from the Houzz community, and shopping for products and materials."

"We are very proud that Ashton is both a Houzz investor and a Houzz user. Partnering with Ashton as executive producer on this project was a great way to bring the Houzz experience to life as Ashton knows our product very well," said Adi Tatarko, Houzz cofounder and CEO. "More than 30 million people around the world are renovating and designing their homes every month leveraging Houzz tools. We are excited to share this wonderful renovation gift from Ashton to his mom with the entire Houzz community."
In addition to watching the full story on Houzz, viewers can get an inside look at Kutcher's Houzz ideabook that inspired the project, discover and buy the products and materials that Kutcher selected from the Houzz Shop, and read more about the design and the Houzz community's involvement in the project.
"My Houzz" was shot for Houzz by Hud:sun Media and was executive produced by Ashton Kutcher, Michael Rourke and Todd Lichten.