ASID National Award Winners Announced in Four Categories
---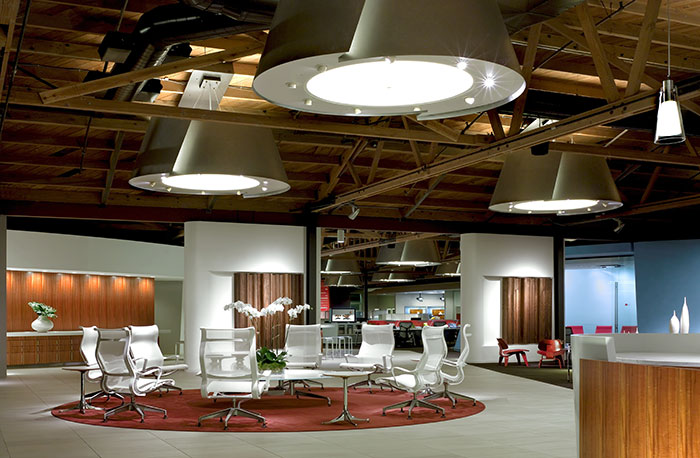 June 2, 2017
The Herman Miller Showroom, a favorite project of winner Steven Clem, was a conversion of a 1940s exposed wood framed bowstring truss warehouse into a furniture showroom.
The American Society of Interior Designers (ASID) has announced the 2017 ASID National Award winners in four categories: Designer of Distinction, Design Innovation, Design for Humanity and the Nancy Vincent McClelland Merit Award. Winners will be awarded at Celebration – The ASID Awards Gala on July 15 in San Diego.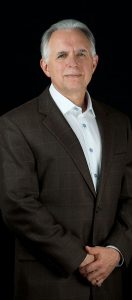 Designer of Distinction: Steven Clem, ASID, principal of Atlanta-based tvsdesign
This award honors an ASID professional member who has established a body of superior work demonstrating creativity, excellence and innovation. This is the premier award for personal achievement and social consciousness in the interior design profession.
"There are several things I love about my job, including the opportunity to have met some great people through a project, many of whom have become longtime friends through the common ground of design," said Clem in an interview with KBB. "These have been clients, colleagues, consultants, manufacturers, contractors, subcontractors and others who I've discovered share a common ground with me. I love the creative process of solving three-dimensional problems to produce a beautiful solution. And I truly love the construction process and its final result. The moment of walking a project by yourself – when everything is done and you experience the space, its details and surprises – is very fulfilling."
Clem's works include the Kimball headquarters and two showrooms, the Georgia Aquarium, the Woodruff Arts Center, the College Football Hall of Fame and the United Parcel Service Headquarters. He has mentored many young interior designers and architects to achieve their own success. Clem's 39-year career has been with only one firm– tvsdesign – where his work has garnered more than 100 design awards.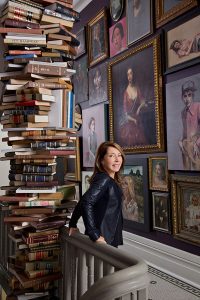 Design for Humanity: Susan Szenasy, publisher and editor-in-chief of METROPOLIS magazine
This award honors an individual or institution for contributions made to improve the human experience through environmentally friendly and health-focused interior design projects with far-reaching impact.
"I love the subject matter we cover in my job," said Szenasy. "Design at all scales is in the service of human happiness and well-being and by extension, the health of the Earth."
Since 1986, Szenasy has served as publisher and editor-in-chief of METROPOLIS, the award-winning New York City-based magazine of architecture and design. Szenasy is the author of several books on design, is a pioneer in connecting environmental stewardship with design and is an advocate for human-centered design.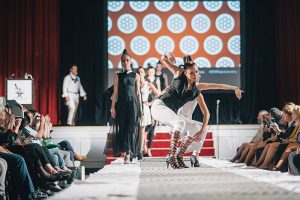 Design Innovation: The Design Museum Foundation
This award honors an individual, institution, manufacturer or research team for producing an innovative project, product or body of work that makes a significant contribution to the advancement of the profession of interior design.
"I'm so proud of the work that we do," said Sam Aquillano, executive director for the Design Museum Foundation. "We do have some awesome research and development going on right now; we are set to produce the first–ever exhibition about the design and craft of prosthetics. For us, this is a special project where we are sharing extremely humanistic stories of design – we're collecting stories about how the design of prosthetics has made life-altering changes for designers, medical professionals and especially those with prostheses."
The Design Museum Foundation is on a mission to exhibit the power of design and inspire creative problem solving through exhibitions and events. As a nomadic, online, multi-site museum based in Boston, San Francisco and Portland, Ore., the Design Museum Foundation can reach audiences that traditional museums cannot, creating an impact in communities.
Nancy Vincent McClelland Merit Award: Paula Wallace, founder and president of Savannah College of Art and Design (SCAD)
This award pays tribute to the accomplishments of McClelland, an ardent advocate for professional recognition and the first woman president of the American Institute of Decorators (now ASID) from 1941-1944. This award honors an individual, organization, manufacturer or research team for outstanding support of the interior design profession.
"I really enjoy the variety of my work," said Wallace. "Since SCAD is home to 13,000 students, I inject residential character, warmth and joy into all SCAD spaces. Students spend a lot of time in classrooms, theaters, galleries and studios. In fact, SCAD students want to be in the libraries, labs and restaurants on our campuses. They prefer SCAD spaces because, in addition to the latest technology and conveniences, SCAD spaces are filled with art, as well as surprise and delight around every corner."
Wallace founded SCAD in 1978 and serves as the college's president. SCAD is a community of students from nearly all 50 states and 115 countries who study in 40 academic majors and 60 minors. Wallace encourages a balance between reverence and innovation in SCAD's classrooms, labs, studios and offices to educate future leaders in art and design.