Behind the Products We Know: Hardware
---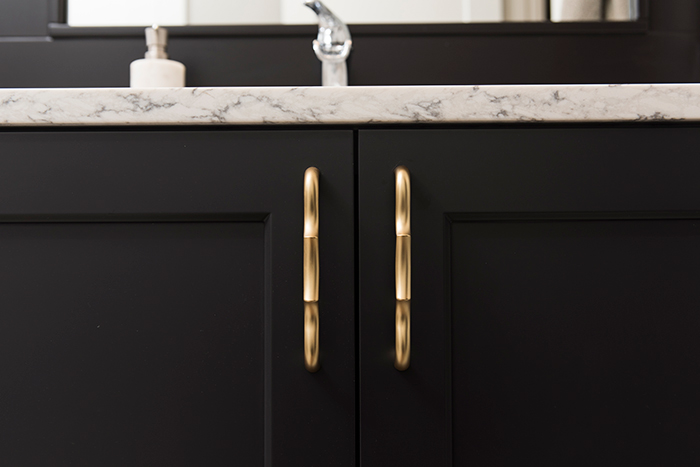 April 8, 2017
Above: The Trellis pull from Belwith-Keeler first appeared in the 1953 Keeler Modern Hardware Catalog and now has been redone with a modernized style featuring unique curves and a quatrefoil pattern.

Sometimes the smallest touches make the biggest difference in a redesign. That's where hardware comes in – whether slim and modern, ornate and traditional or bold and sassy, hardware brings personality and pizazz into a room.
KBB spoke with four product designers to find out how these small but important elements are imagined, crafted and finally installed in our homes – as well as take a look behind the scenes regarding the job, daily challenges and inspirations.
The J-O-B
"A large part of my job is to work closely with designers to create the kind of styles that satisfy consumer tastes and demands. Having grown up in this family business, I've had the opportunity to hone my understanding and appreciation for good design, and therefore I do weigh in with opinions on collections and on collaborations we've pursued. More importantly, because I've spent a lot of time over the years working on the production side of the business, I understand what designs will translate well into cast bronze."
– Christian Nickum, president of Rocky Mountain Hardware
"My role covers a broad range of responsibilities, including uncovering and understanding trends, focusing design efforts on those items most important to our customers and understanding new technologies and features. Overall, I ensure our products effectively delight our customers."
– Ted Roberts, style and design chief at Schlage

"A huge part of design is timing, and as the trend manager, I watch the fashion and home décor industry and try to track the timing of products in the launch cycle. Globally, from the runway to the furniture markets, I identify an emerging trend and then track the trend as it surfaces in various channels. I am also integral in the marketing of the trend, both visually and verbally."
– Knikki Grantham, trend manager, Belwith Products
"My main duty is to conceptualize and execute product design solutions for all Baldwin projects. During the design phase, I'm responsible for driving the design deliverables which typically includes inspiration/concepts sketches, design refinement, 3-D rendering, 3-D rapid prototypes, plated prototypes for market research and final geometry for the engineering/manufacturing team. For the deliverables at various stages of our design process, I'm often required to maintain the right design balance between artistic and practicality/functionality."
 – Yos Singtoroj, product designer at Baldwin Hardware
Daily Challenges
"I deal with everything imaginable in the business world, from employee issues to financials, sales to equipment acquisition and distribution of design concepts."
– Nickum, president of Rocky Mountain Hardware
"Keeping abreast of ever-changing trends is a constant endeavor requiring significant time and attention. Another challenge is the creation of design solutions that can be manufactured and that consumers will like. Our products must survive under some harsh conditions and are relied upon to perform all the time. We find that we arrive at a great solution when we balance the hard requirements, user experience and relevant aesthetics."

– Roberts, style and design chief at Schlage
"Turning the clock off! The fashion industries do not work nine to five, so my biggest challenge is tuning out. I want to make sure that I don't miss anything, so I tend to work around the clock. Globally, I might have to tune into a launch that takes place at 8 to 10 p.m. and then be back on the hunt bright and early the next morning. Also, the social media influence has changed the industry so much. The timeline for product development has gotten tighter due to the visibility of a broader audience."

– Grantham, trend manager, Belwith Products
"Design for manufacturing is probably the most challenging aspect I face on all my design projects. This is the point during the design process where I have to make sure that the design is manufacture-able and the original design intent that everyone loves is maintained. Often, I'd work very closely with the manufacturing and mechanical team to refine the geometry or find a work-around."
– Singtoroj, product designer at Baldwin Hardware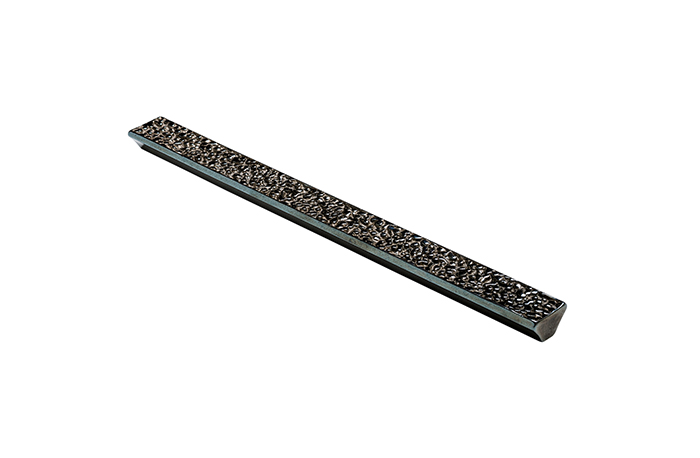 Rocky Mountain Hardware teamed up with musician, actor and designer Lenny Kravitz to create Trousdale, a collection for both doors and cabinetry. The hardware draws inspiration from the architecture of the Trousdale Estates neighborhood in Beverly Hills, Calif., and features sleek architectural elements with angular profiles and a strong textural effect.

Inspirations
"We have the great fortune to be based in one of the most beautiful spots in the country – Idaho – amid the Rockies. So nature and these surroundings definitely stir the creative juices. I'm a pilot, and viewing the landscapes of this country also adds to my thinking, as does exposure to other cultures, art and design I experience in my travels across the globe."

– Nickum, president of Rocky Mountain Hardware
"For inspiration, we look to furniture, home décor and architecture for current trends in style. I find it useful to know what architects and interior designers are doing. Fashion and entertainment also provide clues to future trends. Many style trends draw upon historical styles, and once identified, I like to look at original examples to fully grasp all the nuances of the style."

– Roberts, style and design chief at Schlage
"The fashion industry has so many tentacles. It could be the intricate detail of the leather and stitching of the Alexander McQueen Fall 2017 launch that inspires a detailing on a bar pull, to the pattern mixture of a Fendi handbag or the delicate detail in a perfume bottle. Just wrapping your head around the constant movement of that industry and the vehicles in which they express themselves is inspiring."

– Grantham, trend manager Belwith Products
"I think inspiration can be found anywhere. All you have to do is be open-minded and willing to look from variety of perspectives. Personally, I think the mobile phone camera is one of the most powerful tools to capture those source images that intrigue you and inspire your creativity. With the help of various modern-day photo filter apps and Photoshop software, I could easily filter uninteresting aspects out and at the same time manipulate the remaining parts into a series of abstract images for me to interpret into a variety of usable design directions."

– Singtoroj, product designer at Baldwin Hardware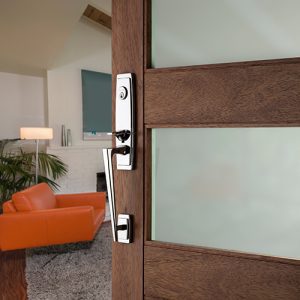 The Palm Springs Collection from Baldwin Hardware represents a fresh take on mid-century modern design. Made of solid brass and available in 20 finishes, Palm Springs features five new handle sets, including two levers, two rosettes and one new deadbolt.

Improving
"We still produce Rocky Mountain Hardware in the most time-honored traditions of bronze casting – each product touches no less than 30 hands. It begins in our pattern shop as a craftsman personally sculpts the pattern board to create casts using either a sand or a lost-wax process. Yet, we still embrace the kinds of 21st–century technology that allow us to manufacture more cost effectively and efficiently. So we do have computer–controlled machinery and other high-tech systems in place that facilitate production and distribution."

– Nickum, president of Rocky Mountain Hardware
"As an organization, we are constantly seeking out new technology and validating technology to enhance and improve our products. From a design standpoint, I look to ensure our innovation provides value to our customers. The technological side of our products needs to support – not complicate – our lives."

– Roberts, style and design chief at Schlage
"We have been a staple in furniture hardware for over 120 years, so our hardware must be time tested to last. We take the same pride in our quality to the industries of today. We make the hardware to last and the design to stand the test of time. We spend countless hours working on the ergonomics of the product: the fit, feel, finish and design. They ALL must go hand in hand."

– Grantham, trend manager, Belwith Products

"We're constantly working on improving technology and consumers' experience on our new products. Recently, we have incorporated the UIUX (user interface and user experience) design capability into our design process for our electronic products to drive premium user experience. With this UIUX capability, we can now prototype various user experiences that people can interact with during the research. This allows the teams to gather valuable feedback early on and work more efficiently to incorporate these desirable user experiences into the final product."

– Singtoroj, product designer at Baldwin Hardware
The Best Part of the Job
"My favorite part of the job is being able to track the journey of a product from idea and concept to acceptance in the marketplace – hearing directly from the architects or designers – or even the property owners where our products are installed – that they love the hardware choices they've made."

– Nickum, president of Rocky Mountain Hardware
"This job is rewarding on many levels. With so many aspects involved on a day-to-day basis, it is difficult to select a favorite, but I really do enjoy the creation phase where products are born. To be specific, drawing, computer modeling and building things are among my favorite activities."

– Roberts, style and design chief at Schlage
"I love that design, inspiration and style are blurring the lines that used to define them. No longer do people want to be placed into style buckets, they want to define their own style, and I love being a part of that transition. Today's design has stripped away some of those stigmas about what a person's style can be. Seeing the freedom that comes with expressing yourself is something you can appreciate about the home and fashion industry. I love being a part of a team that helps to define style and not particularly in any preconceived notion of what that style should be."

– Grantham, trend manager, Belwith Products
"Personally, the design refinement phase is probably my favorite part of my job. This is when those 2D concepts start to take shapes and get converted into 3D geometry. There is an indescribable excitement in seeing these designs as physical objects for the first time."

– Singtoroj, product designer at Baldwin Hardware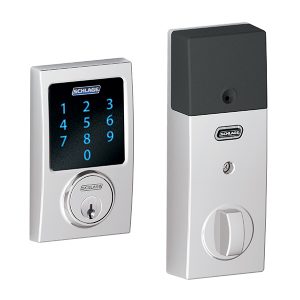 Schlage has teamed up with Amazon Alexa to provide voice activation accessibility to its Schlage Connect Touchscreen Deadbolt. The lock includes a fingerprint-resistant touchscreen and an anti-pick shield, and it has the ability to hold up to 30 unique codes.