Behind the Products We Know: Bath Fixtures
---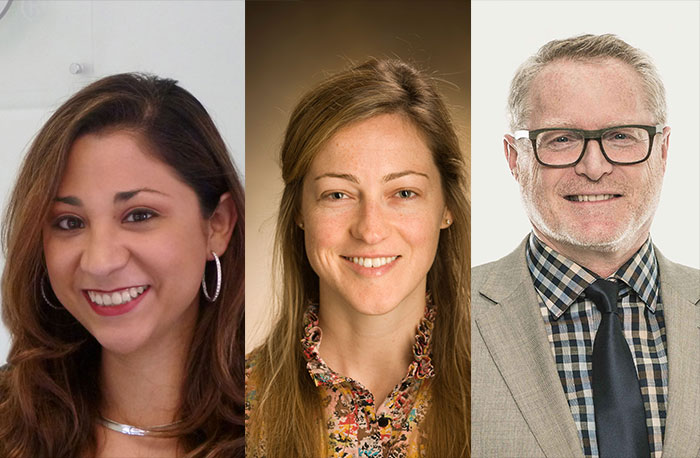 January 7, 2017
Before a freestanding tub is bought and installed and before an interior designer even sees it for the first time, a team of artists is constructing that product out of pure imagination and skill. It is up to these designers to create the products we use every day.
Even with the impact these individuals have on the brands we know and love, their identities and their jobs often stay out of the limelight. KBB magazine is changing that this winter with a series of product designer interviews. We'll look at the designers of cabinetry, lighting, surfaces – and this week – bath fixtures.

Nancy Ysuko
Design Studio Manager, Decorative Products and Color/Material/Finish
Kohler Co.

Lea Mendoza
Senior Product Designer
TOTO USA

Steven Ward
Director of Industrial Design
Moen
View a gallery of the designers' favorite products here. 
KBB: Explain your job as a product designer.
Ysuko: I head up the decorative products team at Kohler. We're a group of product designers with unique specialties. We are product design based, but we have an added level of expertise within these areas. If you're familiar with the Artist's Edition and Kohler Color, that would be us as well. We're hyper-focused on the detailing of the products themselves, relative to the surface quality and surface finish, and that also encompasses decorative embellishments.
Mendoza: I believe that a product designer is really just a title for a professional problem solver. The problems presented come in many forms and with many different conditions. In the most general terms, we typically need to solve a functional problem while balancing aesthetic and profitability for the companies we work for.
Ward: The designer's primary obligation is to identify pain points and find market opportunities to resolve issues. Design is art with a purpose, and we can best solve problems if we understand the issue.
We observe, ask questions, analyze behavior, discover insights, develop principles, and then conceptualize solutions. Our tools at Moen are photography, video and live interviews to gather consumer insights. Next, we use pens and paper (virtual paper these days), sculptural foam or clay, computer modeling and 3-D printers to create. Then, we evaluate the concepts. Edison said, "To get a good idea, have a lot of them." We sketch a lot of ideas then narrow them down.
KBB: What challenges do you face in your work?
Ysuko: I would say the greatest, most interesting challenge of the job is working cross-functionally and having a mutual purpose. When your job is to output new products, you have to come together as a group, but every single cross-functional individual has their own unique perspective and their goals and objectives. There can be a lot of conflicting needs that have to be worked out. That's always at the forefront of any team doing product development. If a designer wants to create a look that uses a process that we won't necessarily know how to do, then you partner with members who need to figure out how to do that. A lot of healthy debates come out of those exchanges.
Mendoza: The biggest challenge can be finding the most aesthetically pleasing solution while still satisfying the many requirements needed for functionality and profitability.
Ward: Speed to market while preserving functionality and beauty is a huge challenge, but we are committed. Recently we revised our creative process into new, highly efficient methods that utilize technology without losing the artisanship. Our creative group will not bend on the foundational principles upon which Moen design is built: the love for detail, the passion for creativity and the idea that great design should last a lifetime.
KBB: How do you find inspiration for your designs?
Ysuko: Everyone here is pretty active with getting out in the world and tracking what's going on in art and design. A lot of us travel to specific markets of interest and industry trade shows. There are a whole slew of trade shows that we frequent. Obviously we keep up to date with professional periodicals. There's a whole mix of places that we might go online for inspiration.
Mendoza: Depending on the product and its intention, inspiration can come from anywhere. Specifically when I am designing faucets, I look to architectural and interior design trends, and then I pair them with fashion trends. I consider faucets to be the jewelry of the bathroom. Just as with the perfect engagement ring, a faucet should be elegant, timeless and represent personal aesthetic.
Ward: We find inspiration just about anywhere and in anything. A good designer is curious, we see the world through different glasses. As designers, we can identify inspiration in the Fibonacci mathematical pattern of a leaf in nature, transformed into a shower head pattern; the detail of rusting spars from an old ironworks bridge in Cleveland that finds its way into an industrial chic faucet, or in the smooth and inviting curves of a mid-century Danish armchair that inspires the soft, modern form of a kitchen pullout spray wand.
 KBB: How do you go about improving technology/quality in products?
Ysuko: We tend to think about the consumer and talk about the consumer's needs. We find new and different ways to collect consumer data. The real judge is our end consumer and what they think and what desires we can tap into. The root of that question is channeling your consumer.
With technology, it's a little bit more multifaceted. It is related to the consumer, but we have to anticipate what the consumer might need or want in the future. That's more about foresight as opposed to addressing current-day needs. We have some great experts here, but we also recognize that we're not experts at everything, and we'll connect with other people in the world to find out more.
Mendoza: Improvements and innovation do not happen with any one person working alone, but with a team of talented and skilled individuals working together to balance aesthetics, functionality and profitability. Communication, compromise and an unselfish intent to create the best solution possible drive innovation and product improvements forward.
Ward: We determine what is desirable, and then we find the appropriate technology and marketing path to deliver a solution. Without a 'people-first' order of things, you could end up with a very cool piece of technology and engineering that no one really wants. Technology should improve the human condition. We seek out partners with previously developed tech that can be applied to our identified need.
KBB: What is your favorite part of your job?
Ysuko: For me it's about reward and how you would feel about reward. Seeing a customer smile and knowing that I had a part in that is probably the most rewarding part.
Secondly it relates to the challenges. When you are successful in activating a cross-functional team and that team reaches a level of product level efficiency, you become a powerhouse. There's a great sense of reward when you're succeeding with what you set out to do.
Mendoza: I love finding solutions that improve the quality of people's lives. I greatly enjoy being a product designer, and the fact that I can joyfully use my talents to bring more ease or enjoyment to other peoples lives is very rewarding.
Ward: There is nothing more rewarding than to hear unsolicited praise from someone who has a story to tell about how great a product was to use or how beautiful it looks in their kitchen. I also am incredibly lucky to work with a talented group of colleagues.