Behind the Brand: K&B Product Designers Talk With KBB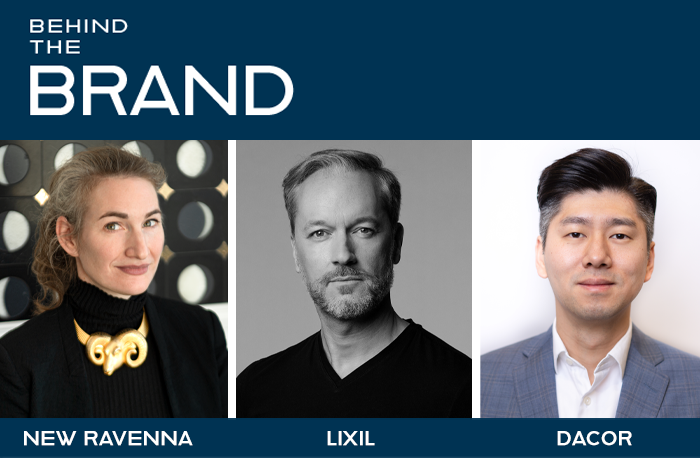 October 16, 2023
Welcome to the October edition of Behind the Brand, where KBB seeks to illuminate – somewhat! – the creative process from the perspective of top product designers in the kitchen and bath fields. Being able to look at everyday objects in a radically different way is the [un]common denominator of these talented individuals.
This month, we hear from:
Scott Kim, senior director of product marketing, Dacor
Patrick Speck, leader, global design, LIXIL
Cean Irminger, creative director, New Ravenna
As a product designer, my greatest responsibility is…
Kim: Bridging the gap between what consumers in the luxury marketplace are looking for and what our product development teams are innovating. It's critical that I'm up to date on what homeowners, designers, architects, and builders are seeking in the market so we can leverage those insights during research and development. This knowledge enables our teams to design, improve and develop hand-built, luxury appliances with meaningful innovations that are a direct response to consumer needs.
Speck: As a designer, my greatest responsibility is to lead and inspire a team of creatives, developing meaningful and impactful experiences through thoughtful design. At LIXIL Global Design, where we design for brands including GROHE, American Standard, INAX and DXV, it is crucial to understand people needs, solve problems effectively, and ensure that our outcomes are both aesthetically pleasing and functional, connecting it to the company's vision of making better homes a reality for everyone everywhere.
Irminger: As a designer, my greatest responsibility is to stay unique and true to my own voice while also being versatile enough to appeal to a wide range of tastes. My own personal style runs towards maximalist, illustrative, and bold, but I know those characteristics are a bit too specific for most homeowners when it comes to adding mosaics to their home. The trick is to tone those inclinations down to highlight the piece. I might use hints of my style such as a bold pop of color in a neutral field, or create a more intricate pattern but use only a single color, so the grout line becomes a tool to illustrate the design.
One of my creative touchstones is…
Kim: One of my creative touchstones is immersing myself in new experiences, whether they're related to my own industry or not. I am a firm believer that 'necessity is the mother of invention,' and by connecting the unknown to the known, sparks fly and magic happens. By visiting new places, engaging with new people, partaking in new activities, you begin to realize how much more there is to learn. At the same time, it sparks creativity and makes me contemplate how I can challenge the status quo by relating these new experiences with what I've learned in the past.
Speck: One of my creative touchstones is to thrive in cross-functional collaboration. Meaningful design stems from empathy and a comprehensive understanding of people's needs, desires, and behaviors. We gain valuable insights that shape our design approach through extensive pre-search, user interviews, and observations. By bringing together expertise from different fields, such as engineering and marketing, we create holistic and impactful design solutions, allowing us to address complex challenges from multiple perspectives.
Irminger: I think my greatest touchstone as a designer is history – whether it be the history of art, architecture, literature, earth history, or popular culture, I am inspired by it all. To discover the creativity of nature and humanity over time, and to find ways to acknowledge that ancient vision while creating something unique and exciting to a modern audience, that is my favorite puzzle to solve.
An industry trend that I'm watching is…
Kim: The search for meaningful smart home integrations. Consumers are looking for smart, integrated features across a wide range of home gadgets and products, including their full range of appliances, from cooking to refrigeration and ventilation, for increased connectivity and convenience. At Dacor, we seek to ensure that when we add these features, they're not gimmicky but add real value to the lives of our users. In pursuit of a more streamlined and minimalist aesthetic, users are also looking for increased functionality that eliminates the need for multiple, single-use appliances. In response to this demand, our 48-inch Transitional Range includes air sous-vide, air fry, and Steam-Assist baking options all in one appliance, in addition to the cooking capabilities you'd expect from an oven.
Speck: We have observed an accelerated interest in health and wellbeing industry. Therefore, we have proudly introduced our new premium bathroom brand, GROHE SPA. This new luxury offering from GROHE offers products with meticulous craftsmanship and elevated bathroom experiences in mind to reinforce the critical role that water plays in wellness routines. We aim to offer a serene escape where our consumers can fully immerse themselves in relaxation, rejuvenation, and revitalization. To give architects and designers full freedom when designing their projects, we have incorporated premium materials like Caesarstone quartz inserts into our latest product line, the GROHE Atrio Private Collection launching in the US next year. With these additions, we aim to elevate the everyday bathroom experience to a whole new level.
Irminger: I'm very interested in the movement towards sustainability in the design industry. Our "waste" is made up of the world's most stunning marbles and glass, and right now most of our stone scrap gets used in driveways around our community. Creating methods to use the off-cuts and leftovers and turn them into a new and alluring product is a long time ambition of mine.
The best part of my job is…
Kim: Working with engineers at the cutting edge. We've been able to leverage their expertise to ensure that the user experience of our appliances is as easy as using your favorite hand-held smart device, from the responsiveness and high-quality graphics of the touchscreen to an ever-growing AI platform that allows appliances to communicate with each other and make recommendations for grocery lists, recipes, cook times, and more.
Speck: The best parts of my job is making a positive impact through design. We strive to create enjoyable and functional experiences for people and ensure that our designs contribute to a more sustainable future. While it can be challenging to convince others about the importance of environmental action, we embrace our role as educators. We aim to inspire and encourage people to adopt small lifestyle changes, knowing that we can make a significant impact together. By designing with sustainability in mind, we aim to create a better world where people's lives are more enjoyable and aligned with sustainable principles.
Irminger: The best part of my job is seeing and having a hands-on part in the entire journey of a design, from the beginnings as a drawing on paper to deciding scale, colorway, and the flow of the adamento and grout line. To finally help make it all come together as a beautiful mosaic is so rewarding.
If I had a week off from the studio, I would…
Kim: Travel somewhere new. The more I travel, the more I realize just how much more is out there to be discovered and how my own perspective on life is small compared to the breadth of the world. For some, traveling and exploring may seem like more work and far from relaxing, but I always come back feeling invigorated in my mind and soul.
Speck: When I'm not in the studio, I like travelling to explore different sources of inspiration. Our team often attends international design weeks and global industry trade shows to stay up to date with the latest trends in our field. By connecting with other designers and learning from these events, we can infuse new concepts into our work and achieve great results. One event that particularly inspires us is Milan Design Week. We make a point to absorb and apply this inspiration to fuel our creativity and take our work to the next level.
Irminger: After sleeping a lot, I would love to try my hand at writing and illustrating a comic or graphic novel. I've been a fan of the genre since I was a kid, and am amazed by the scope and imagination seen in the industry today. One day I'll finally try to create my own work, though I guarantee it's going to take longer than a week!
—By Leslie Clagett, KBB managing editor