Building Homes for Good
---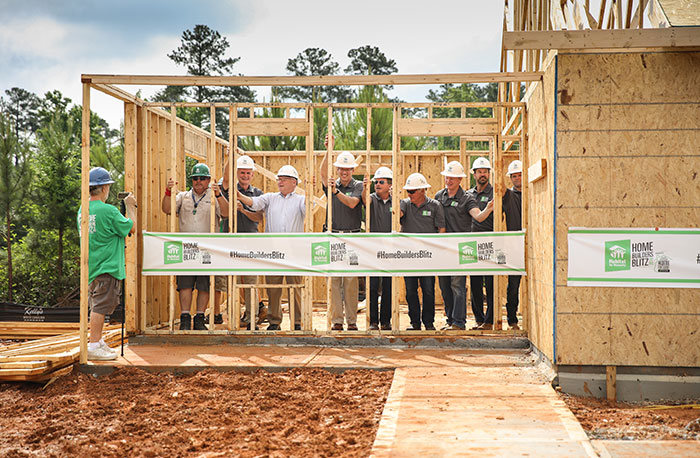 May 15, 2017
In 2016, Ply Gem donated building materials – including windows and siding – to help 300 Habitat homeowners build or repair their homes in more than 60 communities.
For the second consecutive year, Ply Gem – a North American manufacturer of building products – is partnering with Habitat for Humanity. Together they are supporting the Ply Gem Home for Good project, a campaign to help families in need of affordable housing, and they have recently kicked off year two of the project.
"Ply Gem was really seeking the opportunity to do something different," said Vicki Frye, Director of Corporate Marketing and champion for the Home for Good project. "Individually our locations do volunteer activities together, but creating the Home for Good project was a way to bring 9,000 associates together. It made so much sense for us to do this."
Ply Gem Home for Good is a multi-year initiative that includes a donation of more than $1 million of exterior building products and funds to support Habitat for Humanity. As part of the project, Ply Gem is the presenting sponsor of Habitat for Humanity's Home Builders Blitz, a week-long campaign in June. During that week, Ply Gem and professional homebuilders will donate their time, muscle and talent to help Habitat raise awareness of the need for affordable housing.
"At Ply Gem, each office location is paired with the nearest Habitat for Humanity affiliate," explained Frye, adding that in total, homebuilders in more than 70 communities across the U.S. will volunteer to work on more than 200 homes.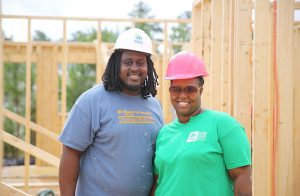 The Mebane family – future Habitat homeowners – in Raleigh, N.C.

Becoming Homeowners
The homes themselves are partly designed by the homeowners, who first determine their house plans. They are guided by a Habitat by Humanity designer, who also helps prepare the new homeowner for the responsibility of homeownership.
"It's definitely not easy to be a Habitat homeowner," said Frye, adding that these homeowners have to put sweat equity hours into the home and pay a monthly mortgage payment.
Frye has been present at several home dedications, where the keys are finally given to the homeowner. Leading up to the blitz in June, she met a family in Raleigh, N.C., who felt that owning their own home made it easier for family to come see them and create happy memories together. Another family in Green Bay, Wis., were relieved that their two daughters would grow up in a safer home. In Capital Hill, N.C., she met a family that was excited their children would have the foundation of home life in their childhood.
"We think a stable, affordable home makes a huge difference in raising children, improving health reports and driving income into a local community," said Frye. "We are excited to make an impact on the community like this."