Canyon Creek Cabinet Company Announces Promotion and New Hire
---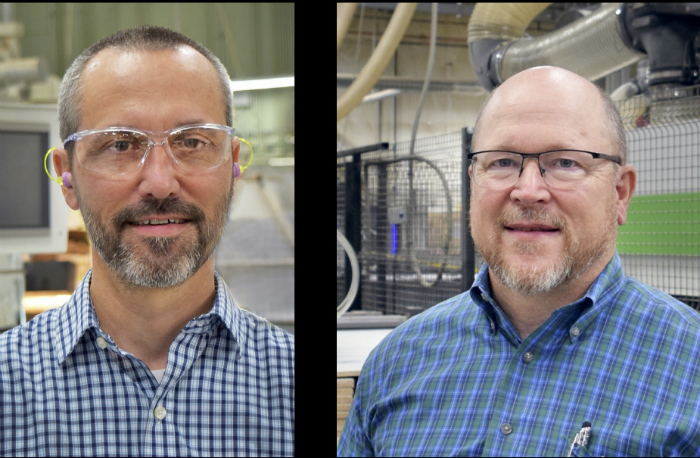 June 19, 2018
Canyon Creek Cabinet Company is pleased to announce Patrick (Pat) Foltz has been promoted to vice president of operations, and Brett Kinney has joined the company as its new mill plant manager.
During the last three years, Foltz has served as the company's finish manager and assembly manager. In his new role, he will be responsible for all manufacturing – mill, finish, assembly and shipping; maintenance; process engineering and continuous improvement activities.
"Since joining Canyon Creek, Pat has demonstrated an ability to drive results in our assembly and finishing departments with an accountable, collaborative and team-building management style," said Bob Foote, president and CEO of Canyon Creek. "He is the right person to lead our operations to the next level of safety, quality, delivery and cost performance."
Foltz has more than 28 years of experience in the cabinet industry in all aspects of manufacturing. He started with building cabinets and gained critical, hands-on experience by working his way up through the ranks of one of the largest cabinet manufacturers in North America. He is experienced in implementing the principles of lean manufacturing and fostering employee engagement.
"I am ready to help set the direction to grow the business and make Canyon Creek an employer of choice," said Foltz. "We have a great group of people who take pride in what they do. It is my responsibility to ensure they have the tools and support they need to be successful."
In his new role as mill plant manager, Kinney will manage the east and west mill operations—including machining efforts and flow-through processes—while driving results for success. He will also coach and empower his team to foster growth while providing them with the tools to succeed in executing innovative, sustainable initiatives and work practices.
Kinney has more than 20 years of business operations experience in the construction industry, from supply chain management to forecasting, budgeting and various roles in plant operations. He was instrumental in integrating lean manufacturing principles, 5S and critical quality control measures to a door and millwork manufacturing company, while ensuring compliance with all regulatory agencies.
"I came to Canyon Creek to be part of the organization's growth and ongoing lean journey," said Kinney. "I'm looking forward to learning about the existing mill operations, cabinet production and work processes. I'm excited to get to know my crew and am a strong believer in participative management."