Canyon Creek Cabinet Company Announces Staff Changes
---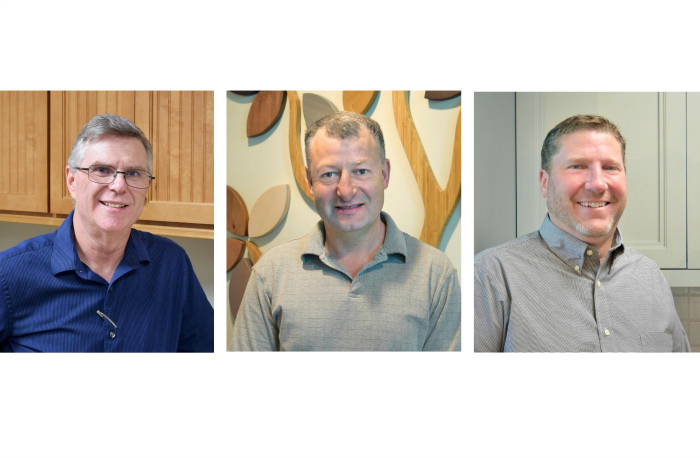 August 21, 2017
Canyon Creek Cabinet Company is pleased to announce three personnel changes. Rhidian Grant has joined the company as the environmental health & safety manager, Scott Nordby has joined the company as the dealer training manager, and Jeff Norman has joined the team as the dealer sales manager.
Grant's wide-ranging experience, spanning more than 30 years, includes chemistry, electronics, ergonomics, job hazard and analysis, accident prevention training and techniques and waste management. Prior to coming to Canyon Creek, Grant was the director of facility operations for an aerospace company. In his new role with Canyon Creek, he will be responsible for coaching and communicating safety awareness with employees and monitoring the company's safety program while planning for ongoing improvement. He will conduct new employee education on the company's safety programs and conduct monthly safety meetings that include plant management to review safety metrics and develop new policies and procedures to help keep employees safe in their work environment.
In his new role as dealer training manager, Nordby will be responsible for educating new customers on Canyon Creek's products and services, and how to design and sell with Canyon Creek's four product lines. He will plan the curriculum for regional training classes within Canyon Creek's distribution area, and host training webinars, as well as gather customer and market feedback for the development of new products and materials to better position the company for its continued sales growth. Nordby has more than 19 years of experience in direct cabinet sales and in the training realm of cabinets and home improvement. His experience includes operating a mobile training unit for a regional home center chain to provide onsite training classes at 120 different store locations.
As dealer sales manager, Norman will have national responsibility for the development and execution of sales plans and activities to utilize Canyon Creek's manufacturing capacity, operational efficiency and growth plans. He will also foster relationships across strategic dealer accounts and prospects to drive business opportunities. With almost 20 years of experience in the cabinet industry, from a small custom cabinetmaker to large production cabinet manufacturers, Norman is skilled in developing dealer and builder partnerships. Prior to joining Canyon Creek, he was a territory sales manager for a large national cabinet manufacturer.