Employee-Owner Transitions at Showplace Wood Products
---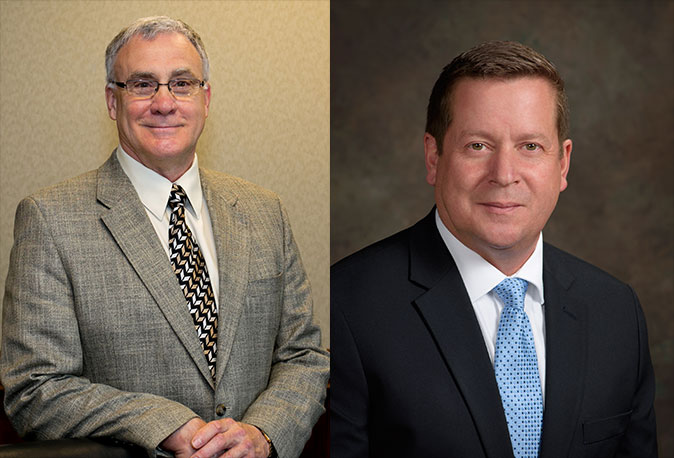 November 27, 2017
After a lengthy career in the kitchen cabinet industry, Tom Allen (top left) will retire as the director of national sales at cabinetmaker Showplace Wood Products on December 31, 2017. The retirement was announced by Showplace president and CEO Paul Sova.
"We're grateful for Tom's years with Showplace," said Sova. "His industry contacts and depth of knowledge have been significant assets which allowed him to play a big role in the growth of our company over the last decade."
Allen joined employee-owned Showplace with well over two decades of industry-specific experience as the organization's director of dealer sales in 2007. He was promoted to director of national sales and has continued in this leadership role since June 2013.
Sova also announced the promotion of Jon Bour (top right) to director of national sales at Showplace, accepting the position vacated by Allen.
"We're fortunate to have Jon ready and eager to move into this new position at Showplace," said Sova. "Jon's promotion is a successful demonstration of our intentional strategy to grow and promote leaders from within the ranks of our employee-owners."
Bour also brings decades of relevant experience to his new role, having begun his career in the kitchen and bath industry in 1990 and joining the Showplace team in 2002 as showroom manager for the company's retail store, Showplace Kitchens, in Urbandale, IA. In 2013 he and his family moved to Sioux Falls when Jon was promoted to director of dealer sales for the Harrisburg, S.D.-based company.