Giving Back
---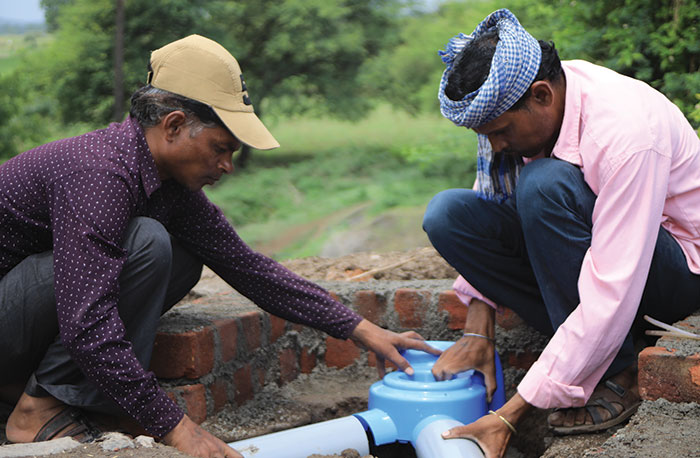 November 13, 2017
LIXIL's SATO program provides smart and affordable toilet solutions for more than six million people in 14 countries in Africa and Asia.

Recently, many manufacturers are using their talents and resources to improve the lives of the less fortunate. KBB heard about several companies doing just this and went out to discover their initiatives and the heart behind their charitable work.

Company: LIXIL
Initiative: Urban Sanitation Challenge
The Urban Sanitation Challenge was launched to help develop urban sanitation solutions to prevent harmful impacts to health, the environment and the economy. This includes providing support for sanitation services, financial mobilization and helping municipalities plan and implement sanitation-related policies.
Goal: LIXIL is currently developing a number of product solutions to help reach the goal of bringing safe sanitation to 100 million people by the end of 2020. LIXIL works with partners, including UNICEF, UNHCR, the Bill & Melinda Gates Foundation, the World Economic Forum, NGOs and governments, and is also a founding member of the Toilet Board Coalition, which aims to catalyze a robust business sector delivering universal access to sanitation.
The Why: "LIXIL aims to improve comfort and lifestyles for people everywhere. This of course includes the 2.3 billion people – approximately one third of the world's population – who lack access to adequate sanitation. As the global leader in water technology, we have the technology, experience and global resources to help make a significant difference and help people gain access to basic and safe sanitation. This motivates us, but it also means we have a sense of responsibility when it comes to making an impact. That is why we have made sanitation one of the three pillars of our global corporate responsibility strategy."
– John Short, group leader for global communications at LIXIL

Company: Canyon Creek
Initiative: Wooden Toys for Charity
For the last two years, Canyon Creek Cabinet Co. has donated assorted hardwood and plywood cut-offs to Emerald Heights Retirement Community's Wooden Toys for Charity group in Redmond, Wash.

The only rules for the toy makers are that they contain no lead-based paint, and the pieces must be bigger than the opening of a toilet paper roll.
Goal: The wood pieces donated by Canyon Creek have been turned by the community's residents into handcrafted wooden cars, airplanes, animals, doll houses and cribs and blocks. These toys will be donated to local charities and shelters, including Mary's Place, the Ronald McDonald House, Seattle Children's Hospital, Childhaven and Seattle's Union Gospel.

The Why: "At Canyon Creek, we actively seek out ways to reuse or repurpose items from our manufacturing process that might otherwise be considered waste. The Wooden Toys for Charity group was a great find, as we're donating material to people that are in turn donating their time, creativity and woodworking skills.
As one of the largest employers in the area, Canyon Creeks strives to be a good community neighbor and make a positive impact on the economic development of Snohomish County. Many of the programs we donate to have assisted our employees, their friends and families – that's a win for everyone."
-Cindy Draper, marketing manager for Canyon Creek

Company: Meyda Tiffany Lighting
Initiative: Supporting creative arts
Meyda has always supported the creative arts in various capacities. Most recently, the lighting company supported VIEW, the Arts Center in Old Forge, N.Y., with a major pledge and challenge for matching funds to build a new workshop. The workshop wing is called the Meyda Tiffany Lighting Creative Arts Wing.

Goals: Today the Meyda Tiffany Lighting Creative Arts Wing houses a large pottery studio with electric and gas kilns, a glazing booth, clay recycling and hand-building areas; a multi-purpose workshop for painting, jewelry, woodworking and children's classes; and a teaching kitchen. This will serve the community as well as future artists.
The Why: "We are very proud to support VIEW, the Arts Center in Old Forge. Our company is delighted to support the creative arts, artisans and those entering this exciting field of endeavor. Meyda has always embraced the works of aspiring designers and craftspersons on the local, national and international levels, and we will continue to do so in the future."
– Robert Cohen, Meyda President
Company: Karndean Design/Flooring
Initiative: Funding Hurricane Relief

The proceeds from Karndean will benefit the Houston Food Bank, City of San Antonio Animal Care Services, United Way of the Florida Keys and United for Puerto Rico.

Goals: Karndean Design has raised $12,400 to assist with rebuilding efforts following Hurricanes Harvey, Irma and Maria, which will be matched dollar-for-dollar by the company for a total contribution of $24,800. The proceeds will benefit the Houston Food Bank, City of San Antonio Animal Care Services, United Way of the Florida Keys and United for Puerto Rico.
The Why: "The response from both Karndean employees and the surrounding communities was extraordinary. Our employees have taken our core value of 'people matter' to heart, and we hope that this allows people to get back on their feet."
–Chief sales and marketing officer Larry Browder
Company: AJ Madison
Initiative: Partnership with Habitat for Humanity
The brand will use its comprehensive haul-away service to recycle gently used appliances through Habitat for Humanity's New York City ReStore, which sells home products to the public with proceeds benefitting Habitat NYC's mission: to transform lives and communities by building and preserving quality, affordable homes with families in need.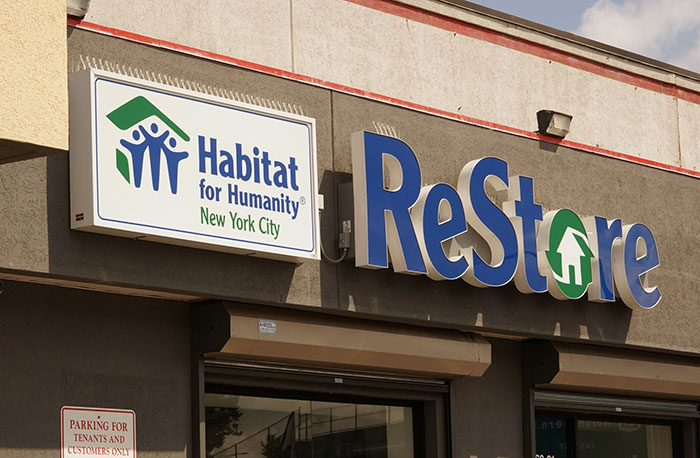 The sales revenue generated from ReStores goes toward Habitat for Humanity's funding to build new homes in the local community and around the world.

Goals: In addition to sourcing donations through its haul-away service, AJ Madison will work with its trade designer program and robust network of builders and contractors to increase their impact. The brand will use these connections to recycle not only appliances but also gently used cabinetry or other items from kitchen remodels through the NYC Habitat for Humanity ReStore.
The Why: "Giving back to the community is at the core of our AJ Madison culture. We're thrilled to breathe new life into gently used appliances to benefit Habitat for Humanity NYC instead of ending up in a landfill. It's a win-win for everyone – less waste; accessible, affordable appliances for every budget; and funding to build new homes in the local community."
– Michael Gross, president of AJ Madison

Company: Whirlpool Corporation
Initiative: Furnishing Ronald McDonald Houses
Goals: Whirlpool will provide new washers and dryers in 17 Ronald McDonald homes. These appliances will be used by the families of critically ill children who are receiving medical treatment away from home.
The Why: "We believe spreading a little joy to people within our communities matters. Ronald McDonald House Charities helped more than five and a half million children and their families last year worldwide, and we hope to do our part in making all 17 Ronald McDonald Houses feel like a home."
-Bob Bergeth, general manager, Contract Builder Sales at Whirlpool Corporation