K & B Product Designers Talk With KBB: Behind the Brand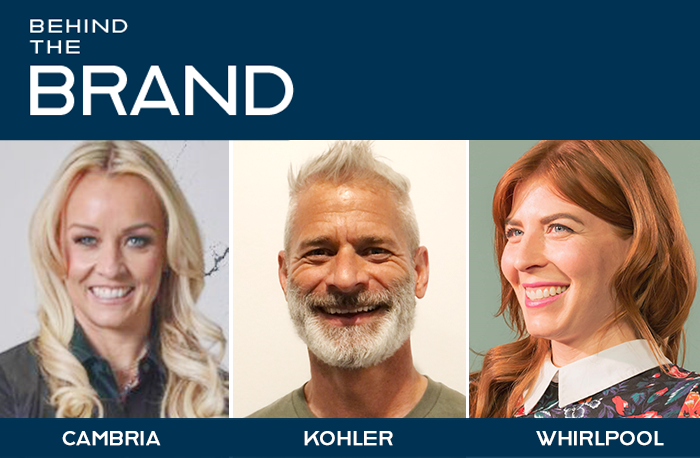 June 19, 2023
This article was originally published on June 19, 2023; it was updated on June 26, 2023.
Welcome to the June edition of Behind the Brand, where KBB seeks to illuminate – somewhat! – the creative process from the perspective of top product designers in the kitchen and bath fields. Being able to look at everyday objects in a radically different way is the [un]common denominator of these talented individuals.
This month, we hear from:
Summer Kath, EVP design, Cambria USA
Niels Eilmus, design studio manager toilets & seats, Kohler
Brittni Pertijs, design manager in color, material & finish, Whirlpool Corp.
As a product designer, my greatest responsibility is…
Kath: My primary responsibilities involve seeking inspiration and gathering feedback from the market to identify current demands and unmet needs in the surfaces industry. I strive to create new, innovative looks that have never been achieved before in quartz. My role also involves directing and collaborating with our engineering teams to develop designs that will not only meet but exceed the expectations of our customers. By driving the creation of cutting-edge designs, I am able to create demand and open up new markets.
Eilmus: As a designer, my greatest responsibility is to envision ideas that have a meaningful impact on end users.
Pertijs: It's important to be intentional in new material developments and making sure it makes sense for the brand as well as finding more sustainable alternatives. Ask questions! Through this process, you can find an imaginative new language of materials when you deep dive into exploring materiality.
One of my creative touchstones is…
Kath: At Cambria, we believe in the power of being open and thinking big. We never shy away from a challenge, and the words "that's impossible" or "we can't do that" simply do not exist in our vocabulary. Instead, we embrace new ideas and pursuits that have the potential to take us to new heights. This is where real innovation happens. No matter how difficult a challenge may seem, we remain committed to figuring out a way to overcome it. This mindset allows us to push beyond boundaries, achieve the seemingly unachievable, and continue to set new standards in the surfaces industry.
Eilmus: One of my creative touchstones is making stuff, with my hands. The process of building something real tends to put me in a state of focus that is reinvigorating mentally.
Pertijs: As a color, material and finish designer, my creative touchstone is exploring and challenging assumptions within materials. I thrive when pushing the boundaries on materials and colors that are typically not expected on products and turning them into something emotional and inspiring. An example of this is when you open JennAir's Burlesque columns and find that the interior is a deep, rich burgundy instead of the traditional white interior that you would find elsewhere. It's about creating magic and emotion in the mundane.
An industry trend that I'm watching is…
Kath: Color! In terms of color trends, we are seeing a rise in popularity of white chocolate and chocolate brown colorways. Additionally, sienna, clay, aubergine, dusty blues, and all shades of green are also being incorporated into modern design palettes. These low saturated hues serve as neutral highlights in homes and add a touch of sophistication. Another trend that we are observing is the use of rounded corners on furniture, and now it's making its way into kitchen islands and cabinets. This design element adds a softness to the overall look and feel of a space. There is also a growing movement towards incorporating texture into hard surfaces and a variety of textured textiles. We are witnessing a trend of layering textures in design, which adds depth and character to a space.
Eilmus: An industry trend that I'm watching is sustainability; how leading companies big and small are rethinking products and materials.
Pertijs: As we see warm, natural tones, matte finishes, and soft shapes prevailing in interiors, I'm watching and excited for the interaction with cooler tones and glossier finishes and how this tension will create a new relationship and expression in the home. I don't see the natural warmth leaving anytime soon but I'm excited for this next evolution of the trend where the two sides meet.
The best part of my job is…
Kath: One of the aspects of my job that I absolutely love is being a part of the design community that drives this industry forward. Over the course of my 21-year career, I have developed meaningful relationships with designers from all over the world. Their inspiration and ideas fuel my creativity and drive to create new designs that result in beautiful project outcomes. The best part of my job is seeing what these talented designers do with our products. It brings me great satisfaction to witness how they use Cambria surfaces in their projects and the stunning results they achieve. It makes me incredibly proud of our company and the work that we do. I also get a great sense of pride and fulfillment whenever I travel and come across our surfaces installed in hotels, airports, restaurants, and other public spaces. In those moments, I'm reminded of the hard work and dedication that went into designing each product. It's incredibly rewarding to see the fruits of our labor being enjoyed by people from all around the world.
Eilmus: The best part of my job is my team; their appetite for creativity, innovation and bringing beautiful things into the world makes my work easier and more pleasurable.
Pertijs: Forecasting and creating colors from scratch for the KitchenAid Stand mixer, and having a perspective on Color of the Year for the brand. Seriously the best job ever.
If I had a week off from the studio, I would…
Kath: One of my biggest dreams is to take my two teenage daughters on a vacation where I can show them the incredible things that I have been fortunate enough to experience through my travels around the world. As part of my job, I travel to different parts of the world to gather inspiration and ideas that fuel the evolution of our designs. This experience has taught me that traveling and exploring new places is not just limited to my professional life, but it can also be applied to all aspects of our lives. I want to share this with my daughters and show them how valuable it is to explore and discover new things. By exposing them to different cultures, people, and experiences, I hope to broaden their horizons and instill in them a sense of curiosity and wonder about the world. It would be a privilege for me to share my passion for travel and exploration with my daughters and create lasting memories together.
Eilmus: I would go surfing.
Pertijs: Travel to Mexico City with my husband and friends from the area. I'm itching to visit museums and be surrounded by color and verve. Some sunshine wouldn't hurt either!
—By Leslie Clagett, KBB Managing Editor