K&B Product Designers Talk With KBB: Behind the Brand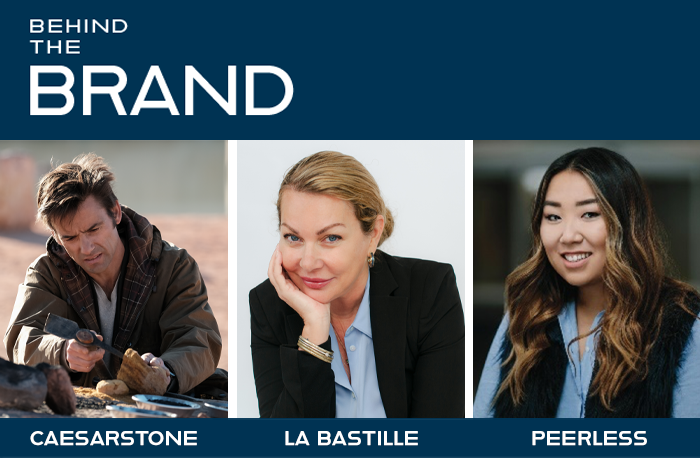 September 25, 2023
Welcome to the September edition of Behind the Brand, where KBB seeks to illuminate – somewhat! – the creative process from the perspective of top product designers in the kitchen and bath fields. Being able to look at everyday objects in a radically different way is the [un]common denominator of these talented individuals.
This month, we hear from:
As a product designer, my greatest responsibility is…
Krisher: As designers, we live in the future, enthralled by what we envision and spellbound by the beauty that we can bring. My greatest responsibility is coming up with innovative ways to uphold Caesarstone's obsession with expressing the world around us through surfaces and collaborating as a team to bring our creations to life. We are constantly bringing industry firsts to the market such as our outdoor quartz collection and the fiberglass mesh backing in our new porcelain line that is revolutionary, and essential for our fabricators.
Chapman: My greatest responsibility is to ensure that each piece we create is reflective of our commitment to quality and craftsmanship. I strive to provide our artisans with access to the finest metal alloys on the market, state-of-the-art technology and honor the traditions of old-world craftsmanship while embracing modern design sensibilities. Each project is tailored perfectly to our clients' unique preferences, from concept to completion.
Borris: My greatest responsibilities as a designer are to inspire others, spark creativity and trigger emotion. My goal day-to-day is to ensure I'm providing experiences through designs that truly stimulate a consumer's feelings and thoughts. As a kitchen and bath designer, the best part of my job is knowing our designs are ones that people depend on for essential everyday tasks. Whether my designs trigger creativity within consumers themselves or within their homes, my obligation and passion is to look beyond aesthetics and create feeling.
One of my creative touchstones is…
Krisher: One of my creative touchstones is challenging myself and my team to follow in the footsteps of ancient alchemists to explore the mysteries of quartz and porcelain with its endless creative possibilities in the heart of the home. For example, we took porcelain higher by maximising its capacity for attaining an accurate richness of shades, tones, detail and depth. Our design innovation empowers homeowners with more freedom to choose and greater dreams to follow.
Chapman: One of my creative touchstones is the process of creating extraordinary and unique works with metal that are both timeless and modern with an emphasis on functionality. To me, there's nothing more satisfying than being able to bring our clients' visions to life using raw materials like zinc, copper, brass and bronze. I find joy in working with others to explore their ideas, dreams and visions for any project – big or small.
Borris: Personally, my creative touchstone is my world view. As a person with a multicultural background and one who loves to travel, I've been around a lot of cultures and have experienced various outlooks, perceptions and behaviors. As I grew into adulthood, that's when I realized that this is an advantage in the world of design. For me, having this creative world view allows me to go out into the world and bring back things that inspire to create something new and refreshing. This creative touchstone is something I leverage a lot in design and one I'm deeply proud of.
An industry trend that I'm watching is…
Krisher: Wellness in the home. My design team and I are constantly inspired by watching trends on what people want in their home. Wellness is a key component these days and we  aspire to this by bringing more warmth to the heart of the home through surfaces. Many of our designs are based on what one may see or find in nature, which is our biggest inspiration. We're seeing that people are wanting more nature-inspired materials or materials from the earth in their homes as it brings a sense of calm, tranquillity and warmth into any space.
Chapman: Copper has become an increasingly popular choice for residential and commercial spaces due to its beauty, versatility, durability and the ability to create stunning custom designs. We are also seeing an increased desire for American-made products and an appreciation for quality craftsmanship – this trend is right up our alley and at our core. We specialize in working with various metals such as zinc, pewter, brass, bronze and of course, copper. These living metals develop a beautiful patina over time, which adds character and uniqueness to each piece.
Borris: I'd say I'm watching and personally practicing the trend of miximalism (style of blending/decade mixing), because it allows us creatives to create within our own space without the pressure of the traditional rules of design and leaves more opportunity to create something fresh. This is also something that Peerless does really well. It provides great designs to all people and gives consumers flexibility and encourages them to create spaces that reflect their personal style. For example, we just expanded a matte black finish into our transitional Parkwood kitchen and bath collection, further allowing consumers to create what's right for them.
This transcends seamlessly into emotional design, the consumer behavior that allows one to create with their emotions and for need. Creating something beautiful and luxurious with what is available is a trend that's rapidly increasing. Luxury doesn't necessarily mean 15-bedroom mansions. It can be something rich in feeling, multiuse and rewarding – something more homeowners are figuring out. Subconsciously, we are still designing for those multifunctional needs based off what we experienced back in 2020. Through emotional design, we  implement ethnographic research, watch how people live and design to accommodate daily tasks we sometimes take for granted.
The best part of my job is…
Krisher: Visiting people's houses. I always go first to the kitchen, and look at the countertop. When you see a countertop that was just an idea in your head installed in someone's house, at the heart of their home, then I feel fulfilled in my professional goal and made a difference as a designer.
Chapman: The best part of my job is creating truly unique pieces with our clients in mind. Every time we take on a project, we start with a blank canvas and work together with our clients to realize their vision. By understanding what our customers need and paying attention to every detail, we can ensure that each finished piece is tailored perfectly to suit their individual preferences. We love to watch our clients' faces light up when they see the final product – this is what makes every project we do so special.
Borris: I would say that the best part of my job is sharing creativity and culture with our consumers and other designers. As a kitchen/bath designer, my job is to provide essential product offerings that people depend on every single day. Whether it's washing your child or puppy in a sink with your new faucet/fixture or carefully bathing your elderly loved one in the shower, we're designing for human interaction. In a way, we're engraving experiences and creating emotional responses through water delivery – and that's why I admire the world of plumbing. It doesn't discriminate and it is something for all.
If I had a week off from the studio, I would…
Krisher: I would go out rock climbing. This is something I have done for many years. I always come back to the studio with new ideas for new colors and textures. I have found rock climbing to be an ideal place for inspiration. It's a place where you are closer to the rocks then in any other place. First you see the cliff from afar; it's like a huge slab, with colors and pattern. And then you explore the rock just millimetres away; you touch it and feel the textures and the dirt… it really opens your mind (that is why it's important to wear a helmet!).
Out in nature, this is the real studio.
Chapman: Escape to a beach, with my furry companions Olive and her soon-to-be sister Pearl in tow – no phone, no laptop, no plans. Just me, Olive and Pearl, and a good book. I welcome the chance to go off-grid to decompress, re-energize and come back rejuvenated.
Borris: My answer for anything non-work related is travel. Traveling not only resets me, but it also allows me to see and feel how others are designing outside of my realm. There's so much to see out there. My travels give me inspiration and provide me with imagery and experiences that can be applied to my own designs in and outside of my profession.
—By Leslie Clagett, KBB managing editor