Three K&B Product Designers Talk with KBB: Behind the Brand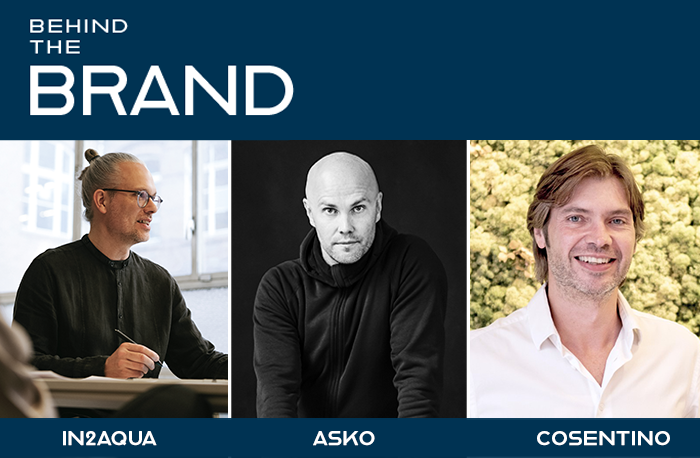 July 17, 2023
Behind the Brand with ASKO, Cosentino and in2aqua
This story was originally published on July 17, 2023; it was updated on July 26, 2023, July 31, 2023 and August 16, 2023.
Welcome to the July edition of Behind the Brand, where KBB seeks to illuminate – somewhat! – the creative process from the perspective of top product designers in the kitchen and bath fields. Being able to look at everyday objects in a radically different way is the [un]common denominator of these talented individuals.
This month, we hear from:
As a product designer, my greatest responsibility is…
Carlehed: To translate technology into understandable and accessible functions for consumers to use in their everyday life and to ensure the design is sustainably defendable – for example ASKO's timeless approach design ensures the products will always look great in the home overtime. Our style is classic, minimalist and sleek, so they will never go out of style or "get old."ASKO products are meant to remain in the home for 20+ years, we take that seriously, not only from a performance standpoint, but from a durability and design standpoint.
Tijeras: My greatest responsibility as a product designer is designing with sustainability at the forefront. I have to remain constantly committed to bettering our products for the greater good of the industry. I believe that by putting forth products like our carbon neutral, ultra-compact Dekton collection and our new Silestone with HybriQ Technology, we have been able to marry our core values with timeless beauty, combining cutting-edge technology and innovation with stunning colorways and textures. I need to hold Cosentino to long-term accountability to be a true leader in our industry and to honor our craft. I am always looking to find ways to adhere to our mission of sustainability and innovation for years to come.
Schumann: To develop products for people. We have to find out and understand the end-user's needs and adapt products to that. Unfortunately, product design is still too often seen as formal aesthetic styling rather than adhering to a user-centered approach. Only with a full understanding of the user can we designers develop innovative, durable and sustainable objects.
One of my creative touchstones is…
Carlehed: The typical Scandinavian design principles: Honest design for people to use. Functionalistic minimalism is what many people are looking for in a world full of visual impressions and too many choices.
Tijeras: Given our constant focus on producing sustainable and responsible products, I have a tremendous amount of respect for nature and I find great inspiration in the earth's landscapes. You can see in many of our collections that movement and use of earth and water tones is very prevalent, as I want to mimic the beauty of the outdoors and bring it to the home in a functional, luxurious way. I also find that architecture inspires our design work, like the Dekton Pietra Kode collection that was inspired by Italian stone featured in the country's historic structures.
Schumann: The most important of our creative touchstones at my Studio WERKSDESIGN is the overall context: Does the product meet the requirements that all target groups have? In the case of a bathroom fixture, for example, our target is the end user; but of course, also the installers, the manufacturers, the distributors, landlords and tenants, architects and planners, and so on. This all has to be put into context, and the product has to strike the best possible balance between those aspects to be effective and good.
An industry trend that I'm watching is…
Carlehed: For sure the obvious and continuous strive towards more sustainable products and sustainable usage of products, but it can hardly be viewed as a trend anymore so I would instead say that.
Tijeras: At this year's Salone, we collaborated with designer Tom Dixon to exhibit an architectural and sculptural art installation, titled "Metamorphic" utilizing Dekton in a modular format. I believe that this kind of modular construction will continue to impact the industry. I'm also eager to see how the current conversation surrounding environmental responsibility will affect companies in the home and design industry, and if heightened regulations surrounding sustainable practices will create a divide amongst brands who are willing and not willing to put in the work to be accountable.
Schumann: Sustainability, sustainability, sustainability. In my home country of Germany, in particular, this is discussed a lot: how can we make good products that last a long time and still allow industry to profit from them? In the long term, every industry is thinking about circular economy and resource efficiency. At some point (soon), all manufacturers will have to take back their old products to recycle, reuse, or dispose of as gently as possible.
The best part of my job is…
Carlehed: The creative freedom and having the possibility to shape the future.
Tijeras: The best part of my job is devising new ways of doing things. I love connecting with my team, defying the way things are done, and exploring more beautiful, efficient and sustainable ways to do our jobs.
Schumann: The variety. At WERKSDESIGN, we work in many industries. For example, we develop faucets for bathrooms and kitchens, medical products, things for everyday use, and much more. You always get to know new challenges and people. I am grateful for this diversity and the opportunity to create. We designers are the types of people who simply have to develop new and different things; doing the same job and working on the same thing every day would be torture for us.
If I had a week off from the studio, I would…
Carlehed: I would definitely go out, off grid, camping with some friends close to a beach where there were good waves for surfing!
Tijeras: If I had a week off, I would choose to spend my time getting lost hiking in the mountains.
Schumann: What do you mean by "if I had"? I do have a lot of vacation; if you work a lot, you have to take time off. I live in Berlin, in the middle of the former Soviet-occupied German Democratic Republic. When you leave the bustling metropolis of four million people, you are in the middle of nowhere: there are only a few people in the area, and there is a lot of nature and undiscovered places. My partner and I like to ride our bicycles through the province. We do watch animals (three kinds of eagles in the east, in western Germany: none!) and occasionally break into old, dilapidated Russian barracks or similar lost places that are slowly being reclaimed by nature. Travel and nature are the best; there is also hardly a better way and place to find inspiration.
—By Leslie Clagett, KBB Managing Editor