Luxury K&B Brand Announces Auth Lux Designer Guild
---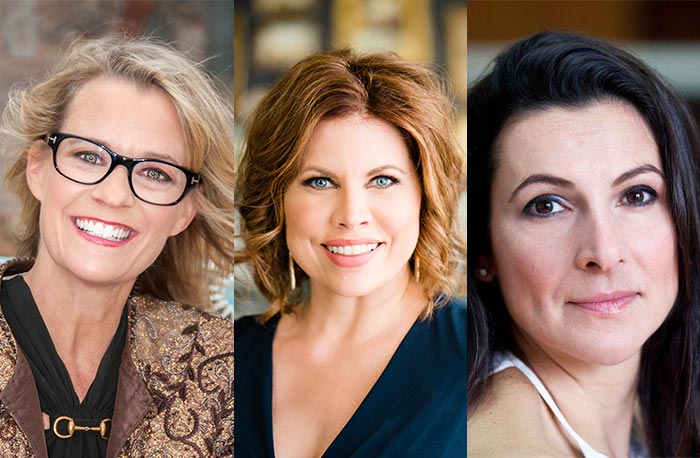 May 8, 2017
From left to right: Buckingham, McGaha & Tucker
ROHL recently announced the creation of its Auth Lux Designer Guild and its inaugural members: Denise McGaha of Denise McGaha Interiors in Dallas; Julia Buckingham of Buckingham Interiors + Design LLC in Chicago; and Marcia Tucker of Marcia Tucker Interiors in Greenwich, Conn. This Designer Guild reinforces the value and appreciation ROHL has for the expertise of designers and trade professionals.
Starting in June, each of the members will co-host ROHL Auth Lux day-long summits in New York City, Chicago and Dallas. The summits will feature a variety of educational programming highlighting authentic luxury design. In addition to ROHL, guest speakers and partners include Pam Danziger of Unity Marketing and a luxury market expert, Gaggenau and Rutt HandCrafted Cabinetry.
The guild member selection was based on the following criteria:
Respected industry professionals
Have specified ROHL
Dynamic presenters, personalities
Stars on the rise
KBB took some time to get to know these dynamic design professionals and learn about what they hope to accomplish as part of the ROHL Auth Lux Designer Guild.
What is your greatest challenge as a designer?
JB: The day-to-day office, accounting, paperwork and technical aspects of owning a firm are a first-class drag! Don't get me wrong, I'm a pretty savvy business woman, but I am so thankful and grateful to have a few trusted employees in place who take care of the details; my head swims looking at numbers and spreadsheets. Give me design boards, fabric swatches, sketches and presentations please!
DM: Meeting the emotional needs of each of my clients as they go through the design process – while also meeting their design needs. It can be a stressful time when remodeling or building a home, and being there for my clients to assure them everything will be OK is as big a part of my job as being their designer.
MT: As projects take time, clients and sometimes designers can get influenced by recent product releases or new styles that deviate from the original design concept. We live in an ever-evolving commercial and social landscape, so keeping true to the core conceptual ideas while keeping up with technology and customer engagement is a challenge.
What do you hope to accomplish through your role in this opportunity?
JB: I am just so overwhelmingly honored to be aligned with ROHL in this capacity. What a phenomenal brand – the product selection is incredible, and the designs are divine. I guess I would say I am grateful to have a platform to promote my brand alongside such an industry leader. And in such a fun and creative way!
DM: To represent the importance of authentic quality and luxury in every product we specify for our projects. Every project we complete should be worthy of the best, and I feel our clients and homeowners everywhere have the same goal. I hope to spread this message far and wide.
MT: I have used ROHL products personally in my home and have specified them in projects. For me, this is an opportunity to gain a deeper understanding of all aspects of ROHL, whose products I truly appreciate, and hopefully enhance my ability to collaborate more with ROHL and its products.
What is your favorite part of your job?
JB: No question, the big reveal. At the end of an incredibly long and laborious install, nothing lifts the human spirit like tears of joy and screams of delight when a client sees their project for the very first time. It's that bonding moment you have with clients that is really indescribable and makes all the hard work worth it.
DM: The reveal!! When clients see their home for the first time when the project is complete, they finally have the vision that I have had all along. It's the real reason I do this job, and if there are tears…even better!
MT: My favorite part is the time spent interacting with vendors who are as excited about design and craftsmanship as I am. I love interacting with clients and getting feedback on what they like and what they don't. I find the entire design process stimulating when clients, vendors and designers are all engaged in making interiors beautiful and functional.
ROHL Auth Lux Summits
June 1, 2017 – 10am-3pm – New York City
June 22, 2017, 10am – 3pm – Chicago
September 14, 2017, 10am-3pm – Dallas
Follow @ROHLFaucets on Facebook, Twitter and Instagram to learn the latest information about the summits. Be sure to follow the hashtag #AuthLuxGuild for special behind-the-scenes content from the Auth Lux Guild members.