MIT Appoints Janet Echelman Distinguished Visiting Artist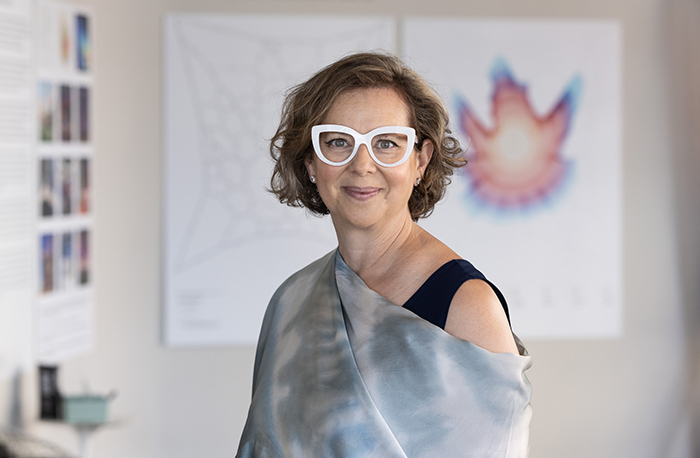 October 13, 2022
Massachusetts Institute of Technology (MIT) is pleased to announce visual artist Janet Echelman as a 2022-23 Distinguished Visiting Artist at MIT. The appointment, hosted by the MIT Center for Art, Science & Technology (CAST) will begin this fall. 
Echelman's time at MIT will be dedicated to the research and development of new work, shaped in collaboration with MIT faculty, students and researchers across the Institute, in fields that may range from fine art, architecture and urban design to material science, computer science and structural engineering. Her final project is yet to be determined, as it will be developed after a period of research. 
Her residency is a collaboration with MIT Associate Professor Caitlin Mueller, CAST Distinguished Visiting Technologist David Feldman and graduate student Adam Burke, working with computational design methods used in the creation of her work. Together, they will explore and test new opportunities for algorithmic design and engineering simulation to contribute to the creation and production of large-scale tensile sculpture, focusing on the fiber-based material systems and software tools that Echelman has pioneered with her studio. The residency will include studio visits, guest lectures, a technology and design-focused IAP workshop in January and a symposium moderated by Gloria Sutton, a historian of contemporary art.
MIT CAST Distinguished Visiting Artist residencies provide support for visual artists and designers to engage with the creative energy, innovative thinking and advanced technology found throughout the MIT community. The arts have been an integral part of MIT since its founding, and this position builds upon the university's vision for the intersections of art, science and technology as an essential foundation for achieving institutional excellence. The program is supported with funding from the Mellon Foundation. Echelman was chosen by the CAST Distinguished Visiting Artist Curatorial Committee from a pool of nominations by MIT faculty. In addition to Echelman, CAST will support nearly 30 MIT faculty artists and Visiting Artists during the 2022-23 academic year.
"This collaboration opens new possibilities to push the boundaries of my work at the intersection of sculpture, urban art, material science and computational design," said Echelman. "I'm eager to discover what will unfold as I collaborate with Caitlin Mueller and colleagues from departments and centers across MIT, including the Department of Architecture and the Leventhal Center for Advanced Urbanism. My goal is to collaboratively create new artwork that stretches into uncharted territory." 
Echelman's work defies categorization as it intersects across disciplinary boundaries. Using unlikely materials from fishnet to atomized water particles, Echelman combines ancient craft with original computational design software to create artworks that have become focal points for urban life on four continents.
Recipient of the Guggenheim Fellowship, Harvard Loeb Fellowship, Aspen Institute Henry Crown Fellowship and a Fulbright Senior Lectureship, Echelman was named an Architectural Digest Innovator for "changing the very essence of urban spaces." Her TED talk "Taking Imagination Seriously" has been translated into 35 languages with more than 2 million views. Oprah ranked Echelman's work #1 on her List of 50 Things That Make You Say Wow!, and she recently received the Smithsonian American Ingenuity Award in Visual Arts, honoring "the greatest innovators in America today."