NKBA Chairman and His Family Survive Hurricane Harvey
---
December 28, 2017
By Lorenzo Marquez
Preparing for a natural disaster is not something most people keep top of mind because we may not realize the impact it can cause or feel the chances of it happening are slim to none. We all work to provide shelter for our families and expect the walls of our homes to keep us safe at all times. In our case, those walls were no obstruction to Hurricane Harvey and were a tremendous barrier to bigger issues with which we were living.
It has taken me a while to write about my experience from the storm because I have been so focused on providing stability for my family. Now, more than three months after the storm, we see the light at the end of the tunnel with construction plans and building permits issued, so I feel better about escaping from my daily survival-mode mindset. I can now allow my mind to think through moments of turbulence from the past or uncertainty about the future without disrupting my focus and becoming a victim of the situation.
The Day Before Harvey
The impact of Hurricane Harvey came to us like a thief breaking into our house in the middle of the night. As much as you can prepare beforehand – or as much as you can do when you are in the middle of a crisis – we were faced with critical decisions to make as our five children were sleeping.
Living in the middle of the Houston area in a 500-year flood zone, we prepared to embrace the impact of Harvey at home and potentially risk power outages, street flooding or any obstruction to living our regular lives. Leading up to the storm, my wife and I took the necessary precautions to have enough food, water, entertainment and shelter should we not be able to leave our neighborhood. What we did not prepare for was water quickly rising into our house and planning for an emergency evacuation.
Harvey Meets Houston
It was 2:30 a.m. when we heard the toilets backing up. We both rushed out of bed and looked out the window to find water starting to come up to our lawn. One would immediately think to wake up your kids, get them in the car and drive off, but that's not possible when you see your car halfway full of water in your driveway.
We immediately started propping furniture on top of furniture and moving important documents and laptops to the second floor where our children were sleeping. I still do not remember what we moved or didn't move; adrenaline rushed in, and we immediately got into survival mode. I went outside to place tarp and sandbags in front of each door, and it wasn't but less than an hour later that we started seeing water coming in from between the walls.
My biggest concern was the water reaching the electrical outlets, so I went outside with water up to my shins to turn off the power to the house. I didn't realize the amount of danger that meant, I just wanted to keep my family out of as much risk as possible. Back inside the house, the upstairs looked like a warzone; it had gotten to the point where we could no longer continue moving things up.
Overcoming the Panic
It was a bit past 6:00 a.m. when our children started waking up. We had already contacted our family to ask that they call 911 to ask for rescue; we wanted to save as much battery as possible. Several calls were made to the same response: "We will get there as soon as we can." Emergency services were helping as many people as possible, the city was not prepared to deal with the issues from the storm, and no one knew it could get as bad as it did.
We tried to remain as calm and collected as possible while our children were trying to stay entertained. I looked down to the first floor to see the water rising up to the third step of the stairs. I thought of every scenario possible to safely get our five children – under the age of seven with the youngest being three months old – and our dog out of our home.
It was past 9:00 a.m., and we still had no response from emergency services. Water was now up to the fifth step, and I went down to our garage to pick up our kids' swimming "floaties" to at least have them for rescue or survival purposes. It was after 10:00 a.m. when my wife and I both begged for help on Facebook. As private and self-sufficient as we had been, it was in that moment that we let go of all fears of asking for help.
Acts of Human Kindness
The phones started ringing, people immediately responded, and our posts were shared hundreds of times in a matter of minutes. Our friends and friends of our friends were reaching out to see how they could help. People offered to swim to our house to carry us to rescue; strangers risking their own skin for the sake of someone else's safety.
As desperate and hopeless as we were, we felt embraced and protected by all those trying to help. A miraculous phone call came through from my brother-in-law, who had borrowed a kayak from a neighbor and was on his way to get us out one by one. As he arrived at our house, I remember struggling to get the hardwood door open and considered breaking a window to get out. With all of the strength I had, I was able to get it open to find him floating right outside our door. Without hesitation, I ran upstairs and got my oldest son, carried him down and placed him in the arms of his uncle, who reaffirmed me to stay calm; he would go back and forth to get us all out until we reached safety.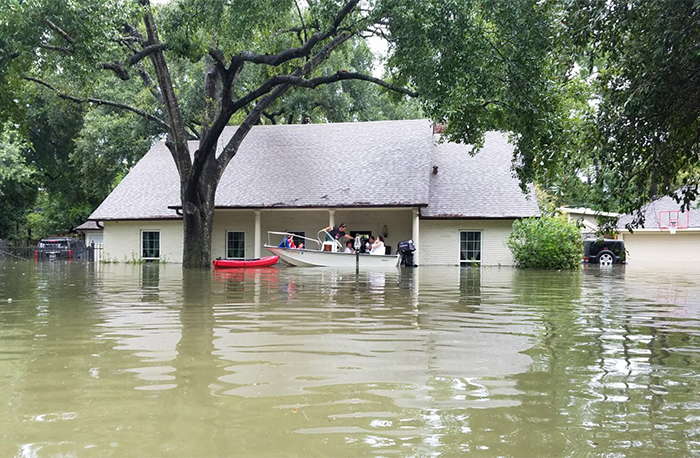 I remember seeing the boat turn on our street and screaming out loud "They're here" with a level of adrenaline, joy and excitement I have never felt in my life. I could care less about the house, the furniture, anything we were leaving behind. I just wanted to get our family to safety.
I opened the door with water over my waist and stepped outside to wave the boat down and dropped about another foot. I placed our outdoor bench next to a column on our porch so we could start loading up the family. A man and his son were there to save us.
Very safely I went up and down the stairs to carry each one of our children onto the boat, with our dog being the last to get on board. Within minutes, we were knocking on our neighbors' doors to see if they needed rescue. I remember looking back to our home and only thinking that the most precious belongings I had were with me on that boat.
We went less than a quarter mile away to find rescue and shelter at a nearby apartment complex where they were waiting for us with open arms. Our family had safely been rescued and taken to the place we now call home.
What Comes Next?
Over the next couple of days, we were trying to figure out what the next course of action would be. Our only belongings where the clothes we had on, our laptops and our kids' favorite stuffed animals. I knew that as long as we had each other, our children and our careers, we could rebuild our lives and our future.
It wasn't until two weeks from when the storm happened that I was able to get back into the house. The water reached up to five and a half feet inside and sat there for more than 12 days.  We knew at that point that nothing in the house could be salvaged and that we would have to do a complete tear out of the walls and ceiling – not to mention dispose of the belongings inside because of infestation, mold and mildew.
What we didn't know was the greater risks we were living with during the four years we had been in that house.
As I mentioned before, not only were the walls of our home not able to keep the storm surge from wiping us out, they were also concealing hazardous living conditions that could have at any given point had fatal consequences for our family. It wasn't until the storm came and left and volunteered teams helped demo all of sheetrock that we discovered the greater risk with which we were living.
Over the next few months I will be sharing our experience as we go through the rebuild of our home, not as an industry professional but rather as a consumer going through the process. My intent is to highlight real-life learning experiences we have experienced first with the remodel of our home that is now on sticks, to the final end product of the new remodel/rebuild. Most importantly, my hope is to create awareness on the areas that could represent threats to any household, far beyond exposure to natural disaster.
As much support as my family has received through this ordeal, I want to share our insights on how we rebuild, or build, a safe, healthy home for our family.