Poggenpohl Strengthens Executive Team
---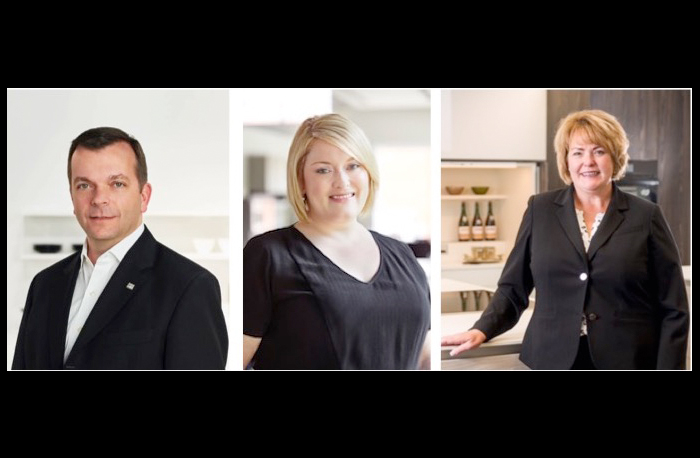 October 12, 2017
In the year of its 125th anniversary, Poggenpohl is taking a strong step towards being a client-centric company by strengthening the Executive Team with high-level management expertise. In doing so, Poggenpohl sets a course to underline its positioning as a leading international luxury brand in keeping with Friedemir Poggenpohl's founding principle: "We want to make the kitchen better."
In order to foster sales and distribution, Poggenpohl's Managing Director Thomas Kredatus will rely on a newly formed team, which is aligned to the various channels in the core regions of the world. Poggenpohl's North American team is further strengthened with the placement of three experienced new Executive Management Team members including, Hans Henkes as President and CEO, Sandie Duncanson-Irizarry as CFO and the promotion of Jennifer Fordham Blanco to Director of Retail. "I am thrilled to join the Poggenpohl team, especially at this pivotal point in time," states Hans Henkes, President and CEO of Poggenpohl North America. "This is a milestone moment in Poggenpohl's history as we actively promote the brand through strategic sales, marketing and innovation. Poggenpohl is setting a new standard as a leading international luxury brand. I have great expectations for this company and high aspirations for the future."
Hans Henkes, President and CEO of Poggenpohl North America, a graduate of Cornell University, comes with a wealth of experience within the industry of luxury brands and kitchen manufacturing. For more than 20 years, Henkes has successfully and strategically executed growth strategies in the U.S. and Europe for a wide array of companies.
Sandie Duncanson-Irizarry joins Poggenpohl as the new CFO of North America with a strong background in the design industry. An MBA graduate of Rider University, Duncanson-Irizarry will serve as an integral and crucial part of Poggenpohl's Executive Management Team.
Jennifer Fordham Blanco is promoted to Director of Retail. A graduate of Baylor University, Blanco comes with years of corporate retail and design experience as Manager of the Poggenpohl Dallas Kitchen Design Studio. Blanco possesses the necessary tools to strengthen and grow Poggenpohl's core retail and brand success.