Renowned Architect & Developer John C. Portman, Jr. Passes at 93
---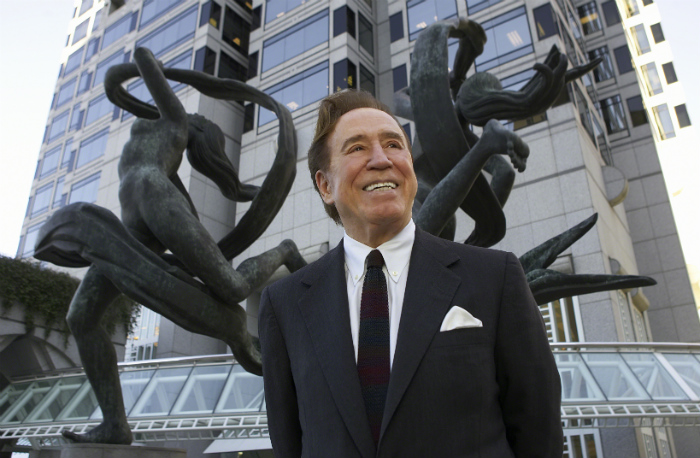 January 5, 2018
John C. Portman, Jr., one of Atlanta's greatest champions, died Friday, December 29, 2017, at the age of 93. As an architect, real estate developer, entrepreneur, artist and altruist, Portman had a dramatic impact on Atlanta's success and growth as a major international city and similar impact on other major cities throughout the world. He is internationally recognized for significant urban mixed-use complexes wherein his understanding of people and their response to space translates into enhanced environments and award-winning architecture.
For Portman, design decisions were always rooted in the interpretation of basic human needs. Portman believed that architecture was created for, and exists to serve, life – to serve people – and Portman recognized that all people, wherever they live, are more alike than different.  From Embarcadero Center in San Francisco and Times Square in NewYork, to Marina Square in Singapore and Shanghai Centre in China, he took people away from the congestion of urban life by creating spaces that are open and uplifting to the human spirit.
Portman pioneered the role of architect/developer, weathering tremendous criticism from members of the architectural profession who viewed this as a conflict of interest. The first project for which he served in this dual role was in the design and development of the initial Atlanta Merchandise Mart, now AmericasMart.
When Portman founded the Atlanta Merchandise Mart in an old converted office building in 1957, Atlanta was experiencing "white flight," as were many cities throughout the South. As the city core was abandoned in favor of the suburbs, vacant buildings became empty eyesores or were leveled for parking lots, and no new construction was happening downtown.
Portman was raised in Atlanta. His family lived adjacent to the downtown area; his dad worked downtown and, as a teenager, so did Portman. He always had a great love of the area and for all of its people. When success dictated building a new, larger building for the Atlanta Merchandise Mart, he made the decision to build it downtown to encourage further development, reenergize the city and save the area for future generations. In spite of many obstacles and huge financial risks, he did it.
Before the Mart's new million-sq.-ft. building opened in 1962, Portman made the decision that its two restaurants would be Atlanta's first integrated eateries open to all of his fellow citizens. He made no big to-do about this and the restaurants quietly flourished.
Continuing his vision of revitalizing downtown Atlanta, Portman began the development of a world-class mixed-use complex, Peachtree Center, with office towers, retail and restaurants. In 1965, he began the design and development of the Hyatt Regency Atlanta hotel as the complex's third building. From the beginning, he was determined to make it the first integrated hotel in Atlanta and through many difficulties creating the project; his determination to integrate the facility prevailed.  Because of its design featuring the first modern hotel atrium, the Hyatt became the most notable hotel in the world.
In 1975, Portman designed and developed the Westin Peachtree Plaza, which opened as the tallest hotel in North America. The hotel included a kosher kitchen, making it the first public facility in the city that could properly serve kosher meals. Competitive facilities followed and, today, kosher facilities are now available in most Atlanta area event venues.
Portman continued to develop Peachtree Center over the past 55 years and it now occupies 14 city blocks and includes approximately 21 buildings that contain 20 million square feet – a feat accomplished utilizing no public funds. The success of Peachtree Center achieved Portman's vision of attracting further development. Downtown Atlanta has flourished, serving as a catalyst for the extraordinary success and growth of the entire region.
Portman was a founding member of Atlanta's Action Forum, which was formed by a group of like-minded prominent white and black business leaders who were dedicated to the success of Atlanta and the welfare of all its citizens. They quietly used their wits, resources and influence to ensure that Atlanta remained "a city too busy to hate" by successfully dealing with racial issues that divided other American cities. Their strong social views resulted in meaningful action in the local community that, while conducted without fanfare, proved to be extremely impactful. The group became close friends and, while the Forum no longer formally exists, its spirit and vision lives on.
Given his work and contributions to Atlanta – which spanned civic, business and philanthropic investments – former Atlanta Mayor Andrew Young said of Portman, "there is no one who has done more for Atlanta."
Beyond Atlanta, Portman created urban mixed-use complexes focused on connecting people to their surrounding environments. In Detroit, Henry Ford sought Portman's help to stop urban flight from the city with the design of Renaissance Center. In Los Angeles, The Bonaventure Hotel initiated the renewal efforts in the city's Bunker Hill section.
Portman's international work began with the design and development of the Brussels TradeMart in 1975 then shifted to the Far East. The Regent Singapore was Portman's first international hotel, followed by Marina Square in Singapore, a major complex that includes three hotels, a retail mall and an office building. He entered China in 1980 as one of the first American architects or developers to become actively involved when China opened its doors to the West. Portman's pioneer project, Shanghai Centre, a large, mixed-use complex, has been described by China Daily as "one of the five architectural stars in mainland China."
"The most influential living American architect is John Calvin Portman, Jr.…countless other architects have copied him but the music just isn't the same," according to Paul Gapp of The Chicago Tribune.
Sharing art with the public was an important life mission for Portman. His willingness to invest in his own projects and his personal commitment to art in architecture was evident from the start. When he opened his practice in 1953, his first project was the renovation of the Fraternal Order of Eagles Building in downtown Atlanta upon which he wanted to affix a contemporary metal sculpture of an eagle. The client liked the idea but was unwilling to finance the art. Although he was a struggling young architect, Portman used his own funds to commission the sculpture, and this was the beginning of his lifelong practice of incorporating art as integral elements within his designs. People worldwide continue to enjoy his contributions to the arts as he persevered in placing his sculptures and paintings, as well as those by internationally acclaimed artists, in projects around the world.
Portman leaves behind a legacy hallmarked by honors and awards. His numerous architectural awards include the AIA Medal from the National American Institute of Architects for innovations in hotel design (1978), and the Silver Medal Award from the Atlanta Chapter of AIA for innovative design (1981).  He was a Fellow of the American Institute of Architects and a member of the National Council of Architectural Registration Boards. He was recognized for "extraordinary contributions to the advancement of tall buildings and the urban environment" with a lifetime achievement award from the Council of Tall Buildings and Urban Habitat.
Throughout his life, one question guided every decision – how will this serve people and make a lasting contribution? Portman famously said, "It is through accomplishment that man makes his contribution and contribution is life's greatest reward."
Portman's legacy businesses carry on. All of the companies – architecture firm John Portman & Associates, real estate development firm Portman Holdings, AmericasMart and ADAC (Atlanta Decorative Arts Center) – will continue under their current leadership.
When asked, Portman considered his family to be his greatest success. He was a devoted husband, father, grandfather and great-grandfather. He is survived by his beloved wife of 73 years, Joan Newton (Jan) Portman; his children Michael Wayne (Jody) Portman, John Calvin (Jack) Portman, III, Jeffrey Lin Portman and his wife Lisa, Jana Lee Portman Simmons and her husband Jed,  Jarel Penn Portman and his wife Traylor;  his siblings Glenda Portman Dodrill, Anne Portman Davis, Joy Portman Roberts and her husband Phil;  nineteen grandchildren, five great-grandchildren, many nieces, nephews, cousins, and other relatives and loved ones. He was preceded in death by his parents John C. Portman, Sr. and Edna Rochester Portman; his siblings Mabel Portman Creel and Phyllis Portman Tippet; and his son Jae Phillip Portman and Jae's wife Barbara Portman.
A public memorial has been scheduled for Friday, Jan. 5 at 12:30 p.m. in the atrium of the AmericasMart. Portman generously, and often anonymously, supported many important causes throughout his life. In lieu of flowers, the family requests that contributions be made to the Winship Cancer Institute of Emory University, Office of Gift Records, Emory University, 1762 Clifton Rd. NE, Suite 1400, Atlanta, GA 30322. Condolences may be sent in care of Jana Portman Simmons, Portman Holdings, 303 Peachtree Center Avenue, NE, Suite 575, Atlanta, GA 30303.