Turning a House into a Home
---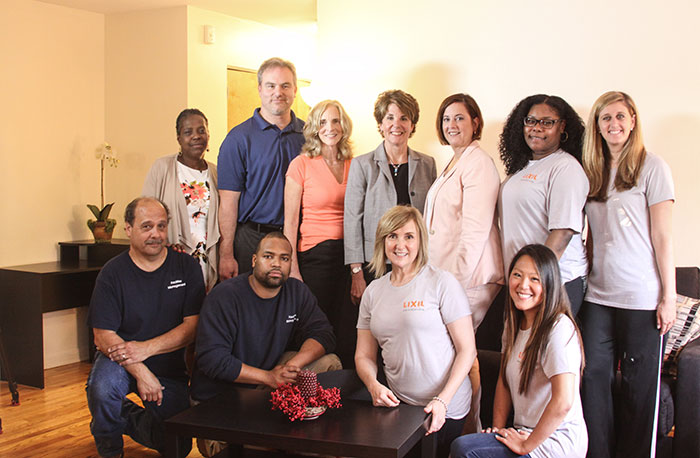 July 3, 2017
Representatives from Catholic Charities, Diocese of Metuchen (CCDOM), and American Standard, part of LIXIL, celebrated the completed renovation of the Naomi's Way family shelter in New Brunswick, N.J.
According to a 2016 study done by the National Alliance to End Homelessness, 549,928 people are homeless on any given night in the U.S. Of that number, 194,716 were people in families. A housing program called Naomi's Way, operated by Catholic Charities Diocese of Metuchen (CCDOM), is seeking to change that.
Formerly a transitional housing program for single women with children who were homeless, CCDOM will reopen Naomi's Way as permanent housing for families in need.
Several manufacturers teamed together to make that happen, led by American Standard, part of LIXIL. The company provided faucets and fixtures for all bathrooms and kitchens in the 12 units and covered all the bathroom remodeling costs. The company's employees volunteered to paint all the apartments and hallways at Naomi's Way. All of the paint was donated by a local Sherwin Williams store in North Brunswick, N.J., while Philips Lighting donated all of the LED light fixtures. Melville, N.Y.-based Leviton provided all switch/light outlet covers and AFCI outlets.
KBB spoke with Jeannette Long, vice president of marketing communications, LIXIL Americas, to find out more about the redesign.
KBB: Why was Naomi's Way chosen as a project for American Standard?
JL: We wanted to find an opportunity that allowed us to engage our local community and employees with our corporate mission of improving daily living by making people's lives easier and more comfortable. We selected Naomi's Way because their need aligned with our mission and their timing fit our requirements. The shelter catered to families at risk and was in need of updated living environments. The proximity to our headquarters in New Jersey gave us the chance to have employees participate in the project as well. It really was the perfect undertaking to allow us to bring our mission to life.
KBB: Since this was a renovation, what was wrong with the original design?
JL: CCDOM had plans to shift Naomi's Way from transitional housing to a facility that provides permanent housing solutions starting in mid-2017. The remodeled Naomi's Way would offer homeless families the opportunity to establish long-term roots in the community and provide stability for their children.
CCDOM's original goal was to renovate the 12 kitchens, replace closet doors and paint where needed to freshen up the apartments. With our offer of product and renovation funding, in addition to the product donations of other generous manufacturers, CCDOM was able to additionally gut and completely remodel the bathrooms; replace all light fixtures, GFIs and outlet covers; totally repaint all the apartments and common areas in the building; and refinish all wood and tile floors.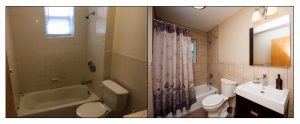 Thanks to donations from several manufacturers, the bathrooms were completely gutted and remodeled.
KBB: What was your goal in the redesign?
JL: The goal of the redesign was to create attractive, up-to-date living spaces for families in need. We believe that the healing process for at-risk families includes being surrounded by a positive, comfortable physical environment. An added benefit is that this beautiful setting provides high-performance toilets, faucets and showerheads that are also water efficient, saving utility and energy costs for CCDOM. This full-scale renovation of the 12 Naomi's Way apartments accomplishes all of this.
KBB: What were you challenged by and how did you overcome those challenges?
JL: On our end, the process ran smoothly with few bumps along the way. With the product donations received from Philips Lighting, Leviton and Sherwin Williams, that made things that much easier without having to source those additional items. The challenges for CCDOM were the general things related to any remodel of an older building, with slightly bowed walls and sometimes uneven floors. The facility maintenance crew at CCDOM was fantastic to work with – they know this building inside and out, and they did all the kitchen renovations themselves. They hired a general contractor to handle the larger bathroom gut and remodel work, with funding provided by American Standard.

The apartments at Naomi's Way were freshened up with new paint, lighting, plumbing and more.
KBB: What was your favorite part of this experience?
JL: I'd say there were two favorite parts for me. One was being part of a project that makes a difference in people's lives. Plus, the camaraderie with our employees and the CCDOM team was incredible to be a part of. Our team provided the labor to paint the apartments at Naomi's Way. We had more than 40 LIXIL employees volunteering in that effort over five days. What a great experience that was, filled with laughs, paint-tinted hair and a real sense of accomplishment at the end of the day, seeing how much we were able to get done.
My other favorite memory is the day, just recently, when we revealed the first two finished apartments to the CCDOM executive team and to Cynthia, a former Naomi's Way resident who now works for CCDOM. Their reactions were priceless. The joy in their eyes, knowing how these upgraded units will enhance the lives of the soon-to-be new residents, was the reward for this project. We truly achieved our objective of making life more beautiful and comfortable for people not able to attain this type of environment on their own.