2023 Houzz US Emerging Summer Trends Report
June 21, 2023
In its 2023 Houzz U.S. Emerging Summer Trends Report, Houzz identified the top emerging home design trends based on the latest search insights* from its community of homeowners, home design enthusiasts and home professionals. The trends reflect a desire to create new living areas and improve existing spaces to better fit current and future lifestyles. Historic styles are increasing as homeowners look to modernize their spaces, while honoring the traditions of their home's character.  
Your New Destination Is Below the Surface
Houzz reported seeing a focus on creating more functional use for previously underutilized areas of the home. Finishing a basement creates a large open space that can be used as a family or recreation room (with searches up nearly 9 and 6 times, respectively), making a destination for watching movies, playing games and exercising. In fact, searches for "basement golf simulator" spiked an astounding 20 times. 
Rooftop Living
People are increasingly utilizing their rooftops to expand livable space as well, particularly in metropolitan areas where outdoor space is a hot commodity. Searches for "outdoor rooftop terrace" shot up 16.5 times. "Rooftop deck" and "rooftop patio" grew by 90% and 40%, respectively.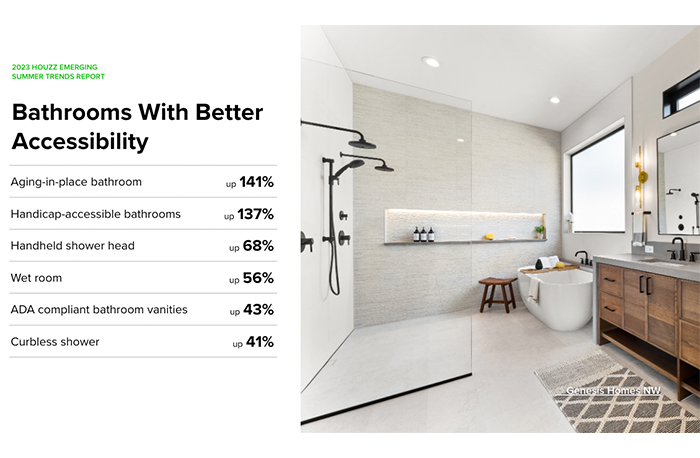 Bathrooms With Better Accessibility
The 2023 U.S. Houzz & Home Study showed that homeowners increasingly renovate their space for the long run. They're also making improvements to bathrooms that allow them to safely remain in their homes into retirement years. Searches for "aging-in-place bathrooms" and "handicap-accessible bathrooms" each more than doubled compared to the same period in 2022. Features like "handheld shower head," "ADA compliant bathroom vanities" and "curbless showers" all grew in prominence, as well. 
Industrial-Style Kitchens Get Cooking
Industrial-style kitchens appeal to many cooks, with their commercial vibe, easy-to-clean surfaces and high-traffic durability. Perhaps that's why Houzz saw added interest in "industrial kitchens" and associated features, with searches tripling for "kitchen track lighting" and "pull-down kitchen faucets" and doubling for "stainless steel countertops" and "brick kitchen wall." Interest is also emerging for "concrete countertops" and "copper kitchen backsplash."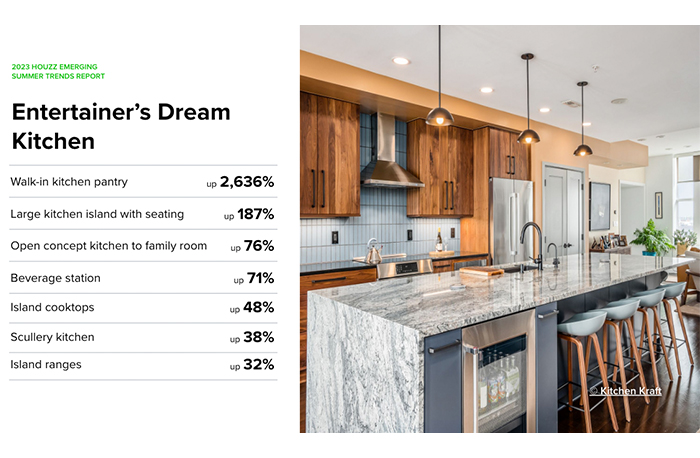 Entertainer's Dream Kitchen 
The 2023 U.S. Houzz Kitchen Trends Study found that nearly 3 in 5 homeowners use their kitchen for entertaining following a renovation (57%). That motivation seems to be influencing everything from layout to storage. Searches for "open concept kitchen to family room" grew 76% and island cooktops and ranges also increased in popularity, enabling cooks to face and engage with their guests as they prepare a meal. "Walk-in kitchen pantry," which offers additional storage to have enough supplies on hand for a large group and hide away smaller appliances such as toasters and coffee makers, jumped 27 times compared with the same period in 2022. Searches for "scullery kitchen," which provides a room for cleaning and doing messy kitchen work away from guests, grew 38%. 
Degree of Separation
While open-concept design may be popular in the kitchen, the Emerging Summer Trends Report notes increased interest in design elements that create temporary separation, such as a "living room divider," "Shoji screen" and "partition wall" (up 445%, 60% and 41%, respectively). 
Overhead Design 
The fifth wall, or ceiling, has historically been an overlooked surface, but design enthusiasts on Houzz are calling attention to it with paint and texture. Searches for "high-gloss ceiling," "painted ceiling" and "black ceiling" have all increased compared with the same period in 2022, and interest in "tongue-and-groove ceilings" grew 73%.  
Historical Style Revival 
The data reflects growing interest in classical architectural and design features with two styles standing out in emerging search trends: Colonial and Spanish Colonial. Searches for Colonial-associated "front porch," "exteriors" and "living room" all increased by 6, 2.5 and 2 times, respectively, compared with the same period in 2022. Searches for "Spanish Colonial living room" jumped significantly by 15 times. "Spanish Colonial kitchens" and "Spanish Colonial exteriors" tripled and more than doubled, respectively. Whatever the style, homeowners are hiring architects and designers on Houzz to help them honor the roots of their homes, while updating them with a cohesive, intentional look. 
Small Outdoor Features Fit for Summer
Homeowners aren't letting space limitations keep them from enjoying their outdoor areas this summer. Searches for "small swimming pool" grew by half, compared with the same period in 2022. In fact searches for "small plunge pool" and "small pool house" jumped nearly 4 and 3 times, respectively. Interest in "small outdoor kitchens" also more than doubled. People in mosquito-prone areas may be looking for ways to enjoy the outdoors from the safety of their porch, with searches for "small screened-in porch ideas" growing 6 times, compared with the previous year.    
Homeowners who are looking to begin renovating or decorating their home can get inspired and find the best home professionals for their projects on Houzz. 
*Source: Data reflects year-over-year growth in U.S.-based searches on Houzz from January-March 2023 versus January-March 2022. Read the complete report here.