A Kitchen & Bath Designer's First Time at High Point Market
---
---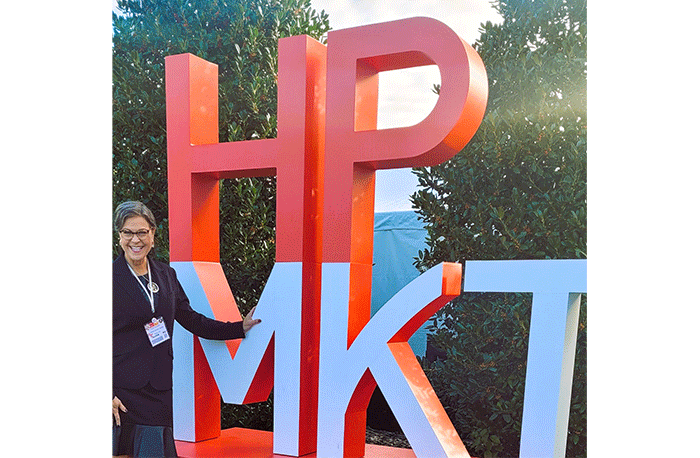 October 30, 2023
Every year, interior designers flock to High Point Market in North Carolina seeking inspiration, knowledge and the latest trends in the world of design. I've attended KBIS for 25 years; it's always been my MUST-attend event. High Point Market is mecca for interior designers who include furnishings in their scope of services, and I went for the first time this fall!
I identify as an interior designer, but I've been hyper-focused on kitchen and bath for 25 years, honing my expertise. I am just beginning to realize how much I'm missing out, and it's time to expand my business scope. I lost out on a big project this year because I didn't adequately offer a wholistic package for a client beyond hard surfaces. Something needed to change.
High Point Market: First Impressions
It was pure MAGIC! I kept saying it's like Disney World for designers! It's the ENTIRE town! Converted office buildings, bank buildings turned showrooms . . . every building you can see in the downtown corridor is a manufacturer showroom – 11,500,000 square feet of showroom space.
My Goals
For my journey in expanding my business, I'll start with the easy gateway products – those auxiliary products in the spaces I'm already working in. Notice, I use the word unique a fair amount in that list. I've always done lighting and mirrors but admittedly have been a little narrowly focused in my sources. That's going to change!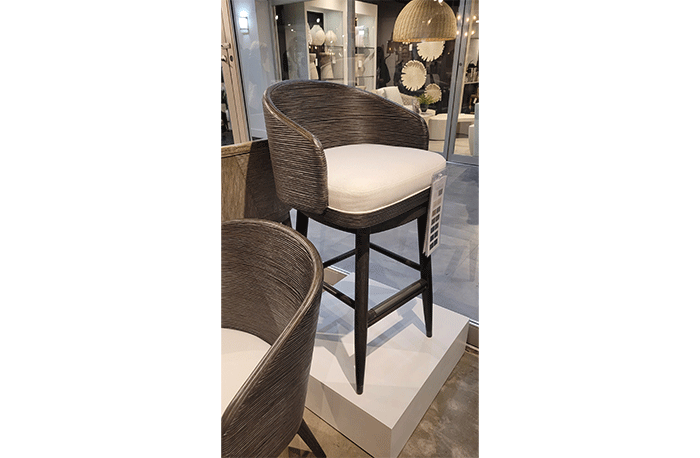 EXPANSION ITEMS:
• Bar stools
• Tables & seating
• Casework
• Unique lighting, mirrors & furniture vanities
• Kitchen islands
• Bathroom decorative accessories
• Rugs
• Blinds
• Art
• Outdoor furniture
Key Takeaways
I wasn't just going for inspiration; I was on a mission and had appointments at companies I wanted to open accounts with. Doing business in the furnishing world is a bit different than in kitchen and bath. A receiver? What's that and why do I need it? (Don't laugh!) My cabinets are delivered directly to the residence. I've never had to use a local receiver to accept freight for inspection and transfer to a local delivery truck for white-glove arrival at the client's home. What a concept! How do I open an account? Is there a minimum order? What are the terms, and so on.
Trends
Now for the creative, juicy part! I was on a mission, but I was also absorbing everything around me like a sponge.
• Oversized light fixtures
• Organic shapes & materials
• Metal accents
• Rattan
• Warm colors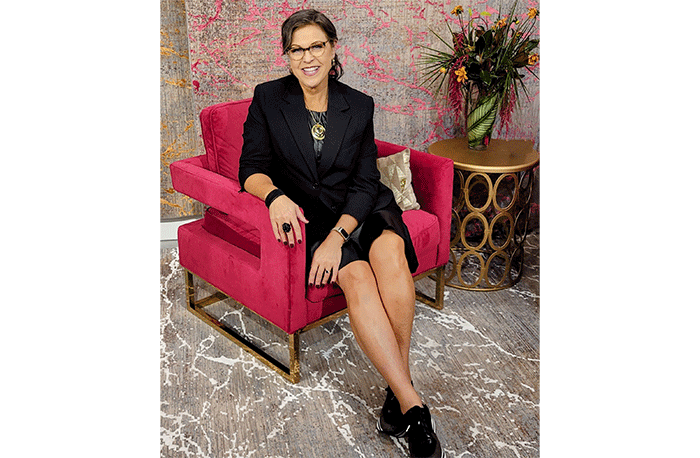 Thankfully as I begin the expansion of my business, I'm not just out of school; I have 25 years of business experience behind me. I'm just adding another layer to my business.
KBIS will always be my heart and soul, kitchen and bath design is my passion. These two shows complement each other and are both unique experiences. I know there are kitchen and bath designers who already do everything I'm talking about, even going to both shows every year, but I also know a lot of kitchen and bath designers like me who have kept their scope narrow.
Let's all get out of our comfort zone and expand our services. It provides a more wholistic service for our clients and refreshes our right-brain creative juices – and pocketbooks. There's nothing like playing with fabric to take our expertly designed spaces and selected hard finishes to the next level. Join me on my journey as we bring more kitchen and bath designers to Highpoint Market and more furnishing Interior designers to KBIS!
—By Paula Kennedy, CMKBD, CLIPP, CACC, Timeless Kitchen Design LLC
Photo credit: Paula Kennedy