A Lesson in European, Transitional and Luxury Style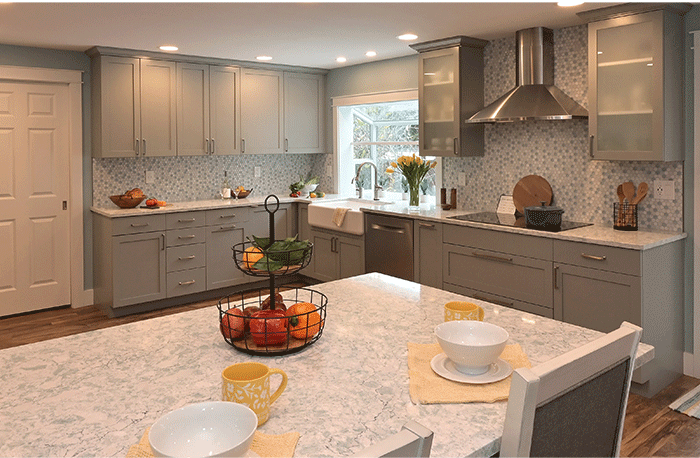 August 18, 2023
A Lesson in European, Transitional and Luxury Style
This story was originally published on August 18, 2023; it was updated on August 31, 2023.
Three KBIS 2023 Voices from the Industry sessions focused on European, transitional and luxury style. Here is an in-depth look at each one.
Transitional Design Style: Recognizing & Defining
Ask four designers what their vision is for transitional style, and you will probably get four different answers. Paula Kennedy, CMKBD, owner of Timeless Kitchen Design, discussed that and much more regarding this best-of-both worlds, classic-meets-contemporary design style.
Key Takeaways:
You can help your clients define their style by determining their main attributes.
Professional, active, family-oriented, creative and relaxed homeowners appreciate easy maintenance and comfort.
Most clients are looking for quality spaces that are sophisticated, timeless and organized.
With trends, there is never an all-or-nothing conversation as they relate to style.
Transitional design encompasses several micro styles, including shaker, boho/bohemian, European and craftsman.
Contemporary design incudes Art Deco, minimalist and NYC loft styles and exudes spaciousness, confidence and energy.
Some of traditional design's micro styles are French country, shabby chic, cottage and farmhouse, and it is affiliated with rustic, romantic, ornate and historic elements.
Transitional style includes curved lines, geometric patterns, neutral and subtle color palettes and a mix of textures, while omitting ornamentation.
It is a grounding style that is not overwhelming, and it exudes comfort, practicality, relaxation and luxury.
Cabinet doors in the transitional style have cleaner lines and are flat and/or flush; they sometimes feature mitered edges and/or raised panels; and they can be reeded.
Top photo: This transitional kitchen by designer Paula Kennedy features soft gray cabinets with clean, shaker stile and rail doors and angled crown detail to achieve a harmonious blend of traditional and contemporary aesthetics. The countertop boasts a textured pattern and color, deviating from the typical marble veining. Photo by Gregg Krogstad, Krogstad Photography
Functional Trends Impacting Design in Custom Homes & Luxury Remodels
Jennifer Hutton of Grau Building Co. identifies new residential design features with staying power. These typically involve significant planning in the design phase, as well as on the builder's side. As they potentially have major design implications, these new concepts should be treated as opportunities to showcase well-executed luxury design.
Key Takeaways
– Functional trends are purpose-driven, while non-functional trends are image-driven.
– Functional trends can lead to new business opportunities, not only with clients but also with suppliers and trades, as they incorporate these goals into their skillsets.
– The pandemic generated several functional trends that have had lasting impact. These include home offices (with special attention to lighting and acoustics), blended interior and exterior spaces and specialized utility spaces, such as hobby rooms, cleaning closets and mudrooms.
– Emerging functional design trends that appeal to high-end residential clients include ADUs (accessory dwelling units), elevators and saferooms. ADUs can be a source of rental revenue or a place for family members to comfortably and safely age-in-place. Elevators increase accessibility throughout the home. Saferooms – or safe suites – provide a secure, connected environment against threats of all kinds.
– The concept of indulgence is another emerging trend with functional ramifications. Examples of this include pet-centric spaces (catios, dog-washing stations, etc.) and oversized or walk-in pantries.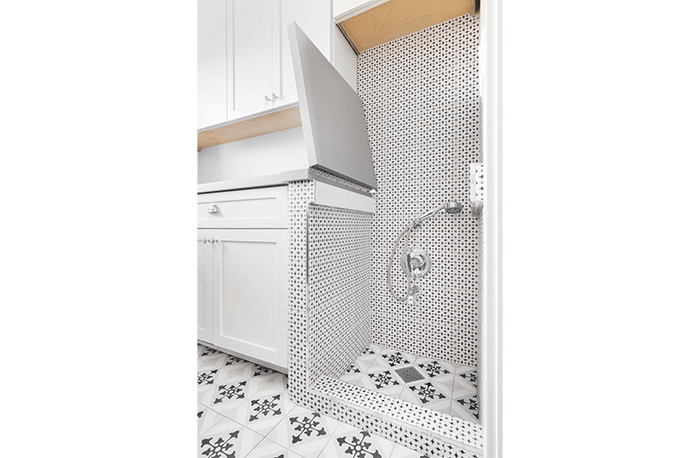 A trend gaining traction in custom home builds and luxury renovations include pet-centric spaces like dog-washing stations.
Photo by Joe Hendrickson/Adobe Stock
European Kitchen Furniture: What Matters Most
Research shows that contemporary and transitional looks are the top cabinet styles requested by homeowners. While the appearance is important, design pros know there are other considerations to keep in mind when selecting cabinets. In this presentation, Bill Speights of nobilia North America examines the advantages offered by European kitchen furniture.
Key Takeaways
– Intelligently Designed. Originally created after WW2, frameless cabinets were intentionally designed as a modular system that could be disassembled, transported and reinstalled by a single person on site. Requiring minimal tools to assemble and install, frameless cabinets offer full access to storage space. Standing on concealed legs and pillars, the plinth panels ensure a unified, streamlined look. The material-optimizing construction utilizes a clip-based system that eliminates drill-through connectors.
– User-Centered. The flexible components of EKF are easily reconfigurable, eliminating the need to commit to a one-off custom product. The system is engineered to adapt to incremental heights, whether it's counters or appliances that require elevating; this attribute is good for ADA responses.
– Simplified Installation. EKF upper cabinets utilize a hang-rail – also called a French cleat – system. This allows installers to get the carcasses level and plumb before adding the doors and fine-tuning the cabinets. Base cabinets feature adjustable feet, facilitating easy, accurate leveling without using shims. The design also minimizes water damage because the cabinet box does not touch the floor.
– Eco-Conscious Choices. EKF manufacturers are always looking to improve material offerings, for both aesthetic and sustainable reasons. Brands are required to look at the entire carbon footprint in production, from raw materials through production and transport to end-user.
– Efficient Logistics. Because they are flat-packed, EKF systems are resistant to in-transit damage.