America's Test Kitchen Debuts Space with Donated Sub-Zero and Wolf Appliances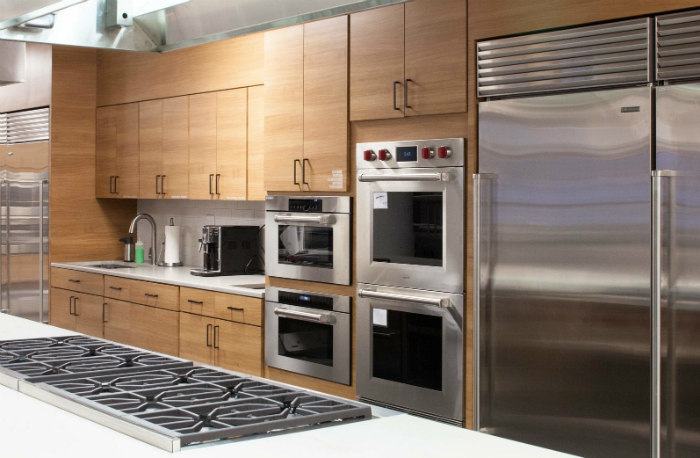 October 27, 2017
Millions of viewers tune in to their local public television station weekly to watch the "America's Test Kitchen" cast members test, review and recreate delicious recipes that can be replicated at home. The show's test cooks will now be able to store ingredients in and test every recipe with Sub-Zero and Wolf appliances.
"'America's Test Kitchen' and Sub-Zero and Wolf empower home cooks to feel confident in the kitchen," said Jack Palazzolo, vice president of marketing for Sub-Zero and Wolf. "The two companies share the same philosophy and make the perfect pairing: tried and true recipes from 'America's Test Kitchen,' and appliances that ensure delicious results every time. We understand the importance of a trusted, expertly engineered appliance in the kitchen, and we look forward to being the gateway to America's best tested recipes."
The new test kitchen, located in Boston, features nearly 150 Sub-Zero refrigeration and Wolf cooking appliances in the newly renovated and expanded 15,000-sq.-ft. space. In addition to serving as the site of filming for the PBS TV shows, "America's Test Kitchen" and "Cook's Country," the kitchen is used for the America's Test Kitchen Online Cooking School and for the creation of Cook's Illustrated magazine, Cook's Country magazine and cookbooks. More than 100 test cooks, editors, food scientists, tasters and cookware specialists use this working kitchen space to develop foolproof recipes for readers and viewers.
"We are extremely grateful to have Sub-Zero and Wolf appliances incorporated into our 'America's Test Kitchen' studios and test kitchen," said Jack Bishop, chief creative officer of the show. "This support will enable us to continue to do what we do best; help home cooks cook with confidence by creating the best recipes in America."
This partnership provides Sub-Zero and Wolf owners the ability to precisely replicate the recipes created by "America's Test Kitchen" with precision, and the understanding of how test kitchen chefs are using the equipment will help the company keep its finger on the pulse of how Americans are cooking at home.