An In-Depth Look at the Surfaces in Today's Kitchens and Baths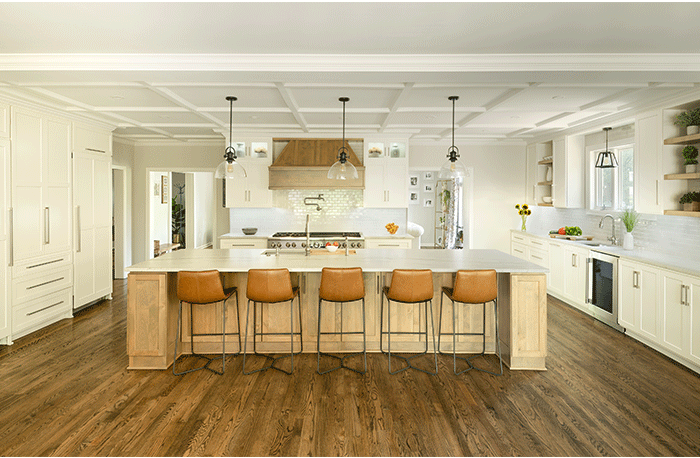 September 28, 2023
Granite, quartz, engineered hardwood, tile, concrete, butcher block – the possibilities are endless when it comes to choosing surfaces in today's kitchens and baths. Often, a colorful countertop or backsplash is the element from which all others are chosen in a space. Alternatively, specifying a surface choice that doesn't quite match your clients' needs can lead to an unsuccessful project. In our most recent Closeup survey on kitchen and bath surfaces, 51% of respondents said they finalize their countertop choices at the onset of a job. The majority – 69% – choose the flooring at the beginning, yet the design pros were all over the map when it comes to when they finalize wall treatments.
ABOVE PHOTO: In this large kitchen infused with natural light, Adam Gibson of Adam Gibson Design in Carmel, Ind., chose quartzite for the countertops, which are complemented by the subway tile backsplash. The flooring is hardwood with a Jacobean and espresso stain.
Photo credit: Adam Gibson Photography
"Since all our designs are in 3D, we often don't need to wait to choose the wall coverings," said Adam Gibson, CMKBD, CLIPP, CAPS, and owner of Adam Gibson Design in Carmel, Ind. "But sometimes it's more satisfying for all involved to sample paint or wallcoverings once the cabinets are installed."
KEY TAKEAWAYS
69% of respondents make their flooring selections at the beginning of the project.
Quartz is the most popular countertop material in the kitchen (40%) and in the bath (38%).
Tile is the top flooring choice for kitchens and baths.
Aesthetics is the most important factor to consider when choosing a countertop material; for flooring, it is durability.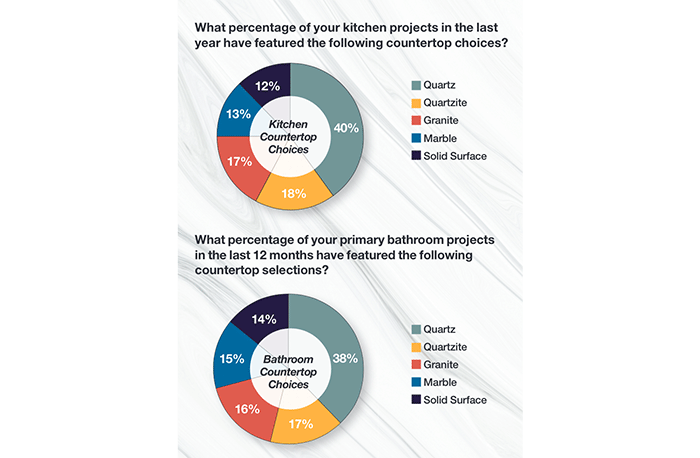 Abode stock/Kamjana
Countertops to Covet
Quartz rings out as the top material choice for kitchen and bath countertops in the last year. It is extremely durable – standing up to chips and scratches – and it is a hygienic choice as it is bacteria, water and stain resistant.
Second on the list for countertop materials in both spaces is quartzite (18% for the kitchen, 17% for the bath). ­Third place is granite with 17% in kitchens and 16% in baths. Marble and sold surface take the fourth and fifth spots in the kitchen and bath.
Other write-in options for kitchen and bath countertop materials included butcher block, concrete, glass, laminate, porcelain, cultured onyx, faux granite, soapstone and wood.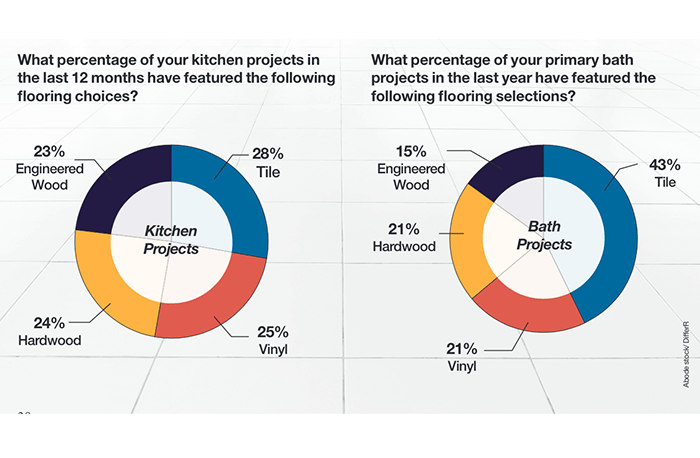 Focus on Flooring
According to Gibson, most kitchens today have engineered hardwood flooring or hardwood if there is a need to match existing flooring in the home, but tile took the top spot in our survey for kitchens (28%) and baths (43%). Vinyl was second place in both, and hardwood and engineered wood rounded out the top four. Write-in answers included carpet – surprisingly – and cork; finished concrete; luxury vinyl tile and plank; natural stone, including marble; laminate; porcelain; epoxy with color pigment; and linoleum.
Considering Criteria
Aesthetics is the most important factor when choosing a countertop in kitchen and bath projects (39.7%). Durability is second at 25.6%, and ease of maintenance followed closely in third place with 25.6%. Price and sustainability were in the top five but not highly rated.
For flooring choices, durability ranked as the highest factor at 46.9%, and Gibson also cited the ability to refinish onsite to avoid a one-time selection. Aesthetics took second and third choices with 26.3% and 15.5%, respectively, and price, sustainability and ease of installation ranked lower on the list.
Many of the respondents said that the most important criteria for countertop and flooring selection in kitchens and baths depends on the project and its budget.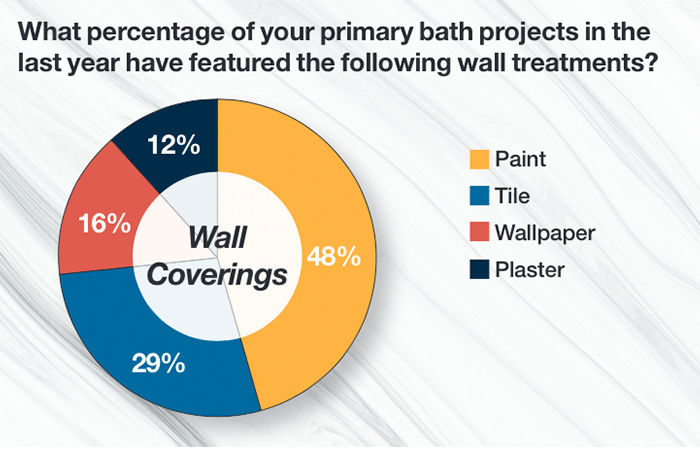 Abode stock/Kamjana
What About the Walls?
Paint is the top wall covering in today's kitchens and baths at 48%, and tile came in second with 29%. Wallpaper is selected for 16% of projects, and plaster is at 12%. Other answers included cork, laminate, LVP tile, marble, wood, shiplap and vinyl panels.
Gibson would love to see a wider variety of affordable thin slabs for walls, and other respondents hope for more customizable wall treatments and panel systems that fi t 8-foot-tall walls.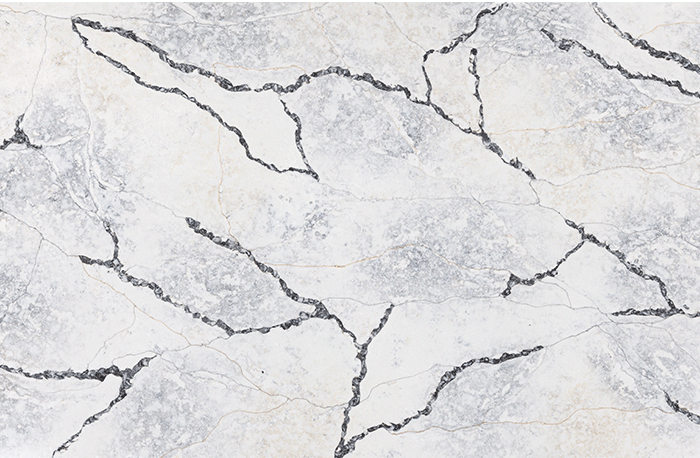 This  year, Vadara released eight colors as a part of two all-new categories: the Trending Essentials Collection and the Natural Innovations Collection. While inspired by natural quartzite and marble, the collections have differing concepts that allow us to demonstrate our capabilities as quartz leaders. Trending Essentials expands upon Vadara's existing offerings with on-trend additions to our successful lineup of wide-veined offerings exhibited with the designs Aurum and Lava Plain. It also includes designs that feature neutral gray tones and delicate veining with the additions of Sky Dance and Sand Weaver. The Natural Innovations Collection features bold and striking designs that are non-neutral in color. These advanced designs put Vadara's technological prowess on display and solidify our position as an up-and-coming leader in the industry. Inspired by rare natural stone slabs that tend to be expensive and may vary vastly between bundles, they offer a more viable and cost-effective solution to natural stone with the added benefit of durability found in quartz. Nakoda and Sakura (shown) are cool-toned designs featuring off-white and blue-gray backgrounds and veins with hints of green. The warmer-toned Crimson Peak and Moon Valley display white to off-white backgrounds with maroon and rust veining and accents. Learn more about the new color options and view samples here. Ed Rogers, EVP of US Surfaces, Vadara's parent company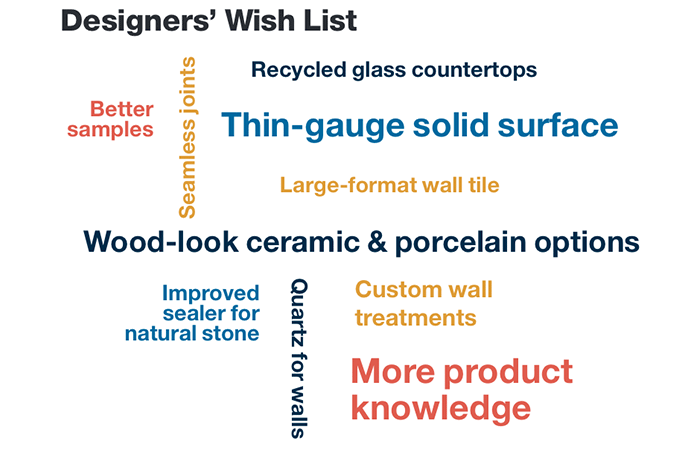 Surface Prospects
Our respondents were also asked for an example of a "missed opportunity" by surfacing brands as far as product innovation is concerned. Many of them would like more designs and colors for materials, as well as better availability – especially for remnants and samples. According to one respondent, certain surfacing brands cater to big-box stores, which use certain fabricators. This can limit the use of those fabricators and the ability to sell/specify those brands.
For quartz, they want more realistic-looking options; easy-care, full-height backsplashes without porous grout; thinner choices for vertical installations; variety in colors as seen in porcelain; and more afford-able selections.
In terms of alternative materials, today's design pros are asking for more choices in acrylic solid surfaces, recycled glass countertops and glass tile and man-made options that include recycled materials; powder-coated steel; tile-look vinyl plank; laminate wall panels; and antimicrobial options for bathrooms.
One respondent wishes for thin-gauge solid surface material and large-format wall tile, claiming both offer better durability, visual impact and recognized resale value than wallpaper. Another wants to see more subtle patterns in medium- and large-format tile that work like wallpaper without becoming quickly outdated.
Suggestions for more durable and easier- to-maintain offerings include large-format backsplash materials without grout, chipresistant countertops, recommendations for surface-cleaning products, a longer-lasting sealer for natural stone, butcher block countertops that are simpler to uphold and wall-paper and vinyl options for wet areas.
Regarding aesthetics and custom options, our respondents desire LVP with random plank lengths, seamless joints for large countertop slabs, plank-style options for tile with stone looks, paneling with acoustic properties and integrated sinks in the same countertop material.
More opportunities for designers to learn all they can about the available options would definitely expand their surfacing horizons. Brands could benefit from getting feedback from existing customers on their products and making necessary improvements. The sky is the limit for potential in-novation coming down the pike with today's countertop, flooring and wall materials.