Armstrong Flooring Teams Up with Designing Spaces for Military Home Makeover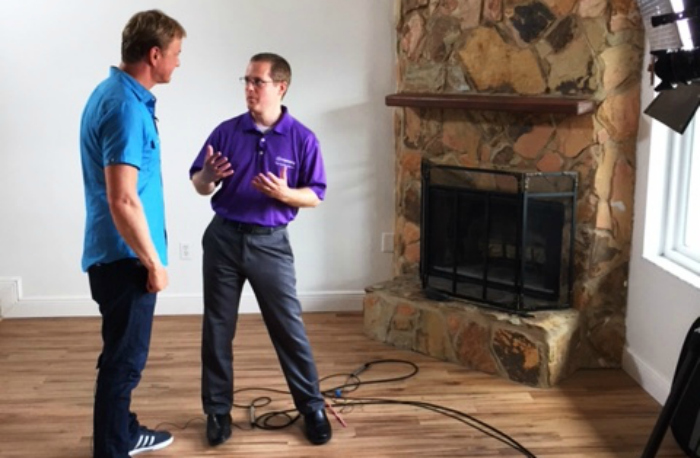 August 24, 2016
Armstrong Flooring and award-winning home improvement show Designing Spaces joined forces to help the family of an injured veteran in the "Military Makeover" series. Armstrong Flooring provided Vivero luxury flooring, which was featured in the premiere episode that aired on the Lifetime Network.
The show chronicles the renovations of the home of injured veteran, Lance Corporal Michael Adams and his family. Retired Staff Sergeant R. Lee Ermey, "The Gunny," takes viewers up close and personal to see the step-by-step renovations of several rooms in the house and yard for this deserving family. Each space quickly transforms into what will ultimately be a more comfortable home for the Adams family.
"For the Adams home, we had to find a floor that was as tough as an old Marine Drill Instructor, one that's going to stand up to 'a long campaign,'  a service dog and a growing family," explained Designing Spaces co-host Art Edmonds.
Armstrong's newest innovation, Vivero flooring, was used in the makeover. Award-winning Vivero, featuring patent-pending Diamond 10 Technology made with cultured diamonds, offers beauty that will stand the test of time and traffic and keep floors looking newer, longer. The floor planks repel spills and resist dirt and staining. The planks are 100 percent waterproof, pet friendly and kid friendly. Patent-pending IntegriLock system assures easy, reliable installation. And, the floors are made at the company's newest manufacturing facility in Lancaster, Penn.
Armstrong Flooring worked closely with the Designing Spaces team to find flooring options that fit the family's lifestyle. The crew from local Orlando, Fla. retailer Creative Floors came in and installed the flooring throughout the entire home in less than two days.
"We were thrilled to participate in 'Military Makeover' on many levels and to ensure that this home is equipped with the very best flooring to suit the Adams' needs," said Jeremy Kleinberg, Armstrong Flooring product manager, who also appears in the episode