Bathroom Design: The Future is Now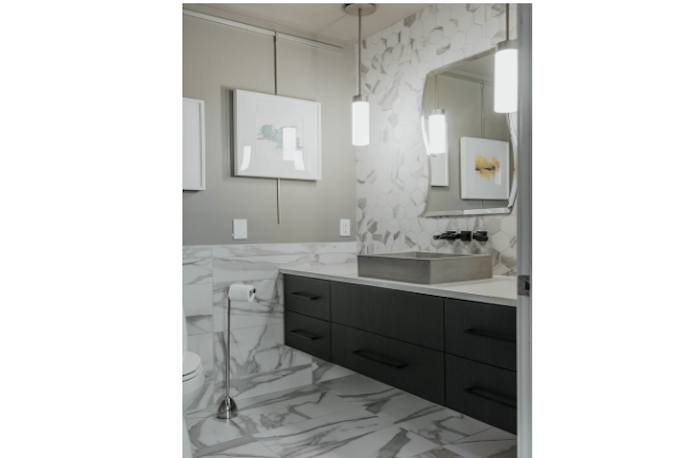 October 30, 2023
The bathroom is no longer just a place to get your business done. It has become a place to escape from work and the constant connection of the modern lifestyle. Pandemic lockdowns highlighted the outdated layouts and strictly utilitarian functions of bathroom design for many homeowners. With an increased focus on privacy, long-term safety and self-care, many bathroom designs are ripe for remodeling. Homeowners are often adding multiple ensuite baths to their plans as part of a new construction or remodel. These updated bathroom designs provide privacy for weekend guests, aging parents and boomerang children. The increased number of residential bathrooms parallels expanded features in these spaces. Many features previously labeled as luxury touches are now becoming standard. Bathrooms are becoming elevated spaces that provide wellness and accessibility to various ages and needs.
Bathroom Design Elements
Floating vanities, free-standing soaking tubs and whole-wall shower systems populate design magazines and Instagram feeds for good reason. These elements are not only high style but can also be low maintenance. Ideal for small spaces, floating vanities allow the room to expand as the floor flows below them visually. Installing dimmable undercabinet lighting can add drama and safety.
Free-standing soaking tubs can be a beautiful feature in a larger bathroom. Unlike built-in tubs or spas, free-standing tubs allow for clearance and access on all sides. What needs to be cleaned is easily seen and addressed quickly.
Some free-standing tubs are combined with shower systems into full wet rooms with single-slope drains on the floor. These wet rooms keep steam and water centralized for a spa experience. Their larger spaces increase accessibility for those with limited physical abilities or children needing assistance.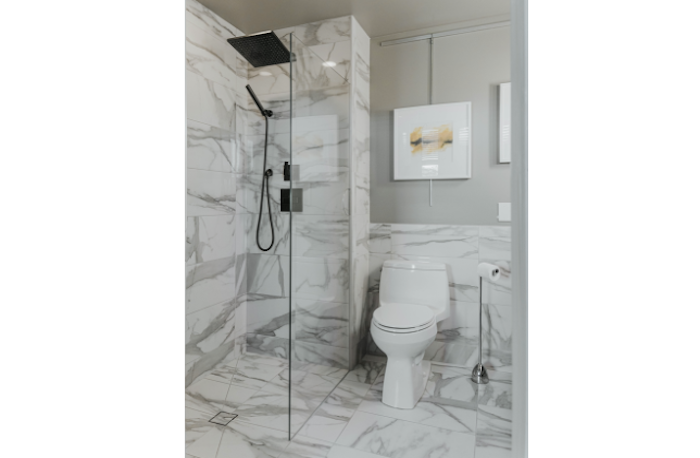 Many wet rooms and showers also feature walls paneled in full-sheet porcelain. Wide, full-height panels eliminate the need to clean grout lines. High-definition printing on the panels enables flawless replication of luxury stone without the expense it typically brings. These panels are easily combined with barrier-free shower pans that are flush to the floor. They can also be paired with traditional tile to create a seamless look and expand the feeling of the space.
Showers with hand-held features provide easy access for seated showering and children. They also make large spaces easier to clean. Many fixture makers are also now creating grab bars to complement their lines. Essential for safety at any age, grab bars require blocking behind the wall. Planning ahead ensures they are there when needed and stylish when they are not.
Even toilets are getting a post-pandemic makeover. Whether driven by a shortage of paper products or an increased interest in personal hygiene, the bidet is fast becoming a bathroom essential. Bidet seats are discrete and easy to install, provided there is an outlet in proximity to the toilet. Many feature heated seats, lighting for midnight trips and standard hygiene functions.
The cost of remodeling a bathroom can often seem disproportionate to its size, but that's no reason to feel like corners. Our bathrooms are the first space we experience in the morning and the last before we close our day. I encourage you to look beyond the utility of the room. Select products that encourage wellness, enhance self-care and ease maintenance in the bathroom design. Design professionals can help their clients create an environment that takes advantage of modern features and accommodates long-term use, ensuring their investment is enjoyable now and far into the future.
—By Anneke Huisman, cabinetry design and sales, Standale Home Studio
Photo credit: Leigh Ann Cobb. Design: Michele Harder